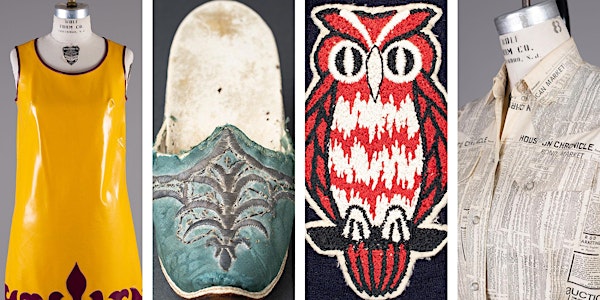 Preservation in Practice: the HCC Fashion Archive
Explore a collection that explores nearly three centuries of trends in apparel and design
About this event
Houston Community College's Fashion Archive is a hidden gem: a collection of clothing and accessories that dates back to 1728, offering a look at nearly three centuries of trends in apparel and design. Join Preservation Houston and Erica Hubbard, director of library services at HCC's Central College, for a behind-the-scenes look at this fascinating collection during an online program at 6:30 p.m. Tuesday, November 8.
The Fashion Archive was founded in 1985 and has grown to include some 8,500 items ranging from suits and dresses to hats, shoes and jewelry. The collection contains many items from Houston and Texas, from designer pieces sold at Sakowitz and Neiman Marcus to the work of contemporary talents Chloe Dao and Cesar Galindo. During the program, Hubbard will give an overview of the collection, discuss challenges that come with conserving historic clothing and textiles, and describe recent efforts to digitize items from the archive to make them more accessible to the public and scholars worldwide.
A Q&A with Hubbard will follow the presentation.
Images from HCC Fashion Archive (from left): vinyl dress by Tuffin and Foale for Youthquake, 1960s; detail from green jacquard mule, 1740s; detail from men's bathing suit, 1930s; cotton ensemble with Houston Chronicle print, 1960s
Event format
This program will be presented via Zoom. Registrants will receive additional information, including a link to join the program, via e-mail.
Registration and pricing
Access to this program is free for members of Preservation Houston and Pier & Beam. Registration is $10 for non-members. Advance regisration is required; sign up online by 2 p.m. Tuesday, November 8.
Can't join us live? No problem
We will make a recording of the full program available to all registrants, so you can watch at a time that's most convenient for you.
This event is presented as part of the Bart Truxillo Program Series, which honors the memory of pioneer preservationist and Preservation Houston co-founder Bart Truxillo. The Truxillo Program Series is made possible by the generous contributions of Preservation Houston's members and friends. If you would like to support future programming, please consider adding a donation to your registration or becoming a PH member.