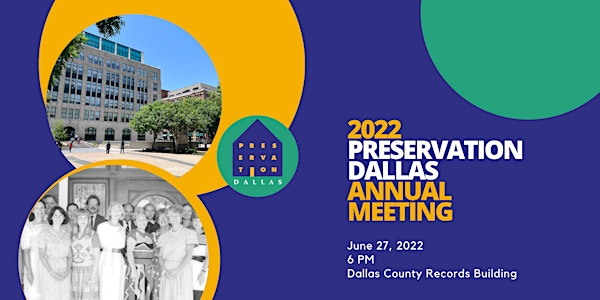 Preservation Dallas 2022 Annual Meeting
The annual meeting for the Preservation Dallas membership is on June 27th at the Dallas County Records Building
When and where
Location
500 Elm St 500 Elm Street Dallas, TX 75202
About this event
We are back in person for our Preservation Dallas Annual Membership Meeting! This year our meeting will be held in the newly renovated Dallas County Records Building. We are honored to have Dallas County Commissioner Dr. Elba Garcia welcome us to the building and tell us a little about the County's massive undertaking. You can see more about this highly anticipated project here.
The meeting will begin with a presentation that recaps of the past year's activities, and afterwards the membership will elect new board members to the Preservation Dallas Board of Trustees. The slate of nominees for the board is below.
You must be a current member of Preservation Dallas to attend the annual meeting. If you would like to join Preservation Dallas or renew your membership, please visit our website or call (214) 821-3290 to check your membership status.
Metered and surface lot parking is available, and the Founders Plaza pay garage is located under the complex at 606 Elm Street (Elm Street and Record Street intersection). Enter the complex through the Founders Plaza entrance near the John Neely Bryan Cabin.
Proposed slate of new board members for a 2022-2025 term:
Russ Anderson – Russ is the President of Briggs Freeman Sotheby's International Reality and leads the brokerage's many day-to-day functions, including sales, marketing, relocation services, finance, technology and operations. He has more than 30 years of experience and achievements in finance, banking and sales management, including president and CEO roles.
Noelle Brisson – Noelle has worked in the real estate, finance and planning sectors for over 30 years. She has an urban planning background and has worked around the world on projects. Noelle currently works in cyber risk management for smart buildings and smart cities. She has been a great participant on the Preservation Issues Committee at Preservation Dallas for many years.
Candy Evans – Candy is the founder of the wildly popular CandysDirt.com, which is all about everything real estate in the Dallas area. In 2010, she left D Magazine and started CandysDirt.com which has become an award-winning real estate news site for the truly real-estate obsessed in Dallas and North Texas. Candy's Dirt has been a big supporter of Preservation Dallas and preservation in Dallas though numerous articles and postings about historic houses and preservation. In 2021, Candy's Dirt won the Preservation Education Award from Preservation Dallas.
Dale Sellers – Dale is the founder of Phoenix 1 Restoration and Construction and you have seen their great work across the Dallas area and Texas. His company has worked on many award-winning preservation projects such as the Hall of State (several times), Dealey Plaza, Sharrock Niblo Cabin and more. Phoenix 1 has also helped Preservation Dallas with projects, including the fabrication and installation of markers denoting the buildings around Main Street Garden and Ferris Plaza, and the installation of the tribute statue in honor of Virginia Savage McAlester in the Aldredge House Garden.
Edward Stone – Edward is a native Texan (4th generation) and a longtime Dallasite. His education is in journalism, and he has worked in marketing for over 40 years for big companies and lead his own marketing company from 1976 to 2006. In his retirement, he has served on the Dallas Landmark Commission and is currently on the Preservation Issues and Education Committees of Preservation Dallas.