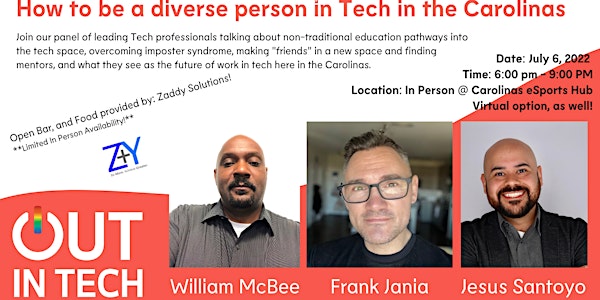 Presented by Zaddy Solutions: How to be diverse in the tech world
Out in Tech and Zaddy Solutions are hosting a panel of tech leaders to discuss how to be diverse in the tech world in the Carolinas
When and where
Location
Carolinas eSports Hub 3401 St. Vardell Lane Charlotte, NC 28206
About this event
What is your event about?
Out in Tech Carolinas will be hosting a tech leaders panel! You can attend in person, or virtually.
These leaders will be discussing how they were able to beat the odds being part of a diverse community in the tech corporate world! We're excited to host our fabulous community of LGBTQIA+ tech professionals for an evening of networking and fun. The speaking event will be from 7:00 pm until 8:00 pm, however, you will have access to food, open bar, and the high end video games set up on premise.
Open bar and food provided by Zaddy Solutions, followed by games and networking @ Carolina eSports Hub!
Speakers include (click for LinkedIn profiles):
William McBee, Director of UX Design & Architecture @ Arch Insurance
Frank Jania, Senior Software Development Manager @ Shopify
Jesus Santoya, IT Director - Employee Experience and Executive Services @ Honeywell
Moderated by: Kavitha Ramaswamy, Out in Tech Carolinas Leadership Team Member
Out in Tech Carolinas exists to support tech professionals that are LGBTQIA+ identifying and our staunch allies. Registration is required for attendance in order to provide a safe place for our members.
-------
Connect with 16k LGBTQ+ tech professionals in our Slack channel.
Note: Out in Tech's Code of Conduct applies to all our spaces, online and IRL.