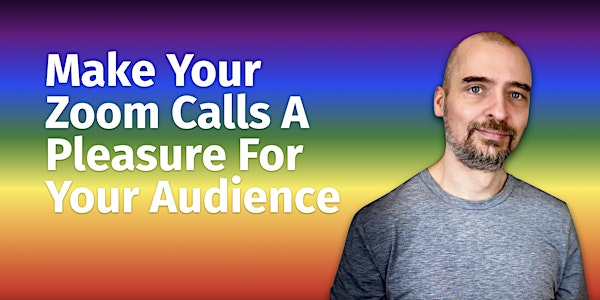 Presentation Skills & Virtual Leadership with Zoom
Transform Your Calls Into A Show, Engage Your Peers, And Make Video Communication A Pleasure For Your Audience.
Refund Policy
Contact the organizer to request a refund.
About this event
What if Covid-19 was an opportunity to start leading our peers in a different way? What if we had to deal with too much Zoom Excitement? What if meeting virtually was all about community, connection, and togetherness? Let's flip the script.
Your host Matteo Cassese, is a renowned communication, marketing, and productivity expert. By serving established companies (Warner Bros.), digital unicorns (Netflix), and teaching at university (Link Campus), he's explored the full spectrum of communication and leadership in and outside the corporate environment.
Today he brings you his best content focused on these key themes:
Virtual Connection
Being together in a Zoom meeting should feel like hanging out in the real world. Explore ways you can connect, relate and empathize with your audience even in virtual calls.
Virtual Presentations
Calls and virtual meetings require a new range of visuals, a new way of displaying them and making them engaging.
Public Speaking
Your voice has always been your most important communication tool. Zoom doesn't change that. Let's make sure you have the right public speaking skills to thrive in virtual meetings.
This is what previous attendees had to say:
"This has been one of the best online events I have attended since our stay-at-home. Your Q&A was outstanding!!!" - Vicky M.
"Thank you for all the practical secrets you shared. I have a deeper appreciation of the work I need to do moving forward. Really appreciated this. Good night!" - Dibay V.
"This was simply the best webinar I have seen." - Roger M.
"Thank you so very much. You are one of the best webinar presenters I have experienced." - Amithe G.
"Thank you for the great session! 🙂 I learned loads! Hope you have upcoming sessions! 🙂" - Larissa S.
Acting
Great communicators use their voice, their gestures, and their body language to stir emotions, to influence others, and to lead. The camera is just a filter, learn how to use it for your goals.
Mental Health
Lockdown, isolation, and quarantine are a heavy toll on mental health. So is working from home, dealing with the household and the kids while on calls. We need a way to address the resulting mental health issues that put the person at the center.
Covid-19
Even as vaccinations roll out faster and faster, we realize that we will need to coexist with this disease for longer than we wished for. All the more reason to get focused on virtual communication excellence.
Dealing with Zoom will become easier, fun, and less stressful.
Revolutionizing the way you use Zoom isn't the only purpose of this event, there's more.
This webinar is here to help you with your issues, to clarify all your doubts and fears about virtual communication. After this webinar, you will know tips and tricks to look professional on-screen, make a good impression and be in control of any situation.
Learning Objectives
Your host, Matteo Cassese, a communication expert, will help you improve the quality of your video calls with a focus on:
How to start your virtual presentation
How to interact with your video call attendees
How to sound great even if you don't have a home studio
How to look professional on camera
How to establish virtual rapport with your audience
How to feature slides and videos in your call
How to use online calls to boost your content and your credibility