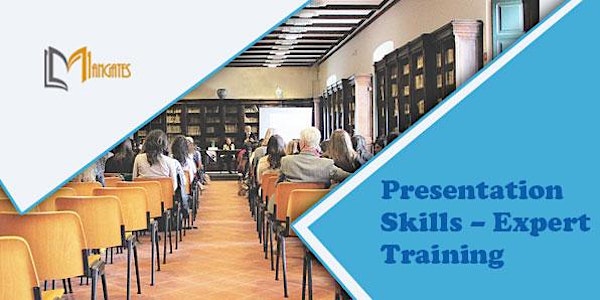 Presentation Skills - Expert 1 Day Training in Virginia Beach, VA
Our classroom training provides you the opportunity to interact with instructors and benefit from face-to-face instruction.
When and where
Location
For venue details  reach us at info@mangates.com PH no: +1 469 666 9332 Virginia Beach, VA 23452
Refund Policy
Refunds up to 7 days before event
About this event
Course Overview:
In today's professional world many skills are overlooked as a "given". Individuals are expected to perform in their field of expertise and it is assumed that includes excellent interpersonal, presentation and communication skills. Unfortunately this is not the norm. Presentations Skills can be developed over time by exposure, but without proper guidance and advice, we risk developing pitfalls that may unconsciously end up being inappropriate for the desired outcome; engaging, entertaining, educating the audience, or gaining buy-in for an idea or project.
In this course participants will be exposed to a series of tailor made improvement points that will help in mastering presentation and communication skills.
Target Audience:
Managers
Sales Executives
Business People
Team Leaders
Learning Objectives:
At the end of this course, you will be able to:
Master your presentation skills
Manage silence
Be an articulate and accurate reader
Understand how to be natural even by reading a script or notes
Develop an outline that makes sense
Use presentation technologies such as a teleprompter
Be aware of body language and read your audience
Be effective in allocating time for impact
Put thoughts in writing with a goal in mind, prioritizing key ideas and messages.
Develop valuable skills, including reading, analyzing and organizing information.
Handle audiences, conversing, eye contact, answering questions, remembering, showing and transmitting enthusiasm, appearance, poise, choice of words, express conviction, repetition, and more.
Prerequisites:
You must have participated in the Presentation Skills-Professional training
Course Materials:
Students will receive a course manual with presentation slides and reference materials.
Examination:
There is no exam for this course.
Technical Requirements:
For eBooks:
Internet for downloading the eBook
Laptop, tablet, Smartphone, eReader (No Kindle)
Adobe DRM supported software (e.g. Digital Editions, Bluefire Reader)
eBook download and activation instructions
Agenda:
Before we Begin
Welcome / Introductions
Purpose / Inspiration
Course dynamics
Self evaluation on Advanced Presentation skills knowledge - Class discussion
Becoming an Inspiring Speaker
Exercise/Role play: Silence
Accurate Reading
Video: Isabel Allende - Tales of Passion
Exercise: Words clearly spoken
SSSAP - Set, Support, Sequence, Access and Polish Concept
Naturalness
Use of the outline
Logical development of material
Extemporaneous delivery
Accurately timed, properly proportioned
Exercise: Using a teleprompter without showing you are reading
Activity: Audience analysis
Video: Your body language shapes who you are
Exercise: The final presentation
EXTRAS
Activities (Optional)
Option 1: Simulation Game
Option 2: Videos, activities and discussions
Option 3: Special assignments - live presentations
Conclusions (Optional)
Wrap up
Self Assessment
Feedback Form
Closing Remarks
Note:
However, catering to the demands of busy professionals, our virtual training programs are as effective as face-to-face learning. Reach us at info@academyforpros.com for dates and details of Instructor Led Live Virtual Session.
If you would like to get this course customized and delivered exclusively for your group, we have an On-Site Training Option you can reach us at info@academyforpros.com for more details about on-site or corporate training.