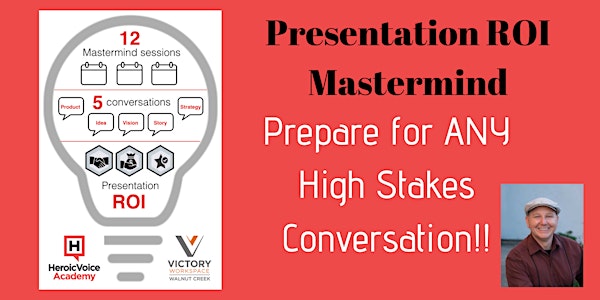 Presentation ROI
When and where
Location
Victory Workspace 1261 Locust Street Walnut Creek, CA 94596
Description
On October 7 and November 4, Sean Adams of Heroic Voice will be hosting a preview of Presentation ROI, a world class communications training for global impact leaders. Our October event sold out. If you are still interested in learning more, please register now for the November 4 session while we still have availability.

Whether you're a solopreneur, run a small team, or are a remote employee of a large organization, this event is designed to teach you how to maximize the ROI (return on investment) of every presentation you give and every conversation you have.
Join us for this interactive workshop where you will learn:
The 3 questions your audience really wants to have answered

How to use the Connection Triangle to ensure communication actually happens

The three types of ROI and how to create your desired outcome
More information will be provided at this workshop on how you can also join the 2020 Presentation ROI Mastermind program.
There is no cost or commitment to join this preview and get started on your journey to becoming a world class communicator. Both Victory Workspace members and non-members are welcome to attend.
Pre-registration is required, as seating is limited. Bring a brown bag lunch. Meeting will begin at 12:00 sharp. Park in the free garage next door.
Heroic Voice is a communications training company dedicated to preparing leaders for high stakes conversations and presentations. If you've ever felt nervous or unsure about approaching a high stakes conversation while trying to grow your business, you don't want to miss meeting Sean Adams and learning more about Presentation ROI.
There is no cost or commitment to join us to meet the leader and preview the content for Mastermind 2020. More information will be provided shortly on how to register for Mastermind 2020, but use the Registration link on this page to attend these preview sessions.
Preview sessions and Mastermind 2020 will be open to both Victory Workspace members and non-members.

If you are ready to commit to being a part of our Mastermind community, your investment is only $1000 for guests, and $500 for members. Guests also receive a Free Day Pass to use on the day of each our meetings, and all participants receive access to our private online community and a monthly 30 minute session with our moderator, Sean Adams. You may register as a guest here:
Members, we can bill you directly at the discounted rate. Contact me if you would like more information about membership, or have any questions.
2019 Schedule:

Preview meetings - Monday Oct. 7 and Monday November 4, 12-1:30.
2020 Schedule
Monday, Jan. 8, 12-1:30pm Kickoff session
February-December - first Wednesdays of the month, 12-1:30p