Presentation of the the New Mandate of the 1540 Committee

Friday, January 20, 2012 from 1:15 PM to 2:30 PM (EST)
Event Details
United Nations University
invites you to a presentation on:
The 1540 Committee:
A look at the Committee's New Mandate
& Efforts to Prevent the Proliferation
of WMD's to Non-State Actors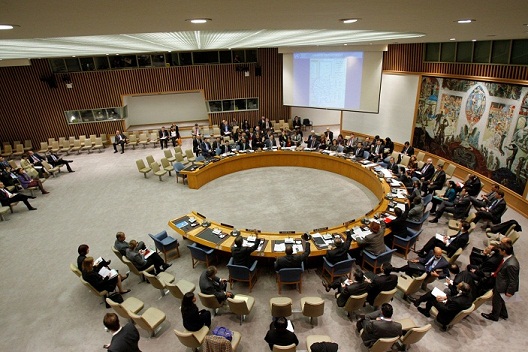 Friday January 20, 2012 – 1:15 to 2:30 PM
Conference Room 7, Temporary North Lawn Building (NLB)
United Nations Headquarters
The United Nations University is pleased to host the presentation of the new mandate and work of the Security Council Committee Established Pursuant to Resolution 1540 (2004,) known as the "1540 Committee." The resolution compels Member States, among other things, to refrain from supporting by any means non-State actors from developing, acquiring, manufacturing, possessing, transporting, transferring or using nuclear, chemical or biological weapons as well as means of transportation for these weapons systems.
The meeting will feature remarks by the Chairman of the 1540 Committee, Ambassador Baso Sangqu on the new mandate of the 1540 Committee under UN Security Council resolution 1977, which extended the mandate of the Committee for 10 years and its recent implementation report.  To supplement these remarks, the coordinator of the 1540 Committee experts will make a presentation on recent findings by the Committee, with all the 1540 Committee experts available for a question and answer session.
The UN Security Council in 2004 adopted resolution 1540, which affirms that the proliferation of nuclear, chemical and biological weapons, as well as their means of delivery, constitutes a threat to international peace and security. The resolution is a binding instrument, which adds illicit trafficking in nuclear, chemical and biological weapons, their means of delivery and related materials, as a new dimension of proliferation, and recognizes the nexus of proliferation and the risk posed by non-State actors, including terrorists, of acquiring such weapons or related materials.
The event will be chaired by United Nations Under-Secretary-General and United Nations University Rector, Prof. Dr. Konrad Osterwalder.
For more information, kindly contact Faisal Abulhassan at 212-963-6387 or at unuony@unu.edu
When & Where

Conference Room 7, UN Headquarters Temporary North Lawn Building (TNLB)
46 St and 1 Ave (UN Visitors' Entrance)
New York, NY 10017


Friday, January 20, 2012 from 1:15 PM to 2:30 PM (EST)
Add to my calendar
Organizer
The Mission of the United Nations University is to contribute, through research and capacity building, to efforts to resolve the pressing global problems that are the concern of the United Nations, its Peoples and Member States.