Presentation of "Piercing the Page: Selected Poems 1958 – 1989" by Antonio Porta

Thursday, November 29, 2012 from 6:00 PM to 8:00 PM (CST)
Event Details
The Director of the Italian Cultural Institute
Silvio Marchetti
is pleased to invite you to 
the presentation and poetry reading of
 Piercing the Page: Selected Poems 1958 – 1989
 presented by
Gian Maria Annovi and Jennifer Scappettone
Thursday, November 29th @ 6pm
Italian Cultural Institute
500 N Michigan Avenue, Suite 1450
Chicago, IL 60611
On the occasion of the publication of Antonio Porta, Piercing the Page. Selected Poems 1958-1989 (Los Angeles: Otis Books/Seismicity Editions, 2012), the book's editor, Gian Maria Annovi (University of Denver), will discuss Porta's work in conversation with Jennifer Scappettone (University of Chicago).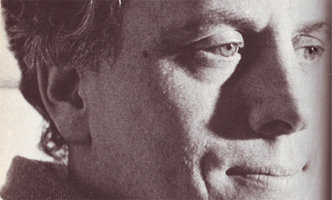 Antonio Porta (1935-1989) represents one of the highest and most intense poetic achievements of postwar Italy. Porta conceived poetry as an open and endless project, a work in progress in which the exploration of language and the inquisitive gaze on the world always coincide. The result is a verbal tension and a cognitive restlessness that are indeed rare and unique. Porta's poetry on the one hand faces the distressing and dehumanized manifestations of existence and, on the other, in its later stages, it generates liberating messages of hope and regeneration.  
 
Gian Maria Annovi is Assistant Professor of Italian at the University of Denver. He is the author of Altri corpi: poesia e corporalità negli anni Sessanta (Bologna: Gedit, 2008). He has published four collections of poetry: Denkmal (l'Obliquo, 1998), Terza persona cortese (d'if, 2007), Self-eaters (FCRM, 2007) and Kamikaze e altre persone (Transeuropa, 2010). In 2006 he was awarded the Mazzacurati-Russo Prize for poetry. Annovi has translated into Italian several North-American poets: Anne Carson, Michael Palmer, David Bromige, Andrew Shurin, Ray DiPalma, Bruce Andrews, Joseph Ceravolo, and Anselm Berrigan, among others. He is the recipient of the 2011 "Pier Paolo Pasolini Award" for the best doctoral dissertation, and he is currently working on a manuscript on Pasolini's legacy. He writes for the Italian newspaper Il Manifesto. 
 
Jennifer Scappettone is Assistant Professor of English and Creative Writing, Associated Faculty of Romance Languages and Literatures, and Faculty Affiliate of the Center for the Study of Gender and Sexuality at the University of Chicago. In 2008 she guest-edited a dossier dedicated to contemporary Italian "poetry of research" for the journal Aufgabe. She is the editor of Locomotrix: Selected Poetry and Prose of Amelia Rosselli (University of Chicago Press, 2012). As a poet, she has published widely and her work has been included in a range of anthologies in the United States, Portugal, and Chile; she is the author of From Dame Quickly: Poems (Litmus, 2009) and of the bilingual Thing Ode: Ode oggettuale (La Camera Verde, 2008). She is completing a critical study titled Killing the Moonlight: Modernism in Venice. Scappettone was the Andrew W. Mellon Rome Prize Fellow in Modern Italian Studies for 2010-11.
Reservations kindly suggested.  Copies of the book will be on sale.  A reception will follow.

Please click here to see all of the Institute's upcoming events.
When & Where

Italian Cultural Institute
500 N Michigan Avenue
Suite 1450
Chicago, 60611


Thursday, November 29, 2012 from 6:00 PM to 8:00 PM (CST)
Add to my calendar
Organizer
Italian Cultural Institute of Chicago
500 N Michigan Ave., Suite 1450
Chicago, IL 60611
Currently active in all the major cities of the five continents, the ninety Italian Cultural Institutes serve as an ideal meeting place for intellectuals, artists, and cultural operatives, as well as for ordinary citizens, both Italian and foreign, who wish to establish or maintain a relationship with our country. By acting not only as a showcase and source of current information on Italy, but also as a driving force behind initiatives and projects of cultural cooperation, the Italian Cultural Institute has become a focal point for both the Italian communities abroad and the growing demand for Italian culture throughout the world.

By extending the role of Embassies and Consulates, the Italian Cultural Institutes offer the most effective tools for promoting a worldwide image of Italy as a center of production, preservation, and dissemination of culture from the Classical Age until today. Along with organizing cultural events in a vast array of areas, including art, music, cinema, theatre, dance, fashion, design, and photography, the Italian Cultural Institutes:


Offer the opportunity to learn Italian language and culture through the organization of courses, the management of libraries and the preparation of educational and editorial materials;
Provide the networks and the premises to facilitate the integration of Italian operators in the process of cultural exchange and production at an international level;
Provide information and logistic support to public and private cultural operators, both Italian and foreign;
Continuously support initiatives aimed at promoting an intercultural dialogue based on the principles of democracy and international solidarity.