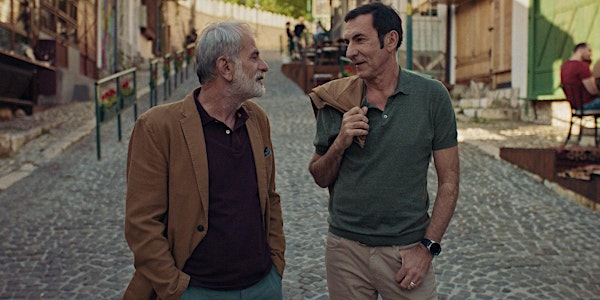 Presentation 1: The Lockdown | Not So Friendly Neighborhood Affair + Q&A
The Lockdown | Not So Friendly Neighborhood Affair + Q&A
When and where
Location
SVA Theatre 333 West 23rd Street New York, NY 10011
About this event
THE LOCKDOWN (ZATVARANJE)
2021 | Chris Leslie | 7 min | Short Documentary
An empty city. A population in hiding. An invisible enemy who surrounds you. Everywhere is the front line. A testimony of fear, survival, hope.
DESET U POLA (NOT SO FRIENDLY NEIGHBORHOOD AFFAIR )
2021 | Danis Tanovic | 90 min | Feature
Sarajevo, May 2021. The Old Town is trying to recover after a long and difficult pandemic year. The pandemic is not over yet, but the summer is coming and there is hope that things can improve, even if only for a short time. When a woman from Zagreb enters Enis's shop one morning and says that she has come to eat "the best kebabs in Sarajevo", and in a moment of goodwill, he sends her to Izo's shop. This totally harmless, friendly gesture will cause the complete disintegration of the neighbors' business and private life, engulfing not only Izo and Enis but the whole city. Where can one eat the best kebabs in Sarajevo?
*All films have English subtitles where needed
COVID Vaccination Requirements
All those entering SVA Theatre (including guests and event staff) need to be fully vaccinated with an FDA / WHO authorized COVID vaccine (listed here) and must show proof of vaccination upon entrance. "Fully vaccinated" means at least 14 days past the final dose of the vaccine received. For more information please visit SVA Theatre COVID Protocols at https://svatheatre.com/about/faqs/
Masks
Everyone entering SVA Theatre must wear approved face coverings that cover the nose and mouth at all times. CDC guidelines state that bandanas, gaiters, or masks with vents/valves are not approved. If you do not have an approved mask, please see an SVA Theatre representative, who will provide one free of charge (as supplies last). Masks may be removed briefly in order to drink water or other non-alcoholic beverages.
SVA Theatre COVID Protocols will be strictly enforced by the theatre staff. Guests who do not comply with the above protocols will be denied entry, or may be removed at the discretion of SVA Theatre staff.