Description
"Before I can tell my life what I want to do with it, I must listen to my life telling me who I am."

―

Parker J. Palmer
Are you looking for an opportunity to bring more presence and intention into your daily life?
Do you crave stillness, quietness, time to sit, think, reflect and inquire and return to a more aligned sense of self?
Are you feeling pulled to reconnect, realign, do the 'inner work' and feel what vision you are here to steward?
Presence in Motion is a 3 -day Quest facilitated by

Al Jeffery

(Realise Flow) and Alicia Crawford Bell (Liminal Life) inviting you to journey with us as we explore what it means to live and lead a life in wholeness, mindfulness and purpose.
MIND | MOVEMENT | MEANING
This unique retreat experience has been curated around a series of contemplative questions delving into our relationship with mind, movement and meaning.

You'll come out the other side with a greater felt-sense of how you can live with these three elements of self in congruence.
"One of the best experiences I've ever had. A lesson in growth, connection and expression."

Held at the beautiful Riverdale Retreat in Wesburn, you will be guided through a series of processes combining:
Hatha yoga, Animal Flow and primal movement

Meditation and mindfulness

Forest therapy and nature based-exercises

Breathwork practices

Personal reflection and contemplative exercises

Group processes and discussion

Story and secular ritual to offer you a truly powerful curated experience.


"It feels like this could be the beginning of the rest of my life."
Awareness of the beliefs and mental patterns holding you where you currently are

Practices and tools to reframe and clear mental patterns in congruence with your vision

Clarity and a strong connection to your sense of meaning or purpose

A new sense of groundedness, self-compassion and focus

P

hysical practices to assist you in maintaining your vibrancy

A committed group to support you and hold you accountable to change

Our intention is to hold space for personal transformation and to provide guidance and support for those ready to dive deeply into understanding what drives you/what holds you back, where your power lies and how you can tap into your 'power-centre' and what it means to live to your highest potential.
This event will be limited to 12 people to help keep the group intimate and well connected and to ensure there is time for everyone to reflect, explore, share and delve into what arises.

Riverdale is a stunning retreat centre situated in Wesburn 72kms east from Melbourne. Set alongside the Yarra River with the Warburton mountains as a backdrop, the 15acre property incorporates biodynamic flower and food gardens, bushfoods and beekeeping, native forest walks, natural hideaways and stunning scenery. A perfect place to relax, unwind, reconnect, explore and nurture your body and soul.
"Profound! I've done years of work in this space and I have grown so much more on this retreat!"
//

Included in the quest:
Venue and accommodation
Wholesome, organic meals
All programming and facilitation
Pre-quest group call
Post-quest reunion and integration on October 19th evening
// Accommodation and Meals:
Delicious, nourishing, vegetarian meals (Theresa cooks with the philosophy of 'food as medicine')

Shared rooms (single beds)
Early-human - $950 with payment plans available (Until July 31st)
Group discounts for 3 or more also available. Contact Al at al@realiseflow.com to organise.
// A little about your facilitators: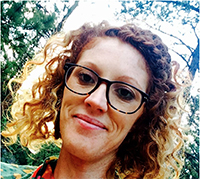 Alicia has over 15 years experience designing, facilitating and evaluating personal development and leadership programs. She has worked with some of Australia's leading social change organisations and is passionate about assisting others to transform their own lives and the lives of those around them. Combining values education, strengths-based approaches, self-awareness and reflective practices, creative arts, yoga and meditation, Alicia works with individuals and groups in a holistic manner to craft unique experiences and training programs which are tailored to the needs of individuals and their communities.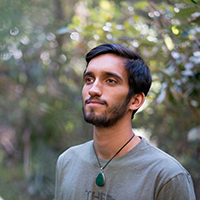 Al is an international facilitator and communicator, exploring topics of community, human performance and wellbeing in the 21st century. He's worked with over 1500 people and over 15 progressive organisations in 2017 helping them find more meaning, connection and access to their creative potential. As a certified yoga and meditation teacher, Ayurvedic massage therapist, executive coach, Animal Flow trainer and group facilitator, Al combines his philosophy from his book
Modern Tribe
(released in 2018) to bring back the power of tribe to personal healing and transformation.