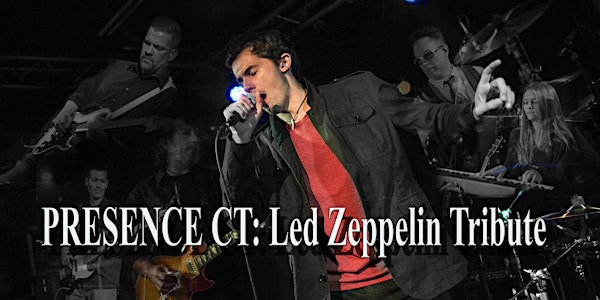 Presence CT: Led Zeppelin Tribute
Premier Concerts and Manic Presents:
Performers
Presence CT: Led Zeppelin Tribute
Location
Space Ballroom
295 Treadwell Street
Hamden, CT 06514
About this event
General Admission Standing Room Only
COVID-19 Policy
Masks are strongly encouraged.
By purchasing tickets to this event, you agree to abide by the State of CT, City of Hamden, Artist, and Space Ballroom's Health and Safety measures in effect at the time of the event. Check back for updates to your event on our website as guidelines and entry requirements are subject to change.
PRESENCE CT: LED ZEPPELIN TRIBUTE
Undoubtedly one of CT's hottest bands, Presence CT Led Zeppelin Tribute have been wowing audiences across the state since their inception in September 2016 with their blistering, spot-on renditions of some of Zeppelin's finest work.
What began as a jam session among life-long friends and musicians quickly morphed into the sublime when 18-year-old vocal sensation Michael Stearns (The Voice) entered the fray.  The band has since never looked back.
From the haunting keys of No Quarter, to the melancholy harmonica on When the Levee Breaks, to the virtuoso guitars of Over the Hills and Far Away and the pounding rhythms of Nobody's Fault but Mine, Presence CT Led Zeppelin Tribute brings it - in full color - note for note, rivaling and, in many ways, surpassing the "national acts" who pay tribute to one of the world's all-time greatest rock and roll bands.
There are no gimmicks here. No silly costumes or wigs. Just the pure power, sounds, and delight of the mighty Zeppelin.
See what others have to say about the band:
"Saw these guys in Nov '17 at the Ballroom with fellow Zep fans including a pro musician. We were in awe and couldn't believe what we were experiencing. They're Class A pros and sound amazing - you got to see them!"
"Blown away by the Presence CT performance at Trinity on Main 3/16/18. Do yourself a favor and see them locally and at a smaller venue while you still can because they could be selling out stadiums before long..."
"These guys are the real deal...great show at Oktoberfest this past weekend...solid vocals and band. Not easy to pay tribute to this level of music and they nailed it!"
"I want to thank the band for not only a night to remember but a youth relived. Last night's performance was spectacular!!! From guitars, harp, bass right down to the essential heartbeat of the drums = WOW, I am so grateful for these musicians who have done an incredible job in keeping the essence pure. Thank you from the bottom of my heart…"
"I've been a Zeppelin fan since I was a kid. Never got to see them live. Presence CT is...simply THE BEST Zeppelin show around, and I've seen a few others. No comparison. Very talented band members and their music...simply awesome."