Description
More prescriptions are written than ever before and as a result prescription drug abuse is growing at the same rate. This presentation will cover recent statistics of prescription drug abuse, the most commonly abused prescription drugs, the culture of prescription drug use, and the need for individualized treatment and intervention. Medical and behavioral health professionals should recognize warning signs indicating possible prescription drug abuse. Prescription drugs are often abused in addition to alcohol and illicit drugs with potential lethal effects. Of particular concern is the link between prescription drug abuse and heroin abuse.
This free event is sponsored by Maine Township's MaineStay Youth & Family Services and Chicago Behavioral Hospital. It is appropriate for social service professionals and includes 2.0 free CEUs for social workers, professional counselors, marriage and family therapists, psychologists, and nurses. This training has been approved for 2.0 IAODAPCA CEUs for the following categories: Counselor I or II, Preventionist I, CARS I or II, CODP I or II, PCGC II, CCJP II, CAAP I, CRSS II, CPRS I or II, MAATP I or II, NCRS II, CFPP II, CVSS II which will also be offered free of charge to attendees. Continental breakfast will be available from 8:30-9:00 AM. Advance registration is requested as seating for this event is limited.

We will be collecting donations at this event to support MCYAF (Maine Community Youth Assistance Foundation), a local nonprofit organization and community coalition which works to prevent adolescent drug and alcohol abuse and promote positive mental health among teens in Maine Township. Attendees are encouraged to bring magic markers, pencils, and boxes of Tootsie Pops. MCYAF puts anti-drug messages on the candy and hands them out to teenagers.
About the Presenter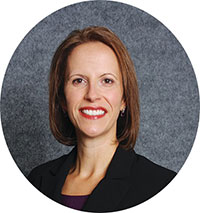 Karen Wolownik Albert
Karen Wolownik Albert has over 20 years of experience in behavioral healthcare in both inpatient and outpatient settings. She has been with Gateway Foundation for 8 years and is currently the executive director for the Gateway Lake Villa and Gurnee locations. Karen played a key role in the development of the Lake County A Way Out program, a county-wide program that helps link people seeking recovery from addiction with treatment resources. Through her work with A Way Out, Karen has helped hundreds of people access treatment. She recently received the 2018 Dr. C. Vincent Bakeman Memorial Award, which recognizes Illinois leaders in the substance use treatment field for their vision and dedication to advancing behavioral healthcare and addiction treatment.

This program is recognized by IDFPR as providing CEUs for LPC/LCPC and LSW/LCSW under license number 159.001334, LMFT under license number 168.000223, LCP under license number 268.000070, and RN/LPN/APN under license number 236.000127.