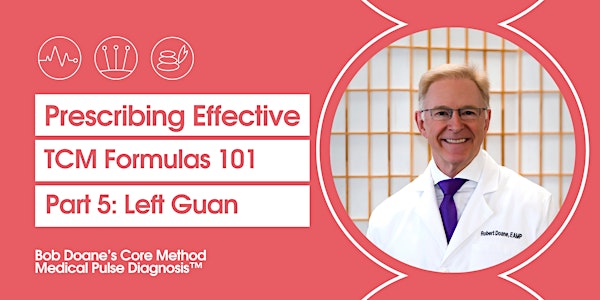 Prescribing Effective TCM Formulas | Part 5: Left Guan
Prescribing Effective Traditional Chinese Medicine Formulas 101 | Part 5: Left Guan
About this event
Prescribing Effective Traditional Chinese Medicine Formulas 101: Part 5 of 6
Bob Doane's Core Method Medical Pulse Diagnosis®
Upcoming Live Training: Saturday, September 17, 2022
Time: 1:00 pm - 4:30 pm PST USA
Instructor: Bob Doane AEMP, L.Ac., DIPL. C.H.
Attendance Type: This class will be offered as a live-streaming webinar (via Zoom).
The recording will be available to attendees only.
Price: Single course Early-Bird pricing ends : $275 (original price is $350).
Early bird fee and general fee is for one lecture.
Other Price Options:
Buy Parts 5 - 6: $480
Buy Part 1 - 6: $1440 (you'll receive the pre-recorded sessions for part 1,2, 3 and 4, PDF slides, and herb list)
What you'll learn
In part five of this six-part course you will learn all about the Left Guan: The home of the function of the Liver and Gallbladder
You'll understand when to use which formula and which single herbs for which symptom and TCM syndrome based on Medical Pulse Diagnosis (MPD).
After completing this course you will have furthered your understanding on what herbs/formulas really work for the most common complaints you face in your everyday clinical practice.
You will learn how Bob Doane uses Chinese herbs, which is often different from what the text books say. It also integrates his latest approach of prescribing herbs not based on only their classical indications, but also based on the latest pharmacological understandings.
You will learn how to create formulas that really work in today's world, not just what looks elegant in theory. Bob Doane's main focus is to sustainably turn the patient's health around, not to look good in front of scholars, recite the Neijing, follow a certain linage or to honor the TCM sages with your formulas.
You will be able to prescribe formulas with ease and confidence
Because you will understand: which herbs to use (and not to use) for which kind of symptom in combination with which kind of pulse and in what dosage.
You will also learn what to do if the symptoms and pulses do not respond to your formula, when to double down and when to switch your strategy.
This course is different from your standard text book TCM herbalism courses, because it summarizes the essence of Bob Doane's extremely practical and success oriented approach to herbalism and his vast clinical experience of having had 100 patient visits over the last 20 years.
Take out the guesswork in your herbal formulas
The goal of this course is to take out the guess work in your herbal formulas and give you great tools to provide swift and long-lasting results for your patients.
Six-Part Course Overview
1. Formulas/ Single herbs for the right Cun (incl. right styloid pulses & right Yangwei) — completed on March 19
2. Formulas/ Single herbs for the right Guan — completed April 23
3. Formulas/ Single herbs for the right Chi (including right Proximals) — completed June 18
4. Formulas/ Single herbs for the left Cun (incl. left styloid pulses & left Yangwei) - completed July 30
5. Formulas/ Single herbs for the left Guan - September 30
----Coming soon-----
6. Formulas/ Single herbs for the left Chi (incl. left Proximals)
FAQ
Q: What does this tuition and ticket price cover?
A: It covers ONE course, the recording, the PDF slides, and the herb list.
Q: When does early bird end?
A: The early bird pricing of $275 for one course ends Sept 1st.
Q: Can I pay for the 2 remaining courses now?
A: Yes, for $480 (save $220) you can purchase and reserve your spot for this courses plus part 6.
Q: What if I didn't join for parts 1,2,3, and 4 can I still pay for the entire series?
A: Yes, buy parts 1-6 for $1440 (you'll receive the pre-recorded sessions for part 1,2, 3 and 4, PDF slides, and herb list)
Q: What if I can't attend live?
A: Not a problem. The recording plus all the material will be sent directly to the email you sign up with within 24-48 hours after the webinar.
Q: Will this course be available for paying Doane Online Edu members (Silver, Gold, or Platinum)?
A: Not until 2023 once the entire six-part course is complete which will be toward the end of this year 2022.
About Doane Online Education
HOW WE'RE ABLE TO TREAT 100 PATIENT-VISITS PER DAY
Acupuncturists and Chinese Medicine practitioners around the world perk up when we tell them how busy our clinic is. When so many others are struggling just to keep the doors open, our clinic—located in Poulsbo, WA (pop. 7000) and yet the largest clinic of its kind in the U.S.–is running at full steam.
THE REASON IS SIMPLE: WE PRACTICE WHAT WE TEACH.
When Doane Online Education founder, Bob Doane, first attended a school of Chinese Medicine in 1993, he ran up against its shortcomings right away. Here's what he found:
"We never really learned an effective acupuncture method for getting rid of pain in a clinical setting."
"They never taught us how to do Chinese pulse diagnosis in a way that actually works."
"They never trained us in building and managing a successful Chinese Medicine business."
Sound familiar? Is that why so many acupuncturist(s) turn to other pursuits after only 3-5 years?
We're changing that!
JUMPSTART YOUR CAREER WITH BOB DOANE'S METHODOLOGY
Globally Acclaimed Online Chinese Medicine Training.
Doane Online Education focuses on teaching Distal Needling Acupuncture™ (DNA™) and Medical Pulse Diagnosis® (MPD®), both proprietary methodologies developed by Bob Doane.
In our webinars, residency programs, and weekly treatment strategies we teach what we've seen work based on the the positive results from patients visiting and returning to The Acupuncture and Wellness Center. Bob Doane is not a scholar but a pure clinician that has mastered the clinical delivery of Chinese Medicine in all its complexity with over 23 years of experience in the industry and one of the most successful practices in the United States—seeing 80-125 patients per day, 5 days a week. He's ready to share his experience with you.