Sales Have Ended
Registrations are closed
Ticket sales have ended, however, if you are interested in attending, please contact: Pollen Williamson, Physician Initiatives Project Director Governor's Institute 919.256-7411 (direct) 919.990.9559 (main) pollen@govinst.org
Sales Have Ended
Registrations are closed
Ticket sales have ended, however, if you are interested in attending, please contact: Pollen Williamson, Physician Initiatives Project Director Governor's Institute 919.256-7411 (direct) 919.990.9559 (main) pollen@govinst.org
Description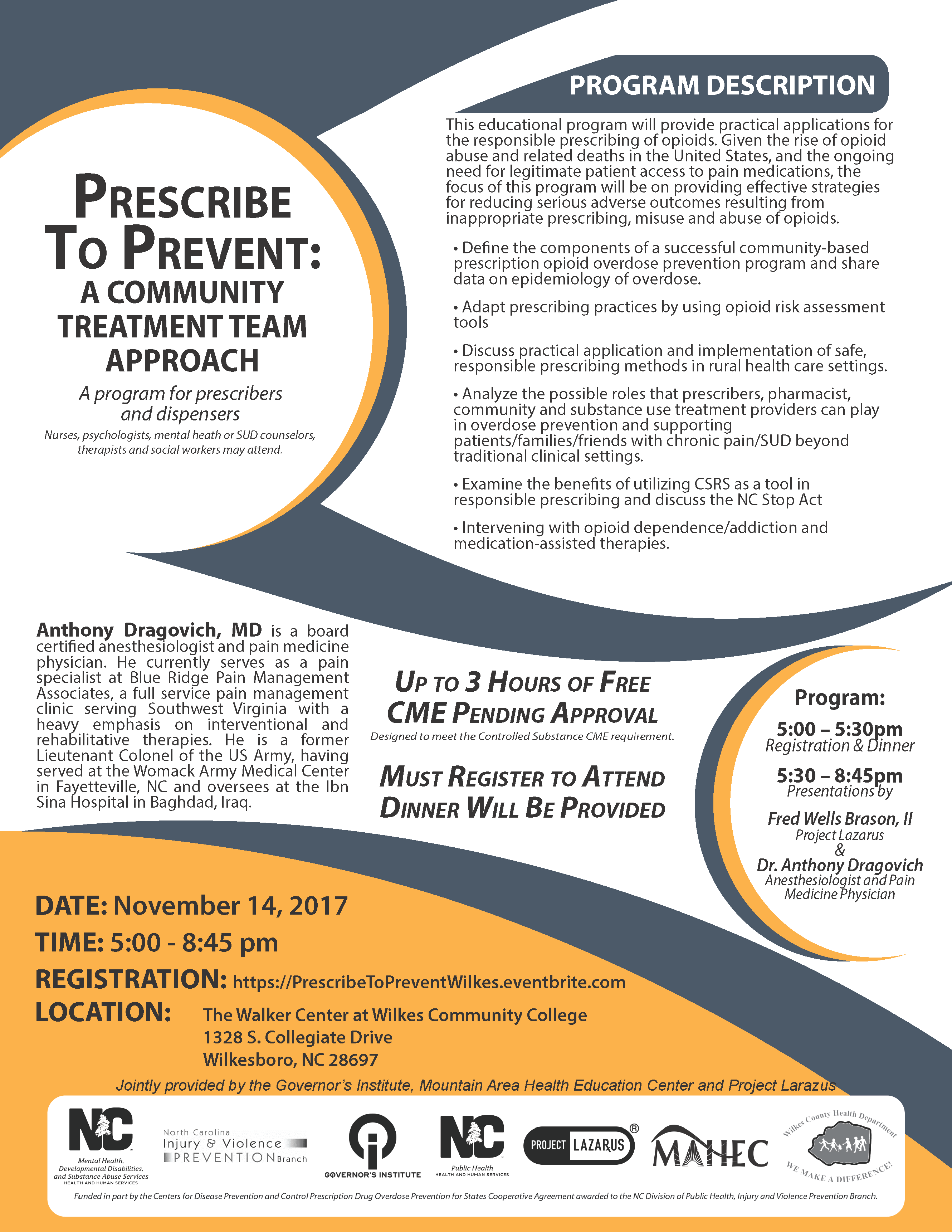 Registration & Dinner: 5:00 – 5:30pm
Program: 5:30 – 8:45pm
Presentations jointly provided by: Fred Wells Brason, II, Project Lazarus & Dr. Anthony Dragovich, Anesthesiologist and Pain Medicine Physician
UP TO 3 HOURS OF FREE CME PENDING APPROVAL
Designed to meet the Controlled Substance CME requirement.
MUST REGISTER TO ATTEND
DINNER WILL BE PROVIDED
This educational program will provide practical applications for the responsible prescribing of opioids. Given the rise of opioid abuse and related deaths in the United States, and the ongoing need for legitimate patient access to pain medications, the focus of this program will be on providing effective strategies for reducing serious adverse outcomes resulting from inappropriate prescribing, misuse and abuse of opioids.
• Define the components of a successful community-based prescription opioid overdose prevention program and share data on epidemiology of overdose.
• Adapt prescribing practices by using opioid risk assessment tools
• Discuss practical application and implementation of safe, responsible prescribing methods in rural health care settings.
• Analyze the possible roles that prescribers, pharmacist, community and substance use treatment providers can play in overdose prevention and supporting patients/families/friends with chronic pain/SUD beyond traditional clinical settings.
• Examine the benefits of utilizing CSRS as a tool in responsible prescribing and discuss the NC Stop Act
• Intervening with opioid dependence/addiction and medication-assisted therapies.
Anthony Dragovich, MD is a board certified anesthesiologist and pain medicine physician. He currently serves as a pain specialist at Blue Ridge Pain Management Associates, a full service pain management clinic serving Southwest Virginia with a heavy emphasis on interventional and rehabilitative therapies. He is a former Lieutenant Colonel of the US Army, having served at the Womack Army Medical Center in Fayetteville, NC and oversees at the Ibn Sina Hospital in Baghdad, Iraq.