PRESALE | Huge Kids Consignment Pop-Up Shop! JBF Bellingham Fall 2021
JBF Bellingham is COMING! Come shop at our bi-annual Kids Consignment Sale! Save 50-90% off all the things your kids need!
About this event
The JBF Bellingham Pop-up consignment shop is finally HERE! Come check out our great selection and deals on our PRESALE DAY! Register for the hottest ticket in town and Shop at The Ferndale Event Center.
Full Sale Schedule:
Wednesday, November 3rd | Presale Day!
12:00p - 7:00p :: Earliest Primetime Shopping Admission $15
1:00p – 7:00p:: Early Primetime Shopping Admission $10
2:00p - 9:00p :: Primetime Shopping Admission $5
4:00p - 7:00p :: First Time & Expecting Parents
5:00p - 7:00p :: Teachers / Military
We close at 7:00p
Thursday, November 4th | 10:00a - 6:00p | $2 admission
Friday, November 5th | 10:00a - 6:00p
Saturday, November 6th | 50% off Day! 10:00a – 6:00p
Sunday, November 7th | up to 75% off Day! 9:00a – 2:00p
Bring your own bags to carry all your great finds home with you. Bring a friend or relative so that you can "divide and conquer" our huge sales floor (each adult will need a ticket). Bring your shopping list with clothing and shoe sizes. Budget to shop for the next 6 months of your child's life (until our next sale in June 2022!).
We prefer cash and also accept VISA, Mastercard, and Discover at the event.
FAQs
Will there be a capacity limit?
Yes. We will be operating at the retail phase capacity requirements.
Do I need to have a ticket?
Yes and no. Shopping reservations will allow you to enter during your reserved time, without needing to wait (if our capacity is full). Think of your ticket as a "fast pass" like they do at Disney. :)
Do I need to print my ticket(s)?
No, you may show on your smartphone, or we can even look you up in the system on our end with your email address.
Are there ID requirements or an age limit to enter the event?
No ID is required at the door. Just show your Shopping Ticket / Reservation at the entrance (on your phone or printed).
Are children allowed?
Children are allowed, but must accompanied by an adult at all times. Children will also need to wear a facial covering, or be worn in a carrier (if they are too young to wear appropriate masking).
What can I expect to find at the sale?
You will be able to find children's clothing size Preemie-juniors, shoes sizes NB-adults 9, Arts & Crafts, Books, Dress up, Educational and Homeschooling items, Baby Gear, Strollers, Toys, Sports equipment, and MORE!
What can/can't I bring to the event?
Bring reusable shopping bags to carry all your great deals home! Bring a water bottle and snacks if you plan to power-shop. Bring your kids' sizes and a traced cut-out of your child's footprint to be sure clothing and shoes will fit properly. Bring a budget! Save up and buy everything your kids need for the next 6 months!
What is the refund policy?
There are no refunds on tickets. All sales at the event are final. No refunds or exchanges.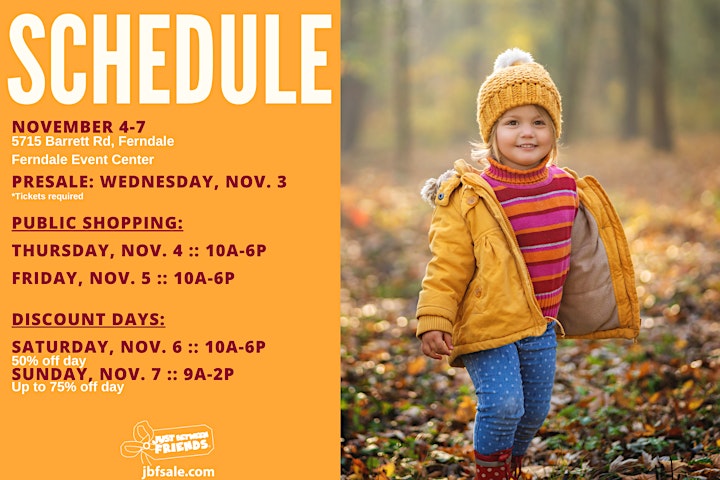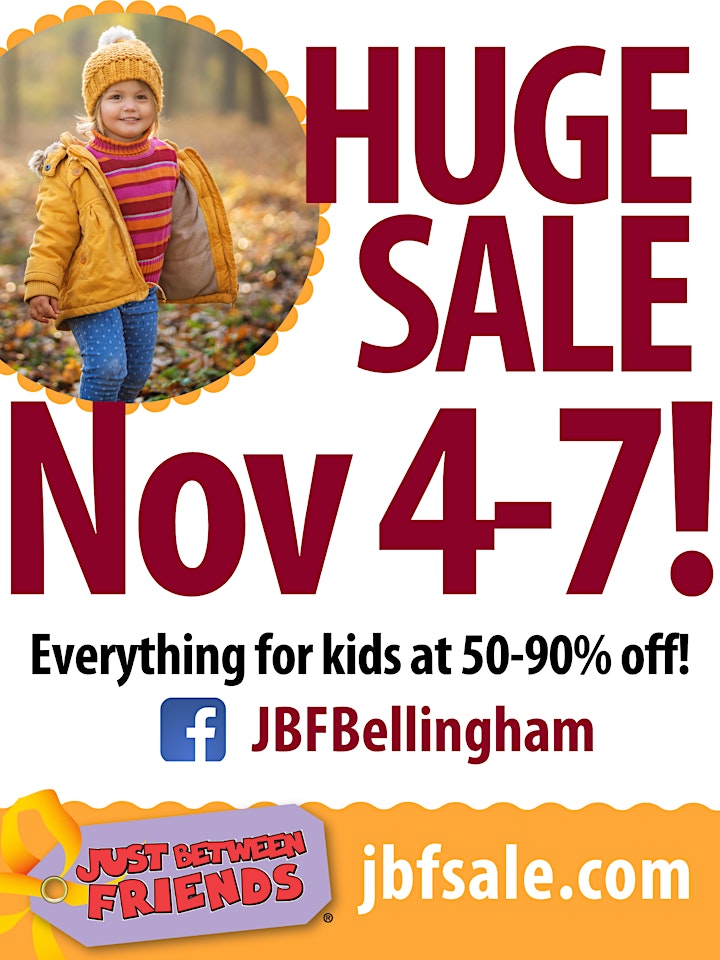 Organizer of PRESALE | Huge Kids Consignment Pop-Up Shop! JBF Bellingham Fall 2021