PreREGISTRATION for the Masterclass »360° Night Panoramas« with Aaron Pries...
Description
IVRPA pre-conference workshop 01.-02. June 2017
Masterclass »360° Night Panoramas« – Advanced workshop
with Aaron Priest and Thomas Bredenfeld on Schneeberg Mountain

Before the IVRPA Vienna 2017 conference starts, we are excited to offer an exclusive masterclass to be held by two wellknown and experienced trainers for panoramic photography: Aaron Priest and Thomas Bredenfeld.




Night and Astro Panoramas
Capturing 360° panoramas in the night rises the level of difficulties compared to daylight situations, especially, if you want to get images with a starry sky dome. Most stunning and popular are panoramas showing the skys main attraction, the Milky Way. Around the IVRPA conference date we have quite fine general viewing conditions as the core of the Milky Way is visible long enough in Europe to be shown in a night 360° panorama.
Main focus of this masterclass workshop is the practical work on location. You learn how to handle your panoramic gear at night, to set up camera and lens for this special capturing conditions and how to find the best panorama setup.
Much more than with daylight photography an important topic is planning to get the best location, setting up your timing with days and hours to capture your night panoramas. Thomas will bring and show special equipment for night and astro panoramic photography. Get our personal assistance and a lot of tips and tricks for your night panorama shootings.


Location
In a distance of 65km from Vienna the Mt. Schneeberg (translated »Snow Mountain«) is the first and most eastern elevation oft the Alps above 2,000m a.s.l. As light pollution is an important issue for night photography the Schneeberg is pretty far away from the well lit Vienna metropolitan area to have fairly good conditions to capture photos of the Milky Way.

We go up to the Schneeberg from Vienna first by train and then by a mountain railway ("Schneebergbahn", rack railway). This 2nd half is a very scenic trip. Our basecamp will be an old mountain hotel ("Berghaus Hochschneeberg"). From here it's a 20 min walk to our shooting location over alpine meadows and a small path (not dangerous even at night) to the Waxriegel summit (1,888m a.s.l.) which offers a nearly 360° horizon (NW to SW) only slightly obstructed to W by the two Schneeberg main summits (2,067 and 2,061m a.s.l.). The main area of interest in the sky (SE to SW) has an open horizon and is showing mostly dark areas with fairly low light pollution. The lighting of the hotel and the rack railway station are out of sight on this summit.
The summit of our photo location is formed like a smooth hill. So we can spread out over a certain area to have ample space for everybody to capture his 360° panorama.
Accommodation
We stay at the Berghaus Hochschneeberg hotel, an old and historic building at the terminal station of the Schneeberg mountain railway. For the workshop double rooms (for single usage) are booked with shower and veranda. The view from the verandas is marvelous and goes towards east, which is very fine for sunrise photos. The workshop fee includes a breakfast.
Timing / light conditions to expect

Golden Hour start 19:59
Sunset 20:46
Civil twilight end 21:26
Nautic twilight end 22:20
Astro twilight end 23:38 (from now on it's completely dark)
Galactic Core rise 23:40 (beautiful central section of the Milky Way)
Moon set 01:26 (half moon (50,2%), far away enough (90°+) for getting sufficient Milky Way captures)
Astro twilight start 02:10 (end of complete darkness)
Nautic twilight start 03:28
Civil twilight start 04:22
Sunrise 05:02
Golden hour end 05:45
Due to the recent late spring heavy snow falls remaining rests of snow are to be expected, which will be lit by moon light before moon set. So there's a chance to have a pretty nice ground scenery instead of the usual very dark foregound. We have a light pollution level 4 area (Bortle class), up there which offers average darkness, but with good Milky Way visibility.
Workshop / Travel Schedule
Timetable / planning for our workshop tour: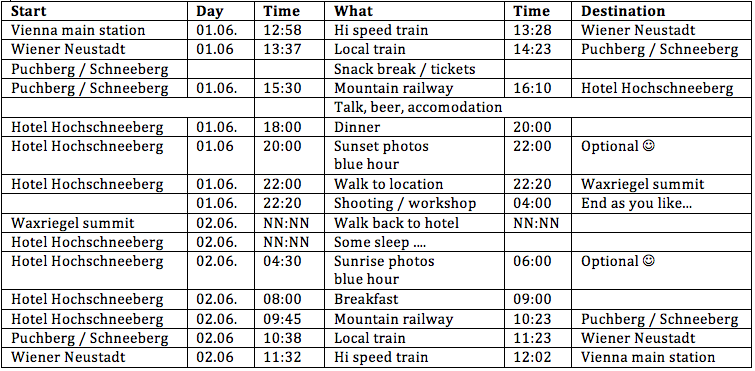 Meeting point is Vienna Main Station (Wien Hauptbahnhof), Main Hall, at 01.06.2017, 12:30.
Your Trainers
Aaron Priest from Maine, USA, has held a lot of night panorama workshops and is well known for his stunning panoramas and astro timelapse movies. His work is covering HDR and hi resolution panoramic photography and has been featured by CBS, PetaPixel, Round.me, Accuweather, space.com etc. He contributed a lot of his experience and knowledge to the panoramic photographers community.

Thomas Bredenfeld from Vienna, Austria, is one of the best known panoramic photographers in the german speaking area. After 3 Books about Photoshop his handbook about panoramic photography is the standard book on this topic in german with 3 editions. He also is a trainer at LinkedIn Learning with a series of video trainings covering panoramic photography, hardware and software. His commercial work includes projects for clients like Vienna State Opera, Austrian Federal Railways (ÖBB), Adidas, A1 (Austrian telecom), Austrian National Library etc.

Participants
To minimize disturbance in a workshop situation with several photographers doing 360° capturing, especially at night with headlamp operation, we limit the participants count to 8. So with this small group Aaron and Thomas as the two trainers can offer an exclusive workshop setting to you with a lot of time to care about your individual questions and to assist your work on location.
To be sure to have a good common level of experience among all workshop attendees we ask explicitely about your understanding / conformation related to the workshops requirements shown below (gear, clothing, knowlegde) and ask to provide a link to samples of your work in the registration / ticket order form. So before buying a ticket we've set up a pre-registration. Within these requirements tickets are sold first-come-first-serve.

Pricing
350,-- € including:

tickets for railway
tickets for mountain railway
hotel stay includes a room with shower and veranda/balcony (to East for nice sunrise photos!) and breakfast
workshop fee
Food and beverage expences are up to you

»Plan B« with insufficient weather conditions
In case of bad weather or conditions not good enough for the workshops purpose (storm, rain, snow, too much clouds etc.) we offer an alternative shorter workshop at sunday evening / night (june 4th/5th) at a location in Vienna accessible with Viennese public transport (bus and/or night bus lines) and short walk to location

We'll focus on night 360° panoramas in (fairly dark) urban environments
Location to be announced in case we use plan B
The price will be reduced to 90,-- €
Workshop fee only, travel expenses (local public transport fares) are up to you
Refund
In case of severly bad weather (especially with rainy conditions at Schneeberg and Vienna) we offer a full refund.
The decision about the workshop happening, about changing to plan B or canceling the workshop will be made 3-4 days before the workshop date after observing several weather forecast channels.
Payment via PayPal/Eventbrite to IVRPA account.
Eventual refunds will be made to your PayPal account.
REQUIREMENTS

Required Gear / Equipment

Camera (DSLR or mirrorless, fullframe recommended, but not mandatory)
(Super) Wide angle lens, max. 24mm (related to fullframe) or fisheye lens.
Remote trigger (wired, wireless or smartphone driven (e.g. TriggerTrap app), infrared is not recommended as i can be visible for other cameras and is not practical for wide angle / fisheye use on cameras with front IR receiver!)
Panorama head (2-axis spherical or fisheye ring head), perfectly set up for your camera/lens combination
Tripod (not too lightweight as we need long exposure times)
Headlamp with red light mode (mandatory!) for walking around in the night and gear setup on location, for not losing eye adaption / night vision, not disturbing the other participants and not light up the environment during capturing.
(Photo-)Backpack
Plastic bag or trash bag to put your backpack on to prevent your gear wetted by dew / air humitity.
Required clothing
Even in summer times the (sub-)alpine climate conditions in this height level can make a longer outdoor stay at night with a lot of time standing around during your camera work a chilling experience, especially as the Schneeberg can be a pretty windy spot. Expect temperatures below 5° Celsius in a clear starry night up there. We will be outdoor for several hours during the night, so a warm fleece (or down) jacket is recommended, covered with a wind proof softshell or goretex jacket. Consider to wear wind proof trousers over your jeans. Don't forget a cap or hat. Thin gloves are strongly recommended. Bring suitable shoes for easy hiking in a undifficult terrain (meadows, some little rocks, small path). No sneakers! No special mountaineering gear is required.
A thermal insulated can with hot tea is always a good idea at night :-)

Required knowledge

Being absolute familiar with your camera and lens and their setup
Being able to make a proper setup of your panorama head for no-parallax-point adjustment
Being familiar with panoramic photograpy techniques, especially capturing 360° / spherical panoramas
Preparation information

Aaron has a very good primer about night photography on his website

Night sky constellations to be expected for the workshop location/date/time:
Log in to IVRPA website and go to the 2016 Quebec sections video archive to watch Aarons talk about night panoramas

For additional information beyond the practical field work in this master class and about special software and workflows related to this topic be sure to attend Thomas' IVRPA 2017 talk – After this talk Aaron and Thomas will hold a Q+A session together, where they maybe show some first results from this workshop...