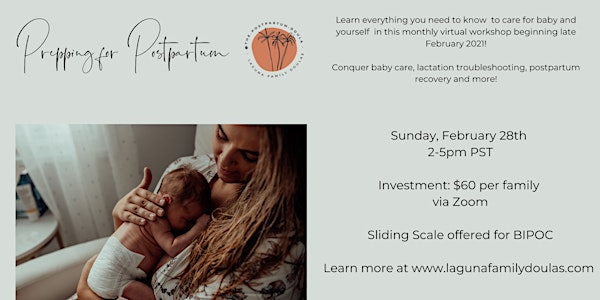 Prepping for Postpartum
Prepping for Postpartum- New Course! Expecting a baby? In this class you'll learn all you need to know to care for your baby and yourself
Refund Policy
Contact the organizer to request a refund.
Eventbrite's fee is nonrefundable.
About this event
This class will help you...
Conquer baby care
learn easy ways to care for your baby from burping to swaddling to diaper changes
create and implement a routine that works for you, your family, and your baby
learn tons of techniques for soothing a crying baby
bonding, infant massage, and tummy time
learn the causes of gas and reflux AND know what to do
crib sleeping, co-sleeping, and bedhsharing
Conquer breastfeeding/lactation
understand your milk supply
know when your baby is getting enough to eat
introduce bottles and pumping
building your supply when you need to supplement
transitioning back to work and building a "stash"
Conquer postpartum recovery 
learn what to expect immediately after delivery and in the first few weeks of your fourth trimester
optimize rest
learn what tools you'll need for recovery
create a pantry list and system for meal prepping
put together a postpartum plan focusing on your physical and emotional needs, as well as delegating tasks around your home
recognize signs of PPD and other PMADs and know what to do if you experience those signs
assemble a postpartum support team