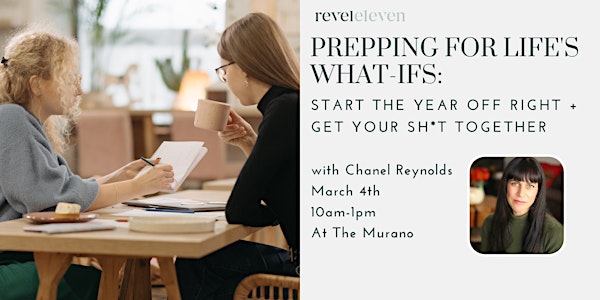 Prepping for Life's What-Ifs: Start the Year + Get Your Sh*t Together
Join us for a 3-hour workshop to help you get your most critical documents in order, so you're less screwed when life goes sideways.
When and where
Location
The Murano 620 Terry Avenue Seattle, WA 98104
About this event
Financial statements, wills, health care directives - we all have dozens of documents in files, on our hard drive, or in the cloud - but can you access them quickly? Can your relatives?
It can be overwhelming to think about, but we all need to get it done.
Are you ready to get your shit together but don't know where to start?
Getting your important documents together is one of the most critical and valuable investments that you will ever make. Join RevelEleven and Chanel Reynolds of Get Your Shit Together for a three-hour in-person event to learn where to start and what to do next. This workshop will give you a tangible starting point, help you get organized, save you time and stress, and make meaningful progress towards your goals so you can stop worrying about what would happen if life goes sideways.
What you can expect from our session:
Get started: The essential plans every household must have
Critical legal and financial documents every adult needs
How to safely organize and share digital accounts and passwords
Why a healthcare directive is critical and how to get it done.
Tools to create your family's emergency or 'what-if' plan
A sense of relief, you can do this!
Valet, coffee and lunch will be provided. You will also receive a comprehensive workbook that you can take home to start getting your legal and financial 'house' in order. Take charge in 2023 and become prepared, well-informed and confident that you can handle what life throws at you. It will take a great weight off your shoulders as well as that of your spouse, significant other, your children or other family members.
About Chanel: After losing her husband in a tragic accident, Chanel Reynolds learned from firsthand experience that most of us in this country are living one accident or illness away from financial ruin. She founded the internationally acclaimed Get Your Shit Together website to help other people take care of estate-planning tasks to be "less screwed when life goes sideways." She is the author of "What Matters Most: The Get Your Shit Together Guide to Wills, Money, Insurance, and Life's What-ifs", named both 'Best in Wellness' and a 'Top 10 Self-Help' book of the year. Chanel leads classes and workshops across the country and is working on her second book.
Chanel has been featured in the New York Times, on NPR, CNBC, and BBC and has reached millions of people worldwide with her unique 'kick in the pants' to help make end-of–life planning less overwhelming and complicated.
*No reimbursement will be issued after purchase of tickets - only in the case of a cancellation of the event.
About RevelEleven: RevelEleven Events + Retreats is a community of women across the globe coming together to listen to amazing speakers and challenge each other to be the best we can be. Our weekly online events offer a unique blend of inspiration and information, community and conversation, friendship and focus. We also host retreats in Seattle, Roslyn, WA and across the globe.