The uses for Unmanned Aircraft continues to expand for law enforcement, search and rescue, and disaster response.
About this event
TOPIC: The uses for Unmanned Aircraft continues to expand for law enforcement, search and rescue, and disaster response. Along with that expansion is the need for qualified unmanned pilots who can pass the FAA UAG exam or meet the knowledge requirements to operate under a public Certificate of Authorization or Waiver.
This course is a two part training over two consecutive days (approx 4 hours each day).
This course will cover the following topics specified for the initial aeronautical knowledge test as specified under 14CFR§107.73:
• Applicable regulations relating to small unmanned aircraft system rating privileges, limitations, and flight operation;
• Airspace classification, operating requirements, and flight restrictions affecting small unmanned aircraft operation;
• Aviation weather sources and effects of weather on small unmanned aircraft performance;
• Small unmanned aircraft loading;
• Emergency procedures;
• Crew resource management;
• Radio communication procedures;
• Determining the performance of small unmanned aircraft;
• Physiological effects of drugs and alcohol;
• Aeronautical decision-making and judgment;
• Airport operations; and
• Maintenance and preflight inspection procedures.
Course Objective: To prepare the student operator for real-world safe operation of Small (multi-rotor and fixed wing) UAV and to provide basic study in preparation for Remote Pilot Certification under FAR Part §107 or the equivalent necessary under a grant of Certificate of Authorization or Waiver.
TARGET AUDIENCE: All members of the public safety community. Especially important for anyone involved in operations or enforcement related to unmanned aerial vehicles ("drones").
INSTRUCTOR: Tim Trott is holds a current instructor certification from the Florida Department of Law Enforcement. He also passed the FAA Remote Pilot Certification on the first day it was available and also passed the FAA's Fundamentals of Instruction (FOI) exam. He has helped over 900 students to pass the FAA written exam for the Remote Pilot Certification under Part §107 with his classes, e-books and online training. In addition, Tim also holds a Student Pilot license and is a current member of the Flight School Association of North America, Airborne Public Safety Association, the Aircraft Owners and Pilots Association and the FAA Safety Team (FAAST). Mr. Trott has contributed to podcasts on the subject, including The UAV Digest and Drone Radio Show. He also assisted with beta testing of the VeriFly drone insurance mobile app. Tim Trott is the author of a number of books currently available from Barnes & Noble, including FAA §107 UAG Ground School Study Guide and Out of the Blue, the life and legend of Kirby "Sky King" Grant, available at Amazon.com.
DATES/TIMES:
Part One: Wednesday, August 11, 2021 - 10am until 2pm (EST)
Part Two: Thursday, August 12, 2021 – 10am until 2pm (EST)
COST: $199.00 per person
LOCATION: ONLINE TRAINING! A Zoom Link and your classroom materials will be emailed to you one week prior to the class date.
PAYMENT OPTIONS:
• Check made payable to: TRAINING FORCE USA
3681 Loma Farm Road, Tallahassee, FL 32309
• Purchase Order
• Credit Card payment made online
Cancellations and Substitutions:
• Upon submission of this registration, participants are responsible for payment of this course.
Please note that if you do not attend, you are still responsible for payment. At the discretion of Training Force USA, credit for the amount paid may be issued toward a future course.
• Substitutions may be made at any time by phone, e-mail or online at the registration site.
QUESTIONS: Phone: 850-251-1223 E-mail: cpichard@trainingforceusa.com
WWW.TRAININGFORCEUSA.COM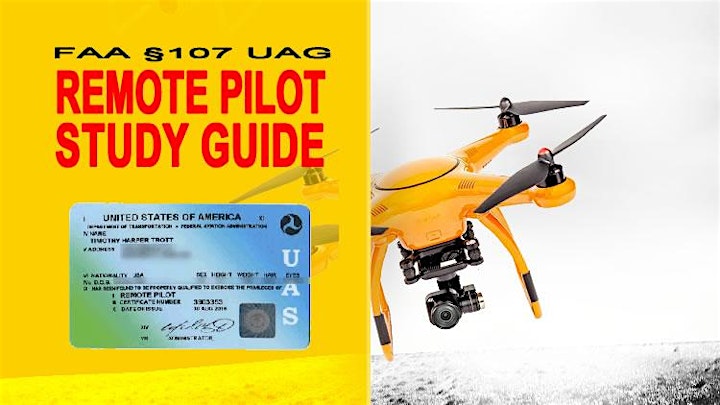 Organizer of Preparing to Pass the FAA UAG Part §107 Drone License Exam