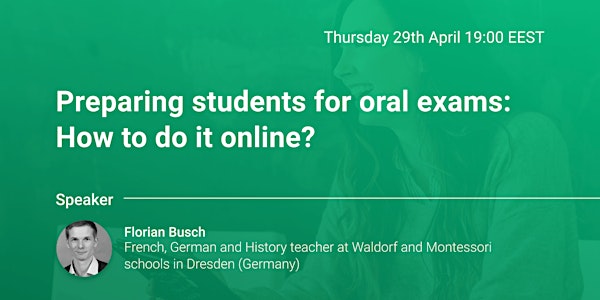 Preparing students for oral exams - How to do it online?
Sanako's next Webinar provides examples of how language teachers can utilize technology to prepare students for oral exams effectively!
About this event
In this webinar, you'll hear from Florian Busch, a language teacher who will share his insights on how online language learning tools have helped his institution prepare students for formal oral examinations. He will also highlight the role that bespoke individual online learning plans play in that success.
When: Thursday, 29th April 2021 at 19.00 (EEST)
Specifically designed to help educators and institutions to save significant amounts of time and energy, the webinar will demonstrate how online tools can transform your approach to oral language assessment. We'll also show how voice recording and online feedback loops can be easily deployed to engage and motivate students.
Joining the session, language teachers will:
Understand how online tools can be used to help students prepare for oral language exams;
Discover how such techniques can save teachers time and energy;
Learn how to create a personalised learning plan for every student;
Engage and motivate students to study and succeed;
Get parents involved to reinforce key learning and messages.
At the end of the webinar, attendees will be informed of how they can enjoy a 2-month trial of Sanako Connect - the online language lab solution from Sanako.
Keynote speaker
Florian Busch is an experienced and passionate language teacher. He works at the Waldorf and Montessori schools in Dresden, where he specialises in teaching French, German and History to students aged between 13 and 18.
He studied German, Romanic Philology and History of Art at the Universities of Freiburg, Lyon and Leipzig.