Preparing for The American Film Market

Saturday, September 5, 2015 from 12:30 PM to 4:00 PM (PDT)
Event Details
No matter how you plan to distribute your film, the relationships you foster are key to finding success.  If you're self distributing, those relationships are the ones you foster through social media and your local communities.  If, like many filmmakers, you're looking for more traditional distribution then you'll need relationships with distributors and sales agents.  If you're an American Filmmaker, the best place to foster those relationships is at The American Film Market.

But AFM is somewhat Mercurial and hard to understand without a veteran guiding you.  That's why Producer Foundry is happy to bring you a workshop on how to use AFM to establish relationships with distributors. The Presenter will be Ben Yennie, Author of The Guerrilla Rep, American Film Market Distribution Success on No Budget.  The Book is currently being used as a text book at more than 10 film schools, and is in more than 100 independent booksellers nationwide, as well as amazon and Barnes and Nobles.
AGENDA
12:30-1 - Mingling/Networking
1:00-1:05 Producer Foundry/Sponsorship Announcements
1:05-2:00 What is AFM, how does it work?  What's the difference between a Sales Agent and Distributor?  Who goes to AFM and why?  What badge should I buy? 
2:00-2:30- At AFM Part 1 - Networking tricks, Using the Lobby, and building market buzz, and who to approach.
2:30-2:45 - Break
2:45-3:15 At AFM Part 2 - How to Approach Distributors, what to research, and what to look for.
3:15-3:45 How to follow up, how to do due dilligence, and some deal warning signs and things you need in a distribution deal.  
3:45-4:00 Q & A
Ben is also a founder of both Producer Foundry,  and Guerrilla Rep Media.  Ben has helped to negotiate several distribution deals through Guerrilla Rep Media, and has worked to connect some of the hottest 90's sci-fi stars with distribution for their projects.. Ben has also Written on AFM For Hope for Film, and is a contributor to indiewire.  
If you're not in San Francisco but would like to attend, there will be a replay available after the workshop through VHX.
You'll also be offered the chance to buy a signed copy of Ben's book at checkout.  If you'd like a copy before the workshop, the book is available through the following online retailers.
BUY IT NOW THROUGH BARNES AND NOBLES
ABOUT BEN YENNIE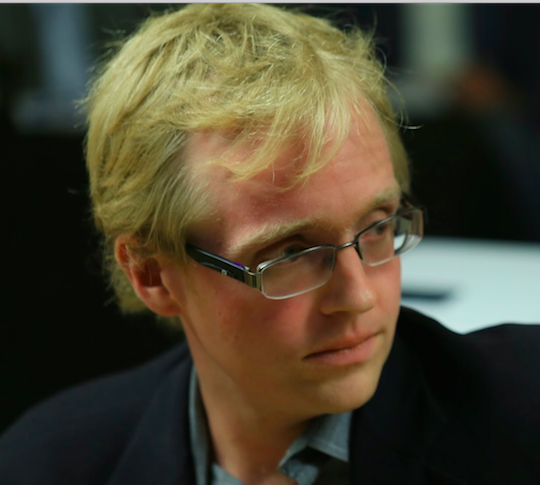 Ben is Founder and CEO of Guerrilla Rep Media, an Independent Producer's Representation Company helping connect Filmmakers with the right Distributors and Sales Agents.  He is also the founder of Producer Foundry, a center for workshops, networking, and entrepreneurial training for film and video producers. He is the author of The Guerrilla Rep: American Film Market Distribution Success on No Budget, a book used as a text in film schools across the country, and was a chapter leader for the Institute for International Film Finance. This experience has given him a solid understanding of the operational and business sides of film and video production, with excellent connections into the film industry and film schools.   Ben is also Co-Founder and VP of Business Development at ProductionNext, a Market Network for the Film Industry.  Ben was VP of Sales for Taal, a mobile video interview platform for the hospitality industry.  Ben has Written for Indiewire and HopeForFilm.com, and is co host of the Film Insight Podcast. Ben has been featured on CNN Money, The Deseret news, CEOBlogNation, the FilmTrooper Podcast, Small Business Forum Radio, The Work at Home Success Podcast, and many more.  
When & Where

Samy's Camera
1090 Bryant Street
San Francisco, CA 94103


Saturday, September 5, 2015 from 12:30 PM to 4:00 PM (PDT)
Add to my calendar
Organiser
We are a group of film and media producers with the entrepreneurial spirit. We are a hub for filmmakers who think like entrepreneurs (or who want to think like entrepreneurs), creating projects that actually make money. We are a place to gather and talk about the challenges of living and working in independent film, and to meet people who can help you overcome those challenges. We are a nexus for filmmakers who realize you can't make a movie by yourself, and that there's so much more to filmmaking than just making the film. While we don't mind people who just make movies for fun, we focus on people who want to make a real career in independent film. Producer Foundry hosts town hall-style meetings to gather and discuss the goings-on in the indie film community here in San Francisco. We also have seminars providing overviews for the business of film and video, as well as in-depth workshops that teach filmmakers to think like business people. Our town halls are donation-based, our seminars are low-cost, and our workshops are reasonably priced.