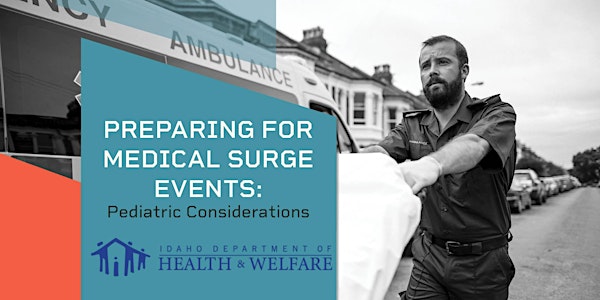 Preparing For Medical Surge Events: Pediatric Considerations
Location
Sun Valley Inn
2 Sun Valley Road
Sun Valley, ID 83353
Description
FREE CONTINUING EDUCATION CREDITS
FOR PHYSICIANS, NURSES, APs, AND PHARMACISTS NOW AVAILABLE

SCHEDULE AND AGENDA
Please select the available date (Thurs, May 16, 2019). Once you select "Register", a window will appear to select which days you would like to attend.
May 16th - EMS Focus (EMS Personnel encouraged to attend)
May 17th - Dual EMS & Hospital-Based Clinical Staff Focus (EMS Personnel and Hospital-Based Clincial Staff encouraged to attend)
May 18th - Hospital-Based Clinical Staff Focus (Hospital-Based Clinical Staff encouraged to attend)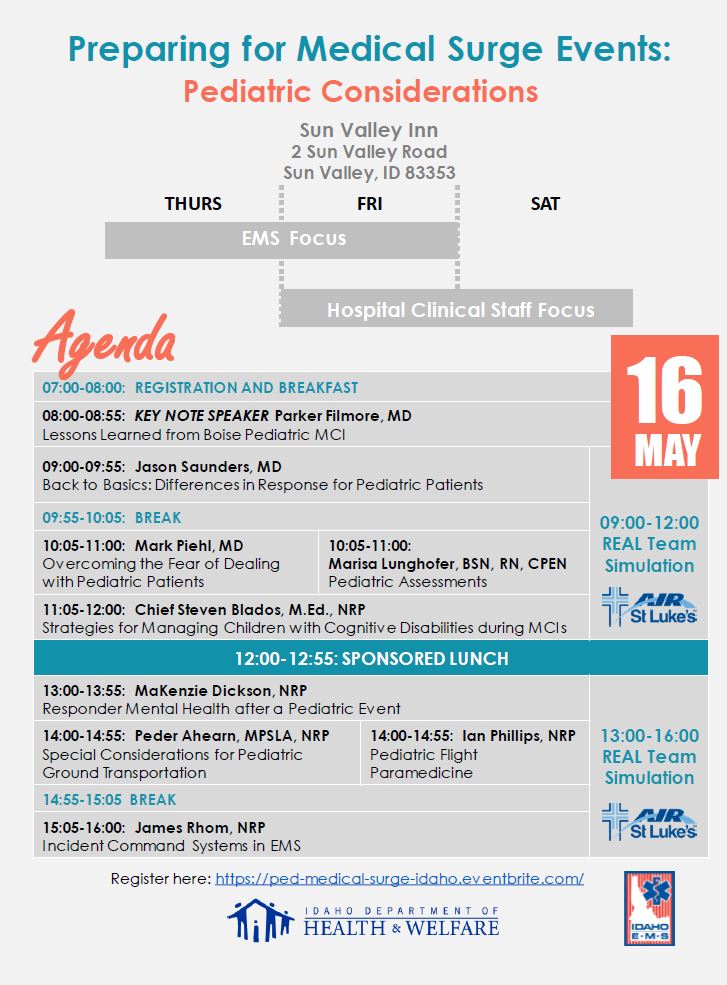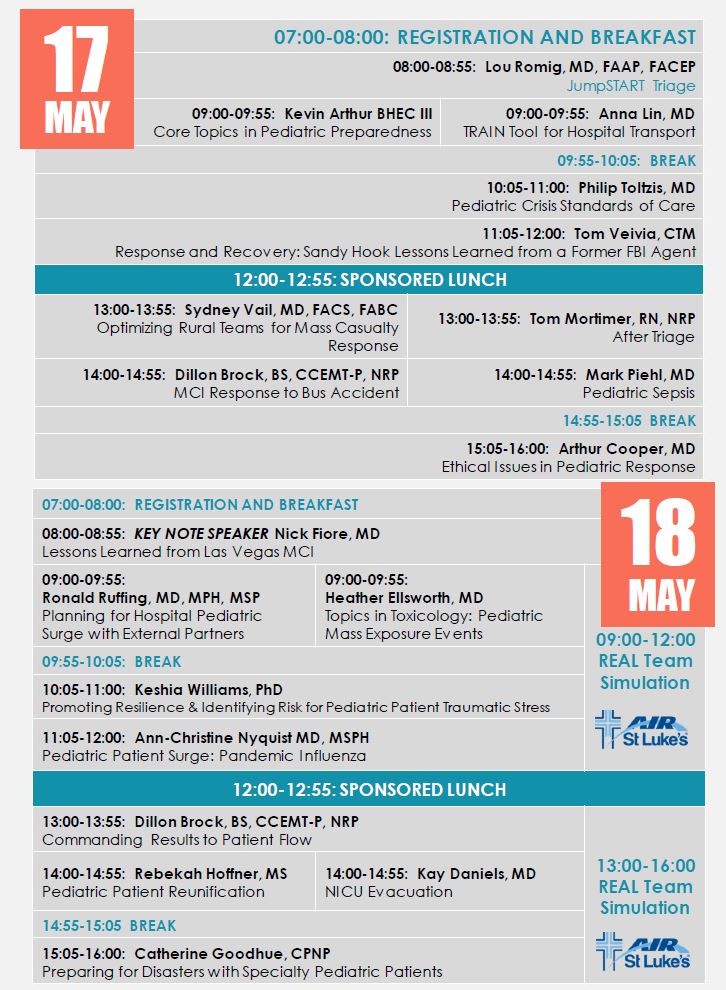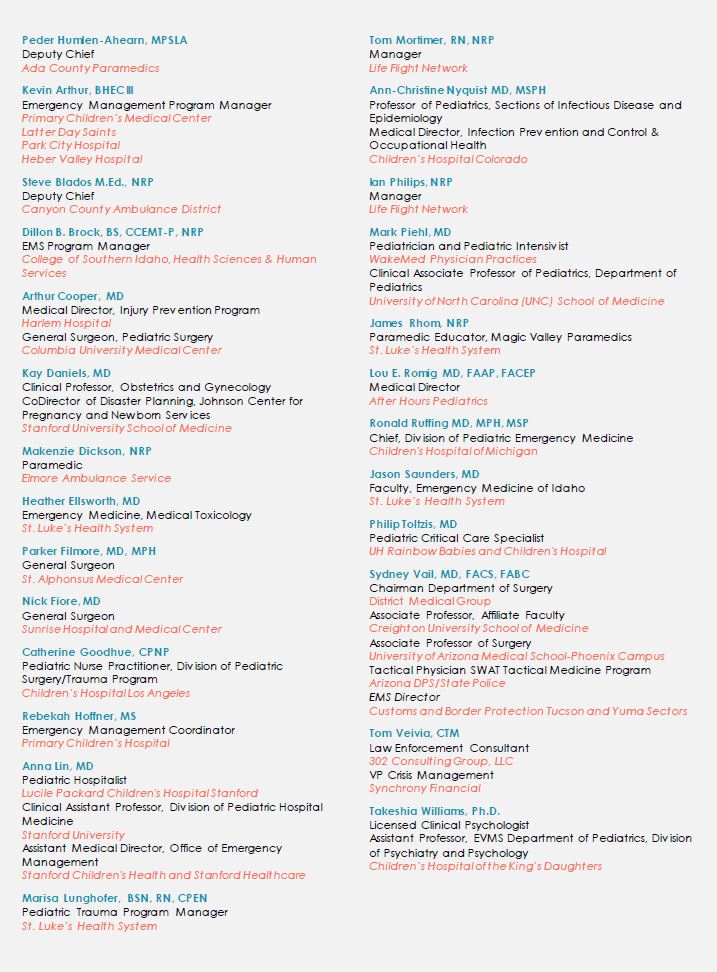 ABOUT THE CONFERENCE
EMS personnel and hospital-based clinical staff will attend a multi-day conference focused on preparing for and responding to medical surge events. Our guest speakers will cover topics related to medical surge events including logistics of patient flow, pediatric triage, pediatric and responder stress and mental health, transport, ethics involving pediatric patients, rural response, lessons learned from actual incidents, and a number of other specialty topics.
Idaho Department of Health and Welfare (IDHW) is pleased to announce Idaho's first Medical Surge Events Conference. Hosted by the Public Health Preparedness and Response Section (PHPR), the conference is funded through the Hospital Preparedness Program (HPP). As the source of federal funding for health care system readiness, HPP was created in 2002 by Health and Human Services (HHS). It is currently managed by the Assistant Secretary on Preparedness and Response (ASPR).
The program strives to develop four main capabilities--(1) Foundation for Healthcare and Medical Readiness, (2) Health Care and Medical Response Coordination, (3) Continuity of Health Care Service Delivery, and (4) Medical Surge. As the nation works to meet the objectives of each capability, healthcare professionals are tasked with increasing capacity for medical surge response. This year, the Section chose to address pediatric preparedness.
In order to provide pediatric care during medical surge events, EMS personnel and hospitals must be prepared to transport, receive, stabilize, and manage the vulnerable patient population. Given the limited number of pediatric specialty hospitals in the US, first responders and receiving hospital clinical staff must work together to provide care during crises.
Idaho's HPP program is excited to provide a conference with subject matter experts from around the country who can address pediatric response before, during, and after mass casualty incidents (MCI).
The PHPR Section would like to invite attendees who might find themselves on-scene during a pediatric medial surge event to learn from experts in the field and take the knowledge back to their facilities and departments. IDHW believes providing this opportunity will help shape the future of Idaho's pediatric preparedness and response by increasing capacity for pediatric care during a medical surge event.

SIMULATION OPTION

MCI Simulation with Air St. Luke's REAL team.
Participants will experience a hyper-realistic scenario complete with motion picture film quality makeup, sound effects, actors and more. A must see to believe style of dynamic learning that will take your abilities to a whole new level. Details on the simulation are intentionally limited.
An opportunity for 100 guests to attend a simulation is available.
Thursday, May 16th: 9:00am-12:00pm- 25 participants
Thursday, May 16th: 1:00pm-4:00pm- 25 participants
Saturday, May 18th: 9:00am-12:00pm- 25 participants
Saturday, May 18th: 1:00pm-4:00pm- 25 participants

A formal agenda with all speakers will be made available in the coming weeks.
FAQ
What is the cost to attend?
This event is FREE to attend, however attendees will need to make lodging and transportation arrangements.


Do I have to attend all three days?


We recommend that attendees register for at least the 2-day focus area that is most relevant to their professional work.


If you work in EMS, you are encouraged to attend May 16th and May 17th (Thursday and Friday)
If you work as a hospital clinician, you are encouraged to attend May 17th and May 18th (Friday and Saturday)
However, attendees are welcome to attend all three days of the conference if desired.


Who is the audience?
EMS personnel and hospital-based clinical staff in Idaho are welcome and encouraged to attend the conference. Those who may find the topics valuable include ambulance and flight paramedics, EMTs, physicians, nurse managers, trauma and ER nurses, and hospital preparedness professionals.


I'm not from Idaho, can I still attend?
At this time, the conference is only open to Idaho EMS personnel and hospital-based clinical staff.


How do I book my room?
When you are successfully registered for the conference, you will receive an email with discounted lodging information at Sun Valley Inn, including government per diem rates.


What is the room rate for lodging at Sun Valley Inn?
Government rate per night: $108
Standard rate per night: $139
Please indicate you are reserving a room for the pediatric preparedness conference to ensure you receive the discounted group nightly rate by calling Sun Valley Resort at 800-786-8259 or reservations@sunvalley.com.


I am interested in sponsoring, speaking, and/or I have an idea for a presentation topic. Whom should I contact?
Please contact IDHW's HPP Coordinator, Lindsey Walters at lindsey.walters@dhw.idaho.gov