Join us on the 21st of May to learn the process involved in preparing for investment as a business or startup founder from professionals.
About this event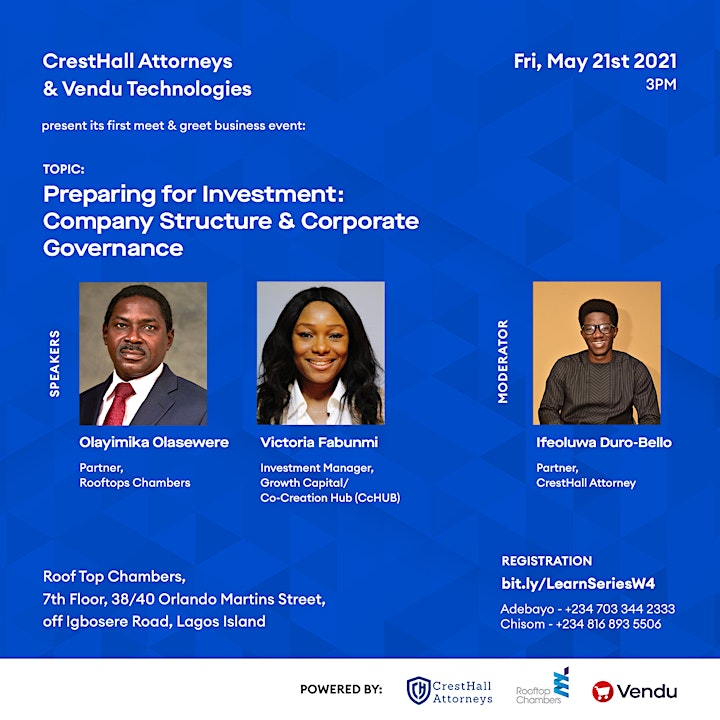 CrestHall Attorneys in partnership with Vendu Technologies is hosting the first edition of its Meet & Greet Event for Business Owners & Industry Professionals.
The topic for this edition is on Preparing for Investment: Company Structure & Corporate Governance.
Our speakers are Mr. Olayimika Olasewere, The Principal Partner at Rooftop Chambers & Ms. Victoria Fabunmi, Investment Manager, Growth Capital/Co-Creation Hub (CCHub).
Together, they have over 20+ years of experience advising high-growth companies in the process of raising investments, helping with structuring, and providing necessary guidance in navigating the murky waters of venture capital and corporate governance.
Join us for another impactful session as our speakers share insights and simplify the process of preparing for investment for your business or startup.
Participation in the event will be limited to a capacity of 50 guests due to Covid-19 restrictions and compliance guidelines.
Details
Venue: Rooftop Chambers, 7th Floor, 38/40 Orlando Martins Street off Igbosere Road, Lagos Island.
Time: 3pm
Date: Friday, 21st May 2021
For more information,
Adebayo - +234 703 344 2333
Chisom - +234 816 893 5506
This event is powered by CrestHall Attorneys, Rooftop Chambers, Vendu Technologies, and Dada Benjamin's Blog.
--------
CrestHall Attorneys is a boutique technology law firm formed to represent Nigeria's growing tech community in their domestic and international legal needs. For more information, visit https://www.cresthallattorneys.com
Vendu Technologies is the parent company behind Vendu; A wholesale marketplace connecting independent distributors – retailers & resellers to vetted suppliers. Sign up to get early access when it launches. https://www.venduhq.com
Organizer of Preparing for Investment: Company Structure & Corporate Governance