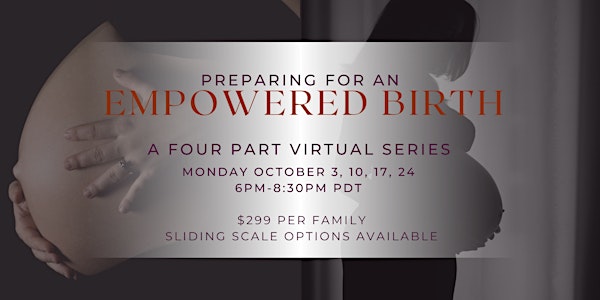 Preparing for an Empowered Birth : A Four Part Virtual Series
A virtual series exploring evidence based approaches to physiological birth and the tools necessary to achieve an Empowered Birth experience
Refund Policy
Contact the organizer to request a refund.
Eventbrite's fee is nonrefundable.
About this event
Q. What is an Empowered Birth?
A. An Empowered Birth is one where the birthing person feels free to surrender completely to journey of childbirth, confident in their power to birth according to their own desires. An Empowered Birth allows the birthing person to take ownership of the birthing process and rather than being in control, an Empowered Birth allows the birthing person to immerse themselves in labor as a means of guiding progress. This requires a web of trust, between the birthing person, their baby, their support person(s), and their care team.
Q. How do you achieve an Empowered Birth?
A. Through education, self exploration, communication with your support person(s) and your care team, and by cultivating trust and confidence in yourself to know what is right for you and your baby. This course is designed to address each of these requirements.
Description:
With the objective of preparing you for the best possible birth experience, this four part series will explore physiological birth from a holistic perspective with a focus on the tools necessary to help you achieve your vision for your birth. Each session will focus on a key aspect of preparing for an Empowered Birth, incorporating lectures and presentations, group discussions, and solo- or partner-based reflection. The goal is to give you a solid understanding of the birth process, help you write the framework for the birth you envision for yourself, and equip you with the tools to navigate the unknowns of childbirth.
Topics include:
- Late pregnancy and early labor: how to be mentally and physically proactive in the early stages of labor
- Anatomy of the birthing body
- Stages of labor: physiological birth
- Pelvic structure and pushing: the dance of moving your baby down and out
- Tools for your toolbox : evidence based approaches to be proactive in labor progression
- Golden hour and the immediate postpartum period
- Advocacy: Communicating with hospital staff and taking up space in the birth space
- Partner Preparation: Reading and interpreting labor cues
Class will be held virtually on Monday evenings from 6pm to 8:30pm. Attendees will receive a Zoom link, along with resources packet, prior to the first session.
Cost of attendance is $299 per family.
***Scholarship and sliding scale options are available. Please contact Desiree Dougherty via email at desiree@b-earth-mama.com for details***
Desiree Dougherty (she/her) is a birth doula, and childbirth educator based on unceded Ohlone land in the East Bay Area of California. She is passionate about helping families find craft a vision of thier birth and helping facililate that vision in the birth space.
To learn more about Desiree, you can visit her website: https://www.b-earth-mama.com/ or her practitioner profile with Akin: https://withakin.com/practitioners/desiree-dougherty.