PREPARE YOUR CHILD FOR UNIVERSITY SUCCESS w/ Crimson's Chief Strategist

Tuesday, February 27, 2018 from 6:00 PM to 7:30 PM (Indochina Time Vietnam Time)
Event Details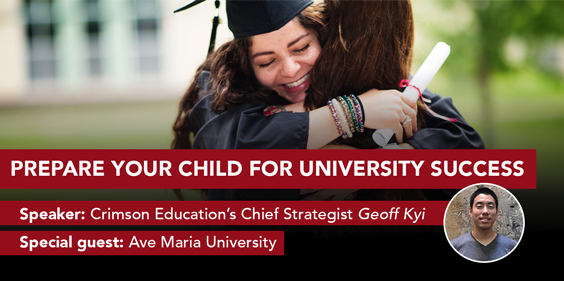 Are you setting your child up for success? You need a strategy for your child to achieve their fullest potential and attend a university in the US!
Join Crimson Education's Strategy Co-Head Geoff Kyi in an engaging conversation on how parents can assist and encourage their children on their journeys. Starting by defining what 'success' means, Geoff will also discuss how parents can set long-term, holistic goals and break down the path to university admissions success into smaller steps.
This discussion will also feature representatives from Ave Maria University in Florida, offering a perspective on parenting and success from a collegiate point of view.
The discussion will take place at:
6 - 7:30pm, Tuesday 27 February, 2018
Crimson Education Office, Level 6, Beta Tower, Ham Nghi Street, D1, Ho Chi Minh City
About the speaker: Geoff Kyi graduated from Brown University in Psychology. His passion for the education sector drove him to continue facilitating student achievement with roles in US admissions consulting in Shanghai, Hong Kong, and now Crimson Education, helping students gain admission to UPenn, NYU, Carnegie Mellon, Cooper Union, UCLA and many others.
*The discussion will be in English with Vietnamese interpretation.


---
Đừng để con tự 'bơi' khi du học Mỹ
Để con đạt được thành công khi du học Mỹ, ba mẹ cũng cần chiến lược.
Tham gia buổi thảo luận với Chiến lược gia kì cựu của Crimson Education, Geoff Kyi, để bàn về cách ba mẹ có thể giúp con cái thành công. Từ định nghĩa 'thành công' khác biệt thế nào với mỗi người, đến thiết lập mục tiêu dài hạn, đến xây dựng chiến lược từ từng bước nhỏ, với kinh nghiệm làm việc với phụ huynh và đưa hàng trăm học sinh vào những trường ĐH hàng đầu thế giới, những chia sẻ của anh chắc chắn sẽ có ích cho những phụ huynh muốn con mình thành công ngay từ ĐH.
Buổi thảo luận có sự tham gia của khách mời là đại diện trường Ave Maria (bang Florida), nhằm giúp đưa ra cái nhìn toàn diện từ không chỉ một trường ĐH mà còn từ một phụ huynh quyết tâm cho con du học.
Trao đổi diễn ra vào lúc:
Thứ 3, 27/02/2018 lúc 18:00
Crimson Education, Lầu 6, Beta Tower, 97 Hàm Nghi, Quận 1, Tp.HCM.
Về diễn giả: Tốt nghiệp từ ĐH danh giá Brown trong nhóm Ivy League, đam mê làm việc trong ngành giáo dục đưa Geoff Kyi  đến những cơ hội mới tại Thượng Hải, Hong Kong, và nay là Crimson Education với tư cách Chiến lược gia chủ chốt chuyên về du học Mỹ. Anh đã đưa học sinh từ khắp nơi trên thế giới đến những trường top đầu như University of Pennsylvania (Ivy League), New York University, Carnegie Mellon, Cooper Union, và UCLA .
*Trao đổi bằng tiếng Anh với phiên dịch tiếng Việt.
When & Where

Crimson Education - Vietnam
97 Hàm Nghi
6th Floor
Ho Chi Minh City, Hồ Chí Minh
Vietnam

Tuesday, February 27, 2018 from 6:00 PM to 7:30 PM (Indochina Time Vietnam Time)
Add to my calendar
Organizer
Crimson Education is a transformative education and mentoring company that was founded to support people to seize the best education and career opportunites around the world.
We currently have offices in Australia, Brazil, China, New Zealand, Russia, Singapore, Thailand, United Kingdom, the United States of America, and Vietnam. Every year since its inception, our students have been accepted into all 8 Ivy League universities, Oxbridge and many more.
We have over 2,000 tutors and mentors who have graduated from top-tier universities and who have currently worked at or are based at top-ranked corporations. These experts provide personalised, holistic mentoring to people anywhere in the world, anytime.