Prepare to Launch! Our series is all about teaching you skills that will prepare you for a successful future.
About this Event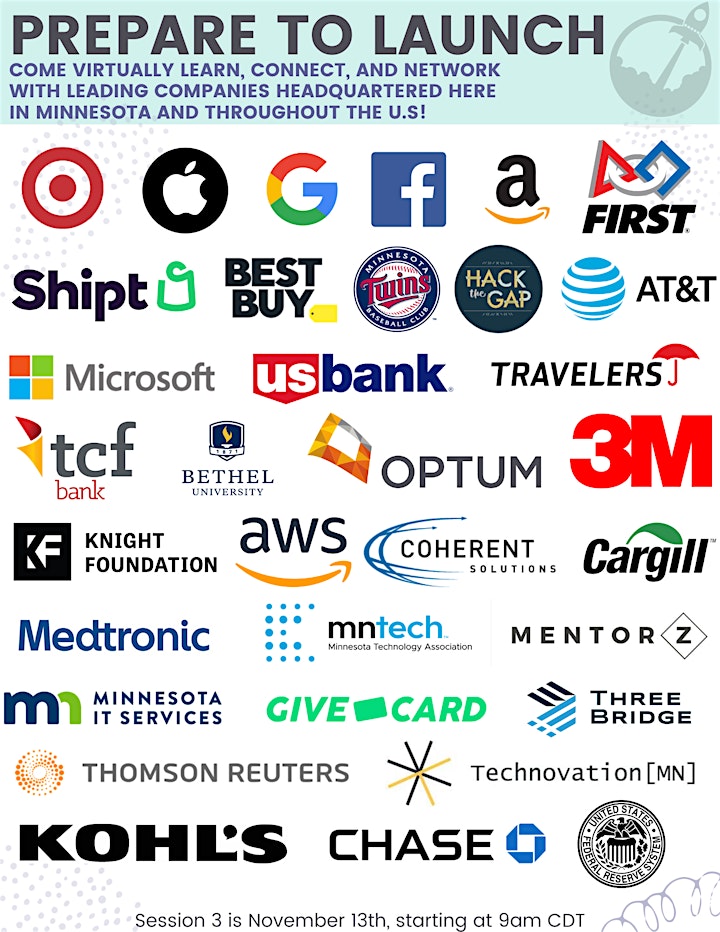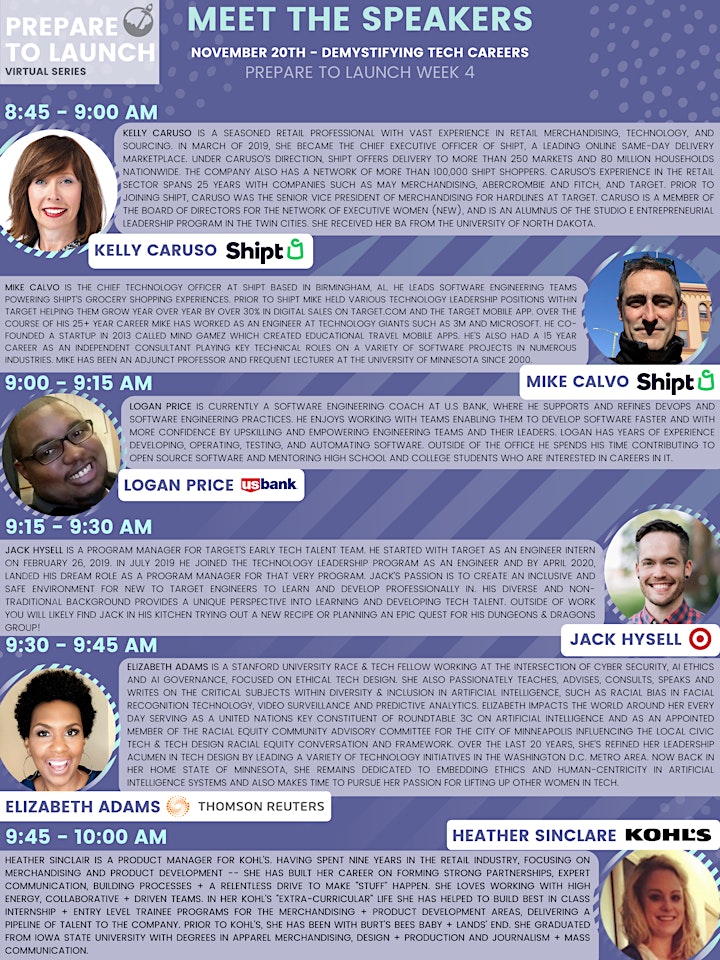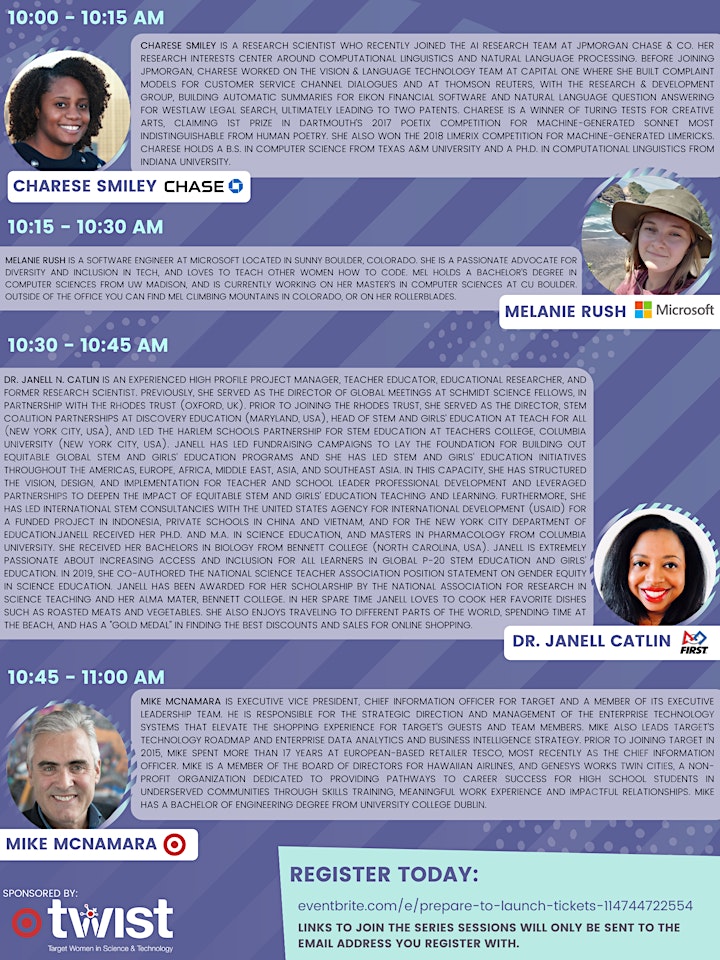 Target Women in Science & Technology (TWIST) is an organization within Target Corporation Technology pyramid that engages and advances women in STEM careers through internal and external activities and events. TWIST's mission is to foster connections, inspiration and knowledge-sharing to help women in Science, Technology, Engineering, and Math (STEM) grow to their full potential. Some of the ways that we attract and develop diverse talent in our community is through hosting events such as Job Shadows, Target Science & Technology Day, Girl Scouts Stem Day, TWIST EPIC Awards & Mentorship Program, and speakers.
TWIST would like to invite you (and all your friends) to attend this online virtual series called Prepare to Launch. We want to launch you into your education and career by teaching you essential professional skills, inspiring you to go after your goals. Our series will feature talks from technology professionals representing top Minnesota companies. In addition, sessions will have breakout rooms to connect with other attendees and mentors that are also professional eager to connect with YOU!
Join us - take this free opportunity to develop yourself.
This event is open to men and women. Speakers and content will target young people that are in high school and early college. Please contact TWIST.EPIC@target.com if you have any questions.
Agenda and Speaker Schedule: All times are Central Daylight Time (CDT).
UPCOMING SESSION SPEAKERS
November 20th, 2020 | 8:45am - 11:00am | Tech Misconceptions
PAST SESSION SPEAKERS
October 16th, 2020 | 8:45am - 10:45am | Be Curious
8:45-9:00AM: Welcome Music and Intro to TWIST
9:00-9:15AM: Nancy King, Vice President, Digital & Merchandising Engineering at Target
9:15-9:30AM: Dr. Melissa Cordes, Neuroscience Program Director at Bethel University
9:30-10:00AM (guided workshop): Erica Prairie, Early Tech Talent Director at Optum & Kristin Schneider, Early Tech Talent Lead at Target
10:00-10:30AM (panel): Joshua Wadsworth, Product Owner at Best Buy, Anna Maxam, Senior Engineer at Target, Caroline Karanja, CEO of Hack the Gap, Rachel Clark from 3M; Moderated by Jade Denson, Director of Community Engagement at MN Tech
10:30-10:45AM: Kevin Clague, Silicon Validation Engineer at Apple
October 30th, 2020 | 8:45am - 10:45am | Be Bold
8:45-9:00AM: Welcome Music and Trivia
9:00-9:15AM: Brianna McCullough, Infrastructure Program Manager at Google and founder of the lifestyle empowerment brand, Bri Limitless
9:15-9:30AM: Valerie Bergman, Data and AI Architect at Microsoft
9:30-9:45AM: Beth Guidarelli, Manager at Minnesota IT Services
9:45-10:00AM: Shelley Andrew, Business Systems Manager and Virginia de la Riva, software engineer at Minnesota Twins Baseball Club
10:00-10:15AM: Lurein Perera, College Student and Founder of the Start-up and Non-Profit GiveCard
10:15-10:45AM (panel): Jessi Keegan, Senior Engineering Manager at Target; Jordan Focht, Senior Software Engineer at Amazon; Anna Garcia, Strategic Account Lead at AT&T Devi Chetty, Director at Federal Reserve Bank of Atlanta; Rob Lyons, Director of Robotics, Minnesota STEM Partnership; Moderated by Tarah Beyers, Inventory Management Product Owner at Target Corporation
November 13th, 2020 | 8:45am - 10:45am | Build Meaningful Relationships
8:45-9:00AM: Welcome Music and Trivia
9:00-9:15AM: Denise Morelock, Client Engagement Director at ThreeBridge Solutions
9:15-9:30AM: Andrea Lopez, Marketing Associate at Target
9:30-9:45AM: Katie Hendricksen, TTS Extended Intern at Target Corporation and Computer Science Student at Bethel University
9:45-10:00AM: Ava Wettrick, Founder of MentorZ Media, Entrepreneur, Speaker, Creator of ChangeZ, Host of MentorZ the podcast
10:00-10:15AM: De'Aira Bryant, Research Scientist Intern at Amazon Web Services (AWS) and Computer Science PhD Student at Georgia Tech
10:15-10:45AM (panel): Nick Hernandez, Business Development Executive at Coherent Solutions, Tami Morton, Director Information Technology Operations at TCF Bank; Jai Winston, Director at Knight Foundation; Jackie Hartman, Global Data Management and Governance Lead at Cargill; Moderated by Jade Denson, Director of Community Engagement at MN Tech
10:45-11:00AM: Lisa Schlosser, CEO of Technovation[MN]