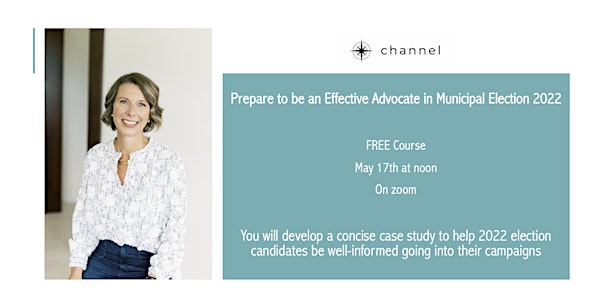 Prepare to be an Effective Advocate in Municipal Election 2022
You will come away from this workshop with a clear plan to build constructive and trusting relationships with Council candidates.
About this event
We look forward to welcoming you on May 17th!
This workshop is for real estate developers, government project leaders, and non-profit project leaders who wish to take an important step in strategically managing a land development project.
Tegan Smith, MCIP, RPP, Principal of Channel Consulting will help you be ready to be effective in providing clear, constructive, and helpful case studies that build trust with Council candidates about what is working and what is not with land use approvals.
The goal of this session is to help you access new solutions and ways forward, with the next Council.
Background
The next municipal election is on October 15th, 2022.
There are over a hundred municipal Councillors in the region making land use decisions. Hundreds of candidates will be discussing land use policy in the election campaigns. It will be helpful to empower candidates to be as knowledgeable as possible.
Experienced project leaders have an important role to play to help candidates to know the details and be confident and knowledgeable with a specific plan for what they will do "more of" and what they will do "less of" to address land use policy in their term.
Every person who stands for public office has a genuine desire to use their time and energy for maximum impact in their community. Great candidates are looking to be well-informed going into their campaigns. They want to commit to voters about the results they plan to achieve.
There are 22 municipal governments in Metro Vancouver. Even with the Regional Growth Strategy, Vancouver Charter, and Local Government Act, over time, each municipal Council has developed its own unique land use policy framework. Each municipality has a different context and a different culture. Some Councils are more functional than others.
A word document worksheet will be provided to you, to help you to develop your impactful project description and candidate engagement plan.
Project Description will include:
Your company information, including an overview of company mission, vision, and values
Description of land use approvals required
Feedback on what has worked well and what hasn't, with approvals
Specific recommendations on 1-2 ideas of how the process could be streamlined
Candidate Engagement Plan will include:
Name of municipality where project is located
List of municipal Council candidates, their contact details, and their platforms
Key messages
Outreach plan
Plan for helping to inform debate