Description
How to Use Amazon Global Selling to Boost Your Exports for the USA/EU Holiday Season: Amazon Global Selling program
Every year, during the months of October to January there is a shopping frenzy in North America and Europe, that has no equal anywhere in the world!
A staggering $80.2 billion was spent just on online during the November-December 2016 holiday season in the USA as per comScore. This is a 17 percent year-over-year growth. If you are already exporting to the USA this is a big opportunity for you to sell your products.
Be Ready For Billion Dollar Shopping Days:
Online shopping has become so popular in recent years that with each holiday season the Billion-Dollar Shopping Days are becoming the new norm.
Last year, through Cyber Monday,13 days exceed $1 billion in online spending via desktop computers.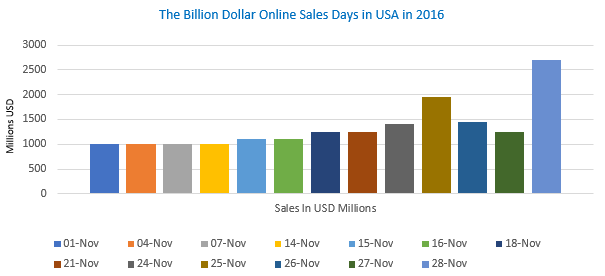 Make the most of the Shopping Season on Amazon:
Amazon continues to scale new heights during the shopping season capturing nearly one in every two dollars that Americans spend online.
As per Forbes magazine, Amazon has declared 2016 its "best ever" holiday season, selling enough 4K TVs to reach the peak of Mount Everest more than nine times. As per data collated by us, many sellers on Amazon have seen their sales grow by 100 to 1500% during this period.
If you are already a part of Amazon Global Selling and have already listed your products on Amazon or intend to export your products to USA during this time, this workshop will help you achieve brilliant sales goals.
What will be covered in the workshop?
a) How to prepare for the upcoming holiday season through Amazon Global Selling? Know key details that are never officially revealed.
b) Details of the best-selling products last year and how you can promote your product mix to benefit from them.
c) Optimization secrets of the best sellers on Amazon and how you can implement these for your products.
d) Advertising strategies on Amazon for the holiday season to gain maximum customer visits and conversions.
e) Non – Amazon methods to get quick brand recognition for your products and enhance your sales rapidly.
f) Prepare for Selling on the Billion Dollar Days!
Who should attend:
For logistical reasons, participation in this workshop is restricted to those already a part of Amazon Global Selling Program and Exporters with a valid IEC code.
This is a senior level workshop and only Owners, Directors, CEOs and Vice Presidents of companies will be registered.
Disclaimer:
This workshop is conducted independently by SME MaXX as a part of Ecommerce Sales Acceleration Program (ESAP - USA).
For details please visit www.esapusa.com
This workshop is conducted with an objective to help Indian Exporters Enhance their Sales during the USA Holiday Shopping Season. This has no connection nor is any way related or a part of Amazon Global Selling or Amazon group of companies. Use of any trademarks is only for indicative purposes. Content of this workshop is for educational purposes only and is not be construed as specific advice for implementation.