Description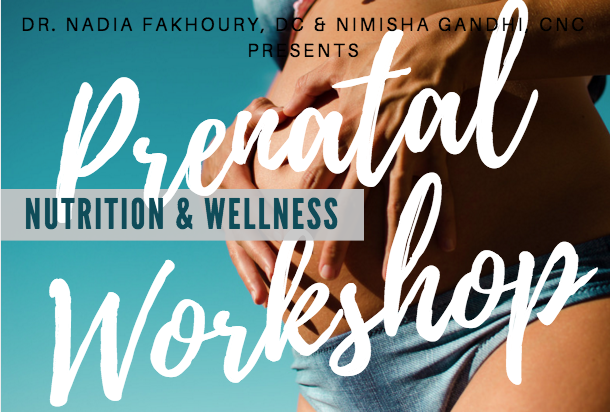 Prenatal Nutrition and Wellness Workshop
Join us as we learn about how to support a healthy pregnancy with holistic nutrition and Chiropractic care! During this workshop, you will:

Learn about which foods will support you and your baby through each stage of pregnancy, labor, and postpartum.
Improve postpartum recovery through nutrient-dense foods and self-care techniques.
Discover how prenatal Chiropractic care can maintain a healthy pregnancy, shorten labor times, and reduce the number of birth interventions.
Learn how Chiropractic for the newborn aids with latching, sleep, constipation, and more.
Registration
Tickets for the event are $20, and all proceeds from this event will be donated to Diaper Banks to Hurricane Relief Efforts.

Each attendee will receive a $20 giftcard to Good Eggs, and we will have a raffle with prizes valued at $200.

Snacks and refreshments for the workshop will be provided by Good Eggs.
Questions? Email us at drnadia@sffamilychiropractic.com



About the Hosts:
Nimisha is a certified holistic nutritionist from Bauman College of Holistic Nutrition in Berkeley, certified Ayurvedic counselor, and certified Yoga Nidra teacher from the California College of Ayurveda. She holds a B.S. in Psychobiology from UCLA and has years of additional education in human biology, gut microbiome health, reproductive health, and environmental health. Nimisha has five years of experience as a clinical researcher at UCLA and Baylor College of Medicine and more than a collective ten years of experience working in the healthcare field. She has extensive knowledge in holistic nutrition, clinical research, health coaching, women's health, and preventive health. Drawing on these skills and her own healing journey, she is dedicated to helping people find their truth through lifestyle, nutritional, and mindful work. Her work is an integration of ancient wisdom with modern medicine and it's highly individualized to meet the needs of her clients. She truly believes that health is the balanced and dynamic integration between our environment, body, mind, and spirit. Nimisha's work is research-based, intuitive, and from the soul. www.mooncyclenutrition.com instagram.com/mooncyclenutrition
Dr. Nadia is a family Chiropractor practicing in San Francisco. She obtained her B.S. in Applied Physiology and Kinesiology from the University of Florida and graduated Cum Laude. Shortly after, she moved to California where she attended Chiropractic school at Life Chiropractic College West where she graduated with Summa Cum Laude and Gold clinical honors. During her school, Dr. Nadia traveled to various parts of the world to volunteer Chiropractic care to underserved communities in Mexico, India, and China. Having grown up with both her uncle and father as Chiropractors, she received adjustments since birth and attributes her overall health to these adjustments at an early age. Her approach to healthcare has always been to find the underlying cause, and not to merely treat the symptoms. Dr. Nadia loves working with all ages and individuals, but she is especially passionate about working with pregnant women and with children. www.SFfamilychiropractic.com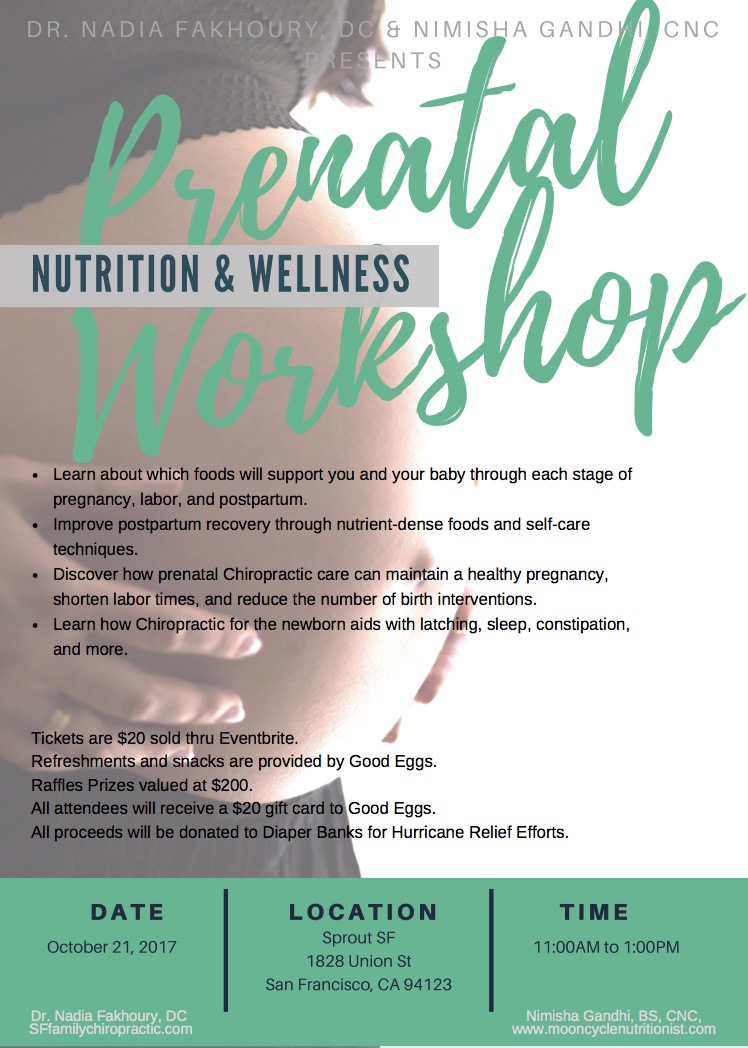 Nimisha Gandhi,CNC is a research-based, holistic nutritionist, Ayurvedic counselor, and Yoga Nidra teacher. Dr. Nadia Fakhoury is a family Chiropractor, specializing in prenatal and children. Both are in private practice in San Francisco. They share a passion root-cause healing and non-invasive interventions for total well-being.

Save
Organizer of Prenatal Nutrition and Wellness Workshop