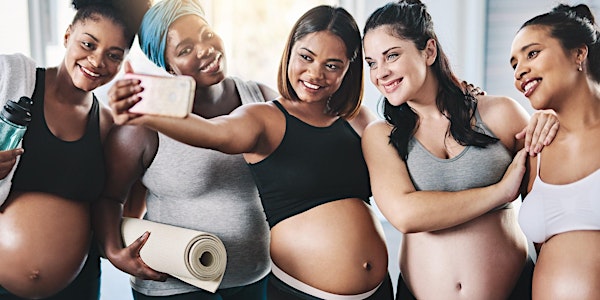 Multiple dates
PRENATAL AND POSTNATAL YOGA CLASS
Perinatal Yoga Class for Pregnant and Postpartum Persons. Taught live on Zoom by Andrea Rosales, CPYT. (Donation-based). Babies welcome!
By HAPPY MAMA HEALTHY BABY ALLIANCE
Date and time
March 8 · 12pm - July 12 · 1pm PST
About this event
HAPPY MAMA HEALTHY BABY ALLIANCE
Welcomes all pregnant and parenting persons to attend a special, donation-based, online(Zoom)yoga class. Babies are always welcome in class!
PRENATAL AND POSTNATAL YOGA
Taught by Andrea Rosales, CPYT
Wednesdays, 12:00 pm -1:00 pm (PST)
ABOUT THIS CLASS
Join us for an hour-long yoga class focused on breath and movement – build strength, stability and increase flexibility while cultivating more awareness and connection to your body. This is an all-levels class, for every body and experience level.
TIME, DATES AND LOCATION OF CLASS
This class will be taught on Zoom. Pre-registration 24-hours in advance of class is requested. Zoom link will be sent 2-hours prior to start of class.
SUGGESTED DONATION
Suggested donation is $25.00 per session. Your donation (of any amount) supports Happy Mama Healthy Baby Alliance (EIN #95-445-1418); a 501 c (3) non-profit organization serving pregnant and postpartum persons through childbirth education, breastfeeding support, and doula support for low-income families.
Thank you!
ABOUT PERINATAL YOGA
BENEFITS OF YOGA FOR PREGNANCY
Yoga during pregnancy can:
Improve sleep
Reduce depression, stress and anxiety.
Increase the strength, flexibility and endurance of muscles needed for childbirth (and beyond)
Decrease lower back pain, nausea, headaches and shortness of breath
Create connections / community
Improve breath and body awareness – great preparation for childbirth!
BENEFITS OF POSTNATAL YOGA
Yoga during postpartum can:
Support reconnection with your body and your breath after childbirth
Decrease depression, anxiety and stress
Strengthen pelvic floor muscles, abdominal and back muscles
Maintain flexibility
Renew energy levels
Allow for self-care
Create connections / community
Connect with your baby (always welcome in class)
Make new friends
Recover from childbirth
Lose weight after birth
Help to strengthen pelvic floor muscles
Strengthens abdominal and back muscles for core strength
Helps to expand your breathing and calms the mind
Maintains flexibility in your body
Helps you to feel a sense of reclaiming your body
Gives you time each week to nurture yourself
Quietening the mind
Learn to breathe, let go and focus inward–a great stress-reliever for a new mom!
Andrea Rosales, CPYT
Yoga Instructor
Andrea is an inspiring Yoga Instructor and Wellness Coach from Guatemala. She found her yoga journey back in 2013 and since then has completed her 200 hr YTT in 2021 in Vinyasa and Hatha yoga and her 85 hr YTT in prenatal and postnatal yoga in hopes to work closely with moms and children. Andrea has a background in public health in maternal and child health and has worked for a non-profit for over 10 years in Washington DC.
Andrea's mission is to provide support and empower busy moms to learn how to improve their quality of life by nurturing their mind, body, and spirit. Andrea's goal is to make yoga accessible for all women in this growing community of moms.
Andrea works with moms one-on-one to help improve their overall health through yoga asanas, meditation, and nutrition to ease their pregnancy, childbirth, and postpartum experience.
TO REACH ANDREA
E-mail: Andrea.Rosales@motherbabysupport.net
Phone: 626-388-2191 ext. 2
About the organizer
MATERNAL-CHILD HEALTH EDUCATION, TRAINING, CONSULTATION AND SUPPORT
  WHO WE ARE 
Happy Mama Healthy Baby Alliance was founded in 2020.  HMHBA is a community-based, non-governmental organization located in Los Angeles, California, USA. We are  501 (c) (3) non-profit public charity 509 (a) (2), our IRS name is Wholistic Midwifery School of Southern California, founded in 1993.
We are multidisciplinary perinatal and mental health professionals united in a common vision to promote maternal and infant health, improve maternity care quality and access, reduce perinatal health disparities and achieve social justice in maternal and infant health for all childbearing families.
Our board of directors, advisory committee and consultants are mental and perinatal health experts with training and expertise in Doula Support,  midwifery,  nursing, pre and perinatal psychology, social work, psychiatry,  obstetrics and gynecology, pediatrics, preventative care, global public health, and health education and promotion.
 OUR MISSION 
To promote high-quality, family-centered, evidence-based, respectful maternity and newborn care, and improved health outcomes for all childbearing persons and their babies.
 OUR WORK 
Our work focuses on addressing health care disparities and to engendering birthing justice for all pregnant women, persons and their infants.   As ethnically diverse, multidisciplinary professionals serving pregnant and parenting families,  we offer Doula services, childbirth preparation classes, breastfeeding support, and maternal- infant mental health workshops and support groups and opportunities for continuing education for professionals.
We also offer professional training, certification, learning and networking opportunities for mental health providers and social service and health professionals working with Maternal, Child and Adolescent Health populations.
Our focus areas are:
Training, Certification and Continuing Education Programs for Professionals
Childbirth Doula and Postpartum Doula Services
Breastfeeding Support Services
Promoting Maternal Mental Health and Infant Mental Health
Engendering Birthing Justice for All Childbearing Persons
OUR PHILOSOPHY 
As advocates for families and babies, we seek to ensure that all childbearing persons are treated with dignity and respect during the pregnancy, childbirth and postpartum periods.
We promote a self-growth approach to pregnancy; which is a special and unique time in a woman's and a person's life.

We believe each pregnant woman or person should be surrounded by a loving and supportive community and each baby should be born into the hands of skilled, compassionate and respectful caregivers.

We protect the Mother/Baby dyad whose needs are mutually dependent.

We are reverent of the sacred nature of birth and are inspired by its potential to transform women, relationships, families, and communities.

We strive to improve birth outcomes for women and infants where perinatal health disparities and inequities exist.

We aim to improve the quality of maternity and newborn care in all settings.
We are dedicated to helping families have empowering, satisfying and joyous experiences from conception through gestation, childbirth, and early parenthood.


 Donations are tax-deductible to  Happy Mama Heallthy Baby Alliance a DBA of Wholistic Midwifery School of Southern California, a 501 (c) (3) non profit organization, 509 (a) (2) public charity. We are qualified to receive tax-deductible bequests, devises, transfers or gifts under section 2055, 2106 or 2522 of the IRS  code.