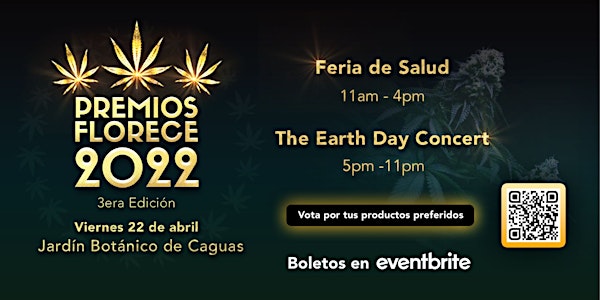 Premios Florece 3era Edición
¡Ven a celebrar los mejores productos y marcas de la industria de cannabis!
When and where
Location
Jardín Botánico y Cultural William Miranda Marín Puerto Rico 156 Caguas, Puerto Rico 00726 Puerto Rico
About this event
Evento para mayores de 21+
En los últimos años, la industria de cannabis medicinal en Puerto Rico ha visto múltiples avances, tanto en el ámbito de la salud como en el aspecto comercial de sus productos. Desde el 2020 decidimos llevar a cabo nuestro evento de premiaciones para los trabajadores de esta industria. La misma se lleva a cabo a través de de un proceso de votación de encuesta abierta donde los mismos pacientes reconocen los mejores productos y marcas de la industria. Para acceder a la encuesta premiosflorece.com (periodo de votación cierra 18 de abril de 2022).
Este año, esperamos recibir a todos los miembros de la industria y de la comunidad en el Jardín Botánico de Caguas para la tercera edición de Premios Florece, el próximo 22 de abril Día Internacional del Planeta Tierra.
-Certificación y renovación de licencias pacientes autorizados completamente gratis (espacios limitados para las primeras 300 personas mayores de 21+)*
1. Beneficios del cannabis medicinal:
Ayuda a disminuir el dolor, la inflamación y los problemas relacionados con el control muscular

Estimula el apetito

Reduce las nauseas

Atenúa síntomas de enfermedades crónicas

Disminuye malestar del síndrome pre menstrual

Ayuda a prevenir convulsiones

Alivia dolores

Relajante muscular

Tiene propiedades antiespasmódicas

Tranquilizante

Tratamiento paliativo de efecto analgésico y antiinflamatorio

Ayuda contra el insomnio

2. Condiciones Debilitantes:
Alzhéimer
Anorexia
Artritis
Autismo
Cáncer y el tratamiento de quimioterapia para el Cáncer
Depresión
Desórdenes de Ansiedad, según definidos en el DSM V (Diagnostic and Statistical Manual of Mental Disorders, por sus siglas en inglés)
Desordenes relacionados al Virus de la Inmunodeficiencia Humana (VIH) Positivo Enfermedades degenerativas tales como: la Esclerosis Lateral Amiotrófica (ELA), la Esclerosis Múltiple y Enfermedad Inflamatoria Intestinal
Enfermedades incurables y avanzadas que requieran un cuidado paliativo
Epilepsia
Fibromialgia
Glaucoma
Hepatitis C
Insomnio
Lesiones en el Cordón Espinal
Migraña
Neuropatías Periferales
Parkinson
Síndrome de Estrés Postraumático (PTSD, por sus siglas en inglés)
Síndrome de Inmunodeficiencia Adquirida (SIDA)
Trastorno Bipolar
Cualquier otra condición que cause caquexia
Dolor crónico
Náuseas severas o espasmos musculares persistente o que el Cuerpo Asesor Médico recomiende y la Junta así lo exprese mediante Determinación Administrativa.
-Panelistas expertos en la industria
-Feria de artesanías
-Exhibiciones educativas
-Ceremonia de premiación
-Música en vivo por parte de RaiNao y Vivanativa
Esperamos contar con su participación este año para continuar promoviendo el uso del cannabis por sus beneficios y propiedades terapéuticas.