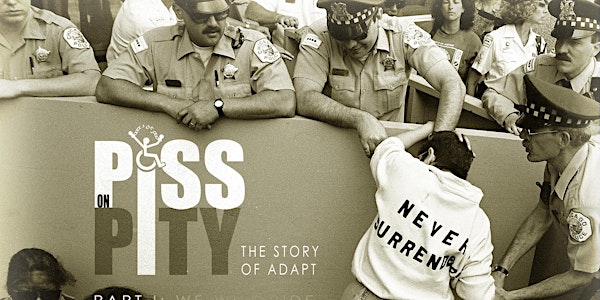 Premiere Screening of "Piss on Pity: We Will Ride" + panel discussion
The UIC Dept. of Disability & Human Development (DHD) and Chicago ADAPT present the Chicago Premiere of "Piss on Pity: We Will Ride"
When and where
Location
DHD Auditorium 1640 W. Roosevelt Rd. 1640 W. Roosevelt Rd. Chicago, IL 60608-6904
Refund Policy
Contact the organizer to request a refund.
About this event
"Deeply moving...a must see." -Yoshiko Dart, Human rights activist
"This excellent documentary must become a part of the history of the civil rights movement." -Judy Heumann, International disability rights activist
Help raise much-needed funds for Chicago ADAPT. Join us for an evening of film and discussion as we screen the Chicago premiere of this one-hour documentary on the beginnings of the disability rights group ADAPT, followed by a panel discussion with ADAPT members and disability rights advocates.
This film documents the origins and early history of ADAPT. Through civil disobedience and political savvy, ADAPT has fought discrimination and segregation for over 35 years, playing major, if little-known, roles in key U.S. laws and policies, including the Americans with Disabilities Act and Money Follows the Person. "Piss on Pity: We Will Ride" covers ADAPT's roots beginning with the liberation of people with disabilities from nursing homes to the fight for accessible transportation. With over 40 interviews, never-before-seen footage and stunning images from Tom Olin, "Piss on Pity: We Will Ride" gives voice to activists, old and new, who are on the front-lines of disability rights history.
PANEL DISCUSSION: "Grassroots Activism, Then & Now"
The one-hour screening will be followed by a panel discussion featuring:
Mike Ervin - ADAPT activist since 1984, columnist and playwright, Mike organized direct actions against the Chicago Transit Authority that eventually led to accessibility requirements for the city's trains and buses. He participated in the 1990 Capitol Crawl and the occupation of the Capitol Rotunda that precipitated passage of the Americans with Disabilities Act.
TJ Gordon - self-advocate and writer, TJ's work focuses on autism acceptance in African American communities, police violence towards people with disabilities, and disability culture. He is currently a Master's candidate in the DHD at UIC.
Noah Ohashi - ADAPT activist since 2018, Noah is a veteran disability rights activist and television commentator who escaped an institution in Japan during an earthquake. In 2008, he was the only athlete to be a member simultaneously of the U.S. Olympic and Paralympic judo teams. He is currently a student in the DHD at UIC.
Rahnee Patrick - ADAPT activist since the '90s, Rahnee is Director of Independent Living at Access Living in Chicago, served on the Illinois State Advisory Council on the Education of Children with Disabilities, and founded ADAPT's Youth Summit.
Moderator: Robin Jones - Director of Great Lakes ADA, Robin played a key role in generating community support for passage of the ADA and subsequently spearheads education on its implementation. She currently teaches in the DHD at UIC.
Any contributions to this event will go directly to Chicago ADAPT, one of National ADAPT's first chapters, whose members have played major roles in making Chicago's transit system accessible, passing the Chicago Human Rights Ordinance, and advancing the deinstitutionalization of Illinoisans with disabilities.
Food, beverages & activist goods available at event. Seating is limited! Reserve now!
The film is captioned and the discussion will have live CART transcription.