Pregnant? What to Expect That You Won't Learn from that Book Everyone Keeps Giving You!

Friday, November 19, 2010 from 1:00 PM to 2:00 PM (EST)
Event Details
Everything You've Wanted to Know about Child Birth,
But Were Afraid to Ask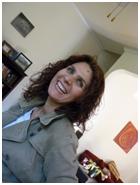 I am so glad you found this free teleseminar! If you are anything like me, you are excited to be a mom, but less excited about having a 6-8 pound person come out your va-jay-jay! If you are looking for the inside scoop about the labor and delivery process, you have come to the right place!
Shortly after I gave birth to my son in 2006, I met playwright, Karen Brody. Karen wrote this amazing play, Birth, which tells the birth stories of 8 women in America. As a theatre director who had recently earned a PhD in theatre for social change, I was fascinated with Karen's show and how it created a space for women in their own births. During my pregnancy, I felt like Baby Tupperware. "Eyes on the prize!" everyone would tell me. So I ignored my own feelings and fears and focused on the baby.
Still something was missing and Karen's play helped me figure out what it was. ME! Everyone including me was so focused on the baby being happy and healthy but no one was focused on me, even I was ignoring myself. What I love about Karen's play and her related BOLD movement is that it allows pregnant moms to connect to themselves and their bodies without losing site of their baby.
Karen's organization, BOLD, has empowered thousands of women to have great birth experiences both through the arts and through related fundraising and support of mother-friendly organizations. Since 2005, her play has been performed in several languages, for tens of thousands of people, in over 100 cities around the world.
Birth represents, without judgment, all kinds of childbirth plans from planned c-sections to home water births and everything in between. More than the hospital class or the shows on Discovery channel, Karen's play helped me compare my experience to other women's and understand the range of options women in America have. It's less about doing it "right" and more about understanding your options and the risks and being empowered to chose for yourself what makes you feel most comfortable.
Karen has interviewed hundreds of women about their birth experiences. There are few people on the planet who know more about the inner landscape of women surrounding their births. And when you meet Karen you'll totally get why. Her warm, calm, and loving approach to women surrounding their child birth experience is incredibly empowering. I know after I told Karen my story I felt like a huge weight had been lifted off my shoulder.
I'm in my mid-30s and it seems like just about everyone I know is pregnant right now. I wanted them all to have a chance to spend an hour with Karen and get some of the advice and perspective she gave me. Of course, I always wished I had my conversation with Karen when I was pregnant instead of post-partum! So that's why I asked Karen for an hour of her time in November to share with pregnant women – completely for free – some of her insights about labor and delivery.
She'll teach you some of the secrets she has learned from women who had good birth experiences, from concrete logistics (when to leave for the hospital) to more emotional connections (like the "My Body Rocks" chant) Here are some questions the free session will answer:
1.     How much is labor and delivery going to hurt and is there anything I can do to make it hurt less?
2.     What are the emotional keys to having a good birth, even if you have to have a C-Section?
3.     Is there anything wrong with just sticking with my regular OB/GYN for my delivery?
4.     Should I take a childbirth class and if so, how do I pick which one?
5.     How can I create a birth plan that will actually be honored?
6.     What do I need to do to give my child the best chance at a healthy birth?
7.     How can I have a "good" birth with a regular doctor and a regular hospital?
8.     What do I need to tell my partner so they will be most helpful to me during labor and delivery?
9.     What are the best ways to avoid a c-section, an episiotomy, a forceps or a vacuum birth?
10.   How do I know when to listen to my doctor and when to listen to my gut?
After you sign up you will receive a call in number for the conference call.
If there is someone you know who you think might benefit from this call, please spread the word. And if you are already active on Facebook or Twitter - consider posting this event if you have connections that might benefit from the hour long, free call.
Bonus: Attendees will receive a free Pregnant Mama Secrets download with Karen's favorite quotes from her internationally acclaimed play Birth and her favorite pregnancy books!
When & Where

via teleconference from:

Washington, DC 20012


Friday, November 19, 2010 from 1:00 PM to 2:00 PM (EST)
Add to my calendar
Organizer
The Author Incubator
The Author Incubator (http://www.theauthorincubator.com) provides a structure and space so coaches and other healing professionals can get their message out to the world by writing a book that makes a difference with clarity and ease. When you register for a call with us you will be added to our email list. You can opt out anytime.


Pregnant? What to Expect That You Won't Learn from that Book Everyone Keeps Giving You!