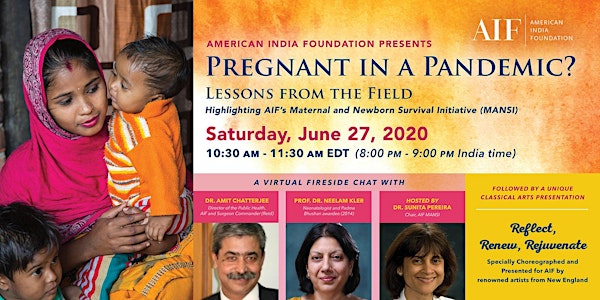 Pregnant in a Pandemic? Lessons from the field highlighting AIF's MANSI
Pregnant in a Pandemic? Challenges facing mothers in remote areas of India during the Covid-19 pandemic - and how AIF is helping them
Refund Policy
Contact the organizer to request a refund.
Eventbrite's fee is nonrefundable.
About this event
Pregnant in a Pandemic? What are the challenges facing mothers in remote areas of India during the COVID-19 pandemic? How is American India Foundation (AIF) supporting local communities - empowering them to care for their mothers and children, and improving the local health system?
Please join us for a Virtual Fireside Chat with Dr. Amit Chatterjee, Director of AIF's Maternal and Newborn Survival Initiative (MANSI), and Padma Bhushan awardee Prof. Dr. Neelam Kler. The event will be hosted by Dr. Sunita Pereira, Chair, MANSI Steering Committee.
The chat will be followed by a unique Classical Arts presentation specially choreographed and presented for AIF by renowned artists in New England.
"Reflect, Renew, Rejuvenate" featuring Jayshree Bala Rajamani, Founder, Bharathakalai School of Dance; Aparna Balaji, Founder/Director, Abhyaas; Mesma Belsaré, co-founder, Samväd; Shuchita Rao, Founder, RASA School of Music; Mouli Pal, Founder/Director, Upasana Odissi Inc. and Meena Subramanyam, Founder, Natya Vidyalaya
Register Now. Link will be sent prior to the event. Please contact newengland@aif.org for additional details.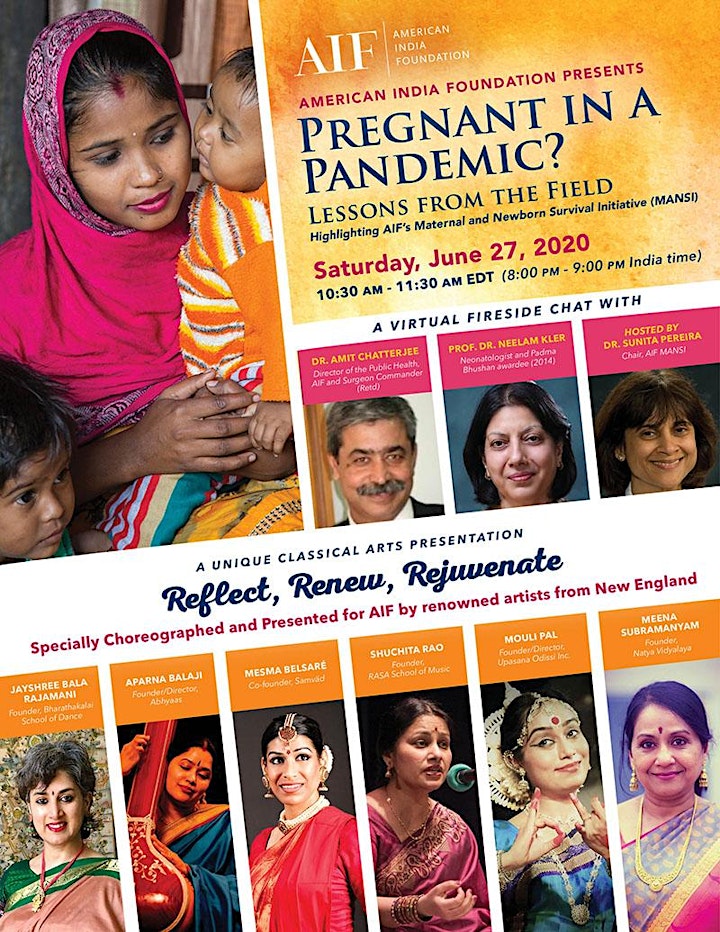 Around 40 million migrant daily-waged workers have been hit hard by COVID-19 induced economic distress, lockdowns, travel bans and social distancing requirements. As they reach home, enduring unprecedented ordeals, they face the risk of hunger, indebtedness and prolonged unemployment. Their families face high infection risk and their children, particularly girls, the loss of learning.
AIF has served close to 300,000 people in need, across 16 states of India, since the COVID-19 outbreak alone. Raising awareness and providing resources to complement the government's efforts to rehabilitate migrant families, AIF has been supporting community health workers with knowledge and protection.
Designed to reduce maternal and child mortality in inaccessible rural and impoverished areas, AIF's Maternal and Newborn Survival Initiative (MANSI) utilizes a public-private partnership model to provide the resources and support required to empower local communities to care for their mothers and children while improving the local health system.
Join us in this effort to ensure dignified lives for migrant workers everywhere.
The American India Foundation is committed to catalyzing social and economic change in India, and building a lasting bridge between the United States and India through high-impact interventions in education, livelihoods, public health, and leadership development.
Working closely with local communities, AIF partners with NGOs to develop and test innovative solutions and with governments to create and scale sustainable impact. Founded in 2001 at the initiative of President Bill Clinton following a suggestion from Indian Prime Minister Vajpayee, AIF has impacted the lives of 6.7 million of India's poor. Learn more at www.AIF.org