Description
DID YOU KNOW YOUR BABY'S POSITION, EVEN HEAD DOWN, INCREASES YOUR CHANCES OF A C-SECTION? LET US SHOW YOU WHAT, WHEN, AND HOW - a proven record of improving outcomes for 1000's of families since 2011.
SCROLL DOWN FOR MORE CLASSES OFFERED WEEKLY & MONTHLY! OFFERING SPECIALTY FITNESS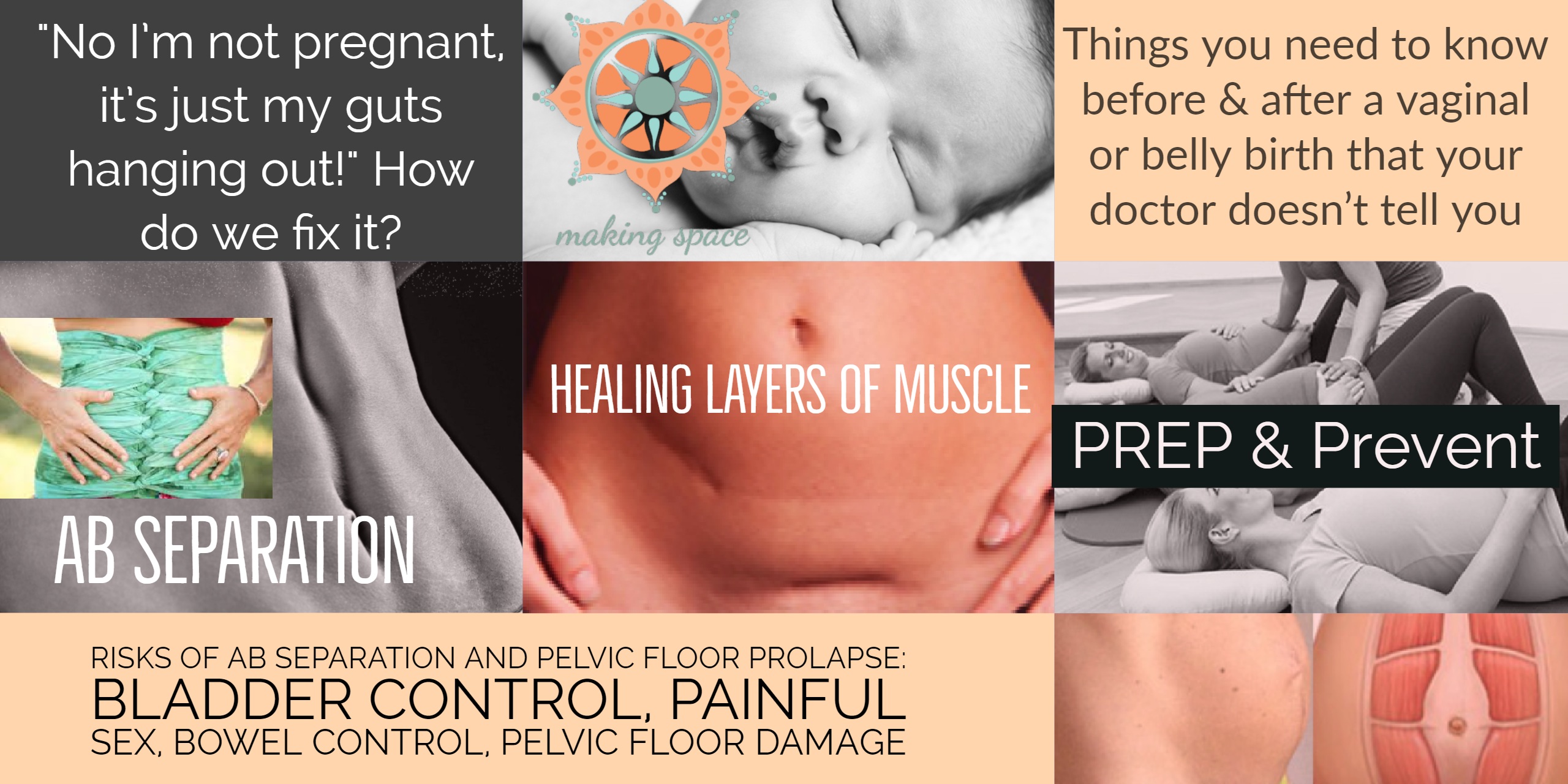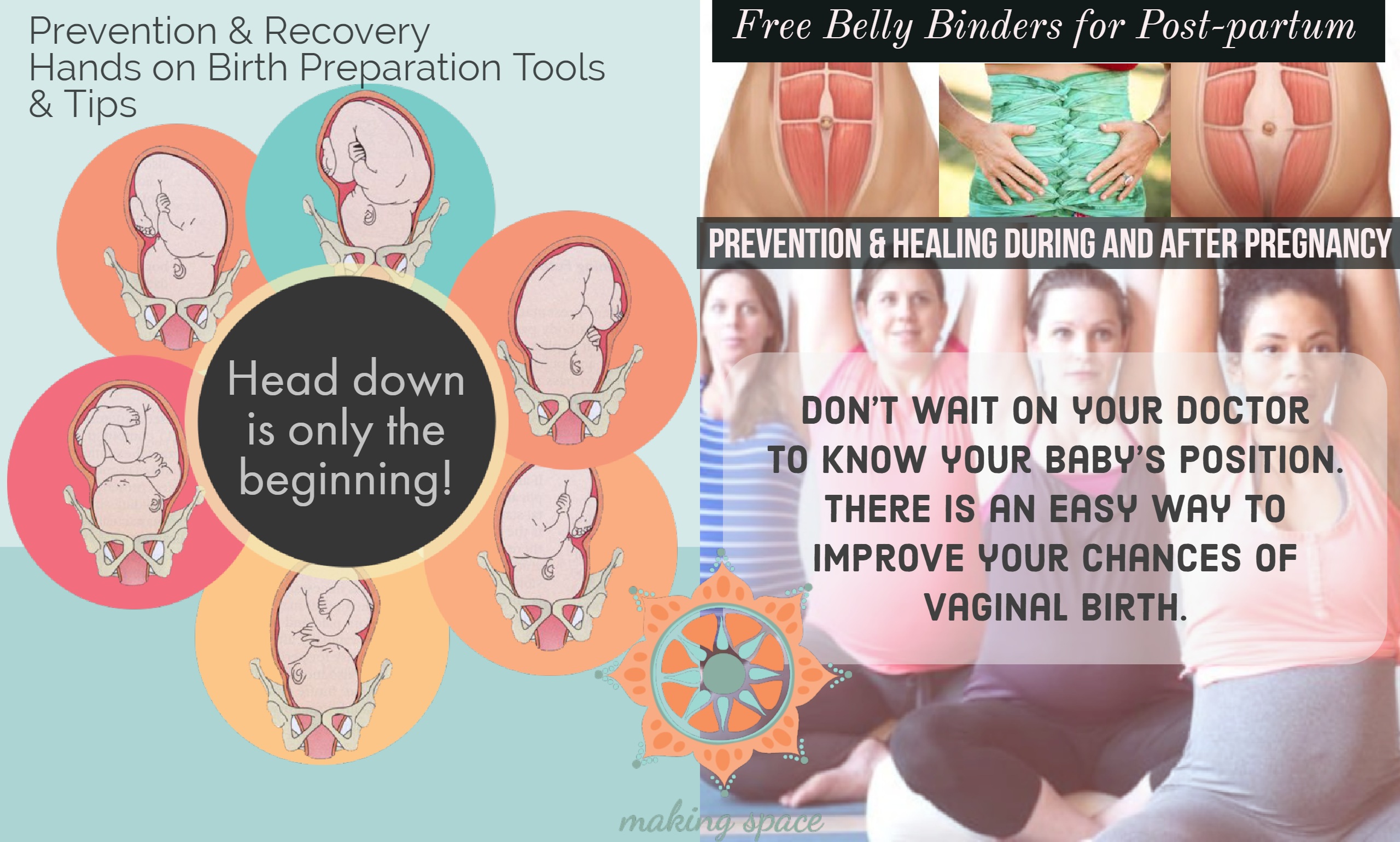 NEW TIPS FOR DADDY - Hands on help for dads and partners!
Increasing your chances of a vaginal birth and what you are never told.
OPEN Q & A, live demos and specific topics always covered!
Give AWAYS, snacks, free education!
Corrinna Edwards- Postpartum real talk, preparing parents for a smooth transition. Natural baby care tips and chemicals in diapers, discuss current studies or articles that show long-term harm to babies, benefits of cloth diapering.
Certified Nurse Midwife - tips for avoiding late term surprises such as nutrition and exercise for lowering BP, swelling, low amniotic fluid levels... .
LACTATION -Preparing for breastfeeding success, a few tips about ensuring better milk supply, how dad's can help and building a support team now. Hand out our 24 hour helpline handout and encourage it's use.
DOULAS- Doulas do not replace dads, but help dad's involvement. Advocacy vs. decision making - upholding their birth plans without making decisions for the parents. Bridging the communication gap.
Dr. April & Corrinna Edwards baby positioning and Corrinna exercise importance for body balance to relieve common discomforts.
Beverly Tanner, CNM- c-section epidemic, when they are truly necessary, intervention increasing risk, and how does your hospital/practice help you avoid it.
Tara- how pregnant muscles carry tension, where most common and why. Tips on helping on their own, tips on getting help like massage, chiro, exercise... babies also hold tension as they grow, stress... infant massage...
Navigating bellies and babies? –If you don't know exactly how to find your baby's position, find out how tonight. Baby positioning is easy and one of the leading causes for back labor, and even c-sections. Head down isn't where it ends! Come learn optimal fetal positioning techniques and how to always know where baby is . Daddy Survival Skills hands on!
Better for bellies, babies and budgets- Simple how-to's for the do-it-yourself kind of mama! Correcting common pregnancy, postpartum and even baby discomforts yourself. Easily and affordably making your own skin cleansers and moisturizes for you and baby.
Hospital List/BIRTH PLANS – the real deal- Don't be fooled, find out what essentials are missing from most hospital lists. Doula's bag of tricks for dads, secrets to success!
Dads & PARTNERS talking to dads – Boost his confidence! Partners are one of the most important roles during and after your birth. Whoever this person will be for you, needs to hear it from others who have done it before. Comfort measures, relaxation and breathing techniques, support, baby care and more! How can he help prepare for this life changing event?
Postpartum Bladder leakage -You only have one body and you will only birth this baby once. How do you protect your pelvic floor, future pregnancies, and abdominal muscles from separation? What about the stages of labor that your classes leave out? Learn to care for your body now and postpartum. -Bladder leakage, sexual dysfunction, prolapse and abdominal separation leading to surgery, are just a few of the common problems women face after birth. This doesn't have to be. Simple do it yourself techniques for all stages.
MORE CLASSES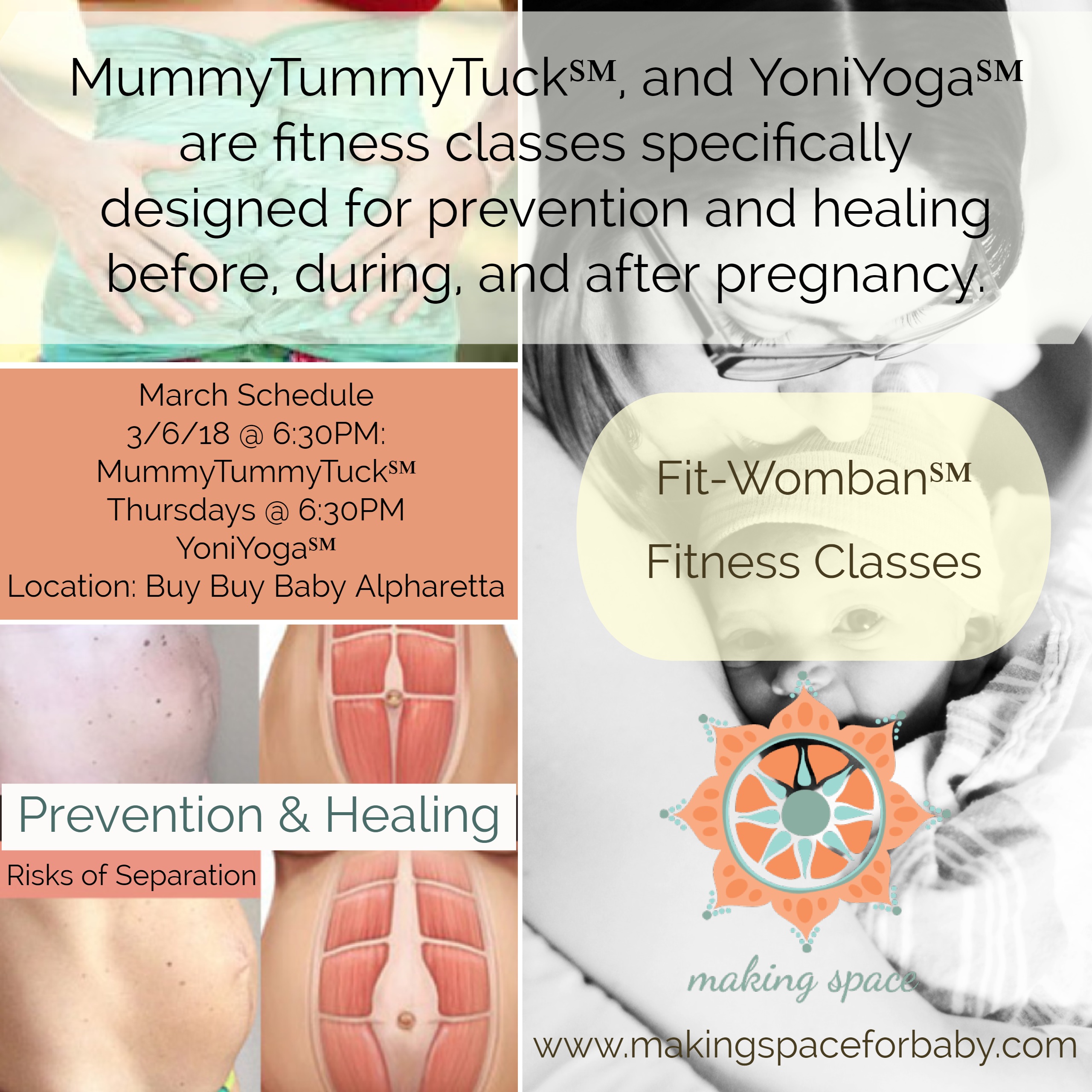 GIVEAWAYS - and more!!!
Join us on Thursdayst for our March MummyTummyTuck℠ schedule also! www.makingspaceforbaby.com
Join YoniYoga℠ weekly for strength, toning, flexibility, and overall a healthy womb. Blood circulating to the womb brings oxygen and healing, and toning helps with preventing or recovering from pelvic floor prolapse. The pelvic floor holds all the internal organs up such as the bladder, bowel, and is even attached to the deep abdominal muscles. For a flat tummy, bladder control, and bowel control, the pelvic floor must remain elevated. Abdominal separation which is common during and after pregnancy, can cause the pelvic floor to weaken. Try our MummyTummyTuck℠ classes also.
Pregnancy and Postpartum can cause the abdominal muscles to separate, and many times not go back together. This can lead to back problems, pelvic floor prolapse, and a bloated abdominal area. Join us to learn the self-care and exercises for both prevention and recovery in this fun class with pregnant and post-partum moms. MummyTummyTuck℠ is specific for abdominal separation (diastasis recti) prevention, healing & recovery.