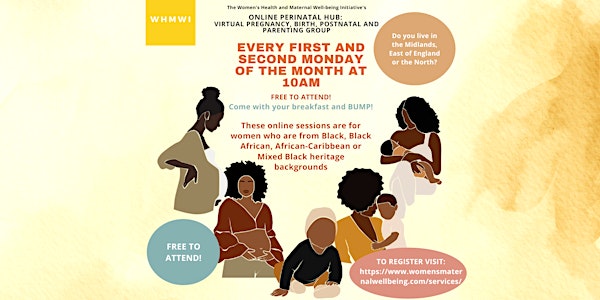 Pregnancy, Birth and Postnatal Group
Welcome to our Online Pregnancy, Birth and Postnatal hub!
About this event
During this time we will hold space and support you as you bring to our group whatever questions or concerns you have about your pregnancy, birth or postpartum experience. You will be provided with evidence based information to support you on your onward journey or will be signposted to relevant resources. You can also bring your joys to share with us. We are here to listen, hold and support you. We are building a community of support, a village, and you can come as often as you like. You will be expected to have your cameras on at least once to ensure group safety. This group is for women who are from Black or mixed Black backgrounds. We primarily serve women from the East Midlands and East of England but if you do not live in this area you are still welcome to join us. Each meeting will be dynamic to ensure you get the most out of the session. Periodically we will have special guests and give-aways. Come with your bump and breakfast! We look forward to seeing you!
*Please sign up for the upcoming/current month's session
*Links will be sent out a week before the event. Do still add the event to your calendar to make sure you don't forget!
Day: Every First and Second Monday at 10:00 am- 11:15 am