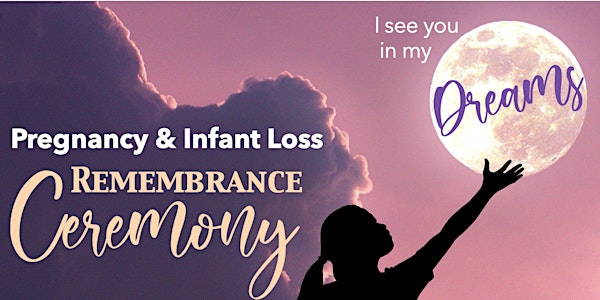 Pregnancy And Infant Loss Remembrance Ceremony
Join us for an evening under the moon as we celebrate those lives cut short by pregnancy and infant loss.
When and where
Location
Childrens Memory Garden in New Pine Hill Cemetery East Watkins street Dover, NH 03820
About this event
October 15 is National Pregnancy and Infant Loss Remembrance Day !
Wentworth-Douglass Hospital is hosting an outdoor Remembrance Ceremony on Saturday October 15 at 6:00 p.m. This year's theme is "I See You In My Dreams" and we invite anyone who carries the pain of a loss in to join us.
Art and Music therapists will be on hand at this family friendly event to facilitate some creative remembrance activities.
After some light refreshments, time to meet and chat with other families, and an opportunity to create some memorial art, we will have a ceremony. Guests may light and place the luminary they have createtd in honor of their loved one, and may share a bit about them if they choose.
As you enter E. Watson st from the traffiic lights on central avenue, follow E. Watson until you see a chain link fence on the right. Enter the new cemetery at the opening in the fence and follow the signs/balloons past the large stag monument, keeping to the right until the ned of the road. The Memory Garden will be on the right. Park anywhere along the road.
*This is an OUTDOOR event due to covid restrictions. Consider bringing a lawn chair or blanket if you prefer not to sit on the grass. For your comfort, consider insect repellant and a warm sweater or jacket. There is no restroom available in the cemetery, please plan accordingly. ( we will have an emergency camping potty for those who need it )
If it looks like rain is a possibility, we will cancel and hold a meeting on zoom. You will receive a cancellation email with Zoom information at the email adress you registerd for the event with.