Description
Huddle up, Cougs! Join us on Saturday, October 27, for The PreGame, WSU's official tailgate, before the Cougs take on the Stanford Cardinal. This epic fan experience will take place at Steuber Rugby Stadium on the Stanford campus. There will be multiple no-host bars serving a variety of mixed drinks, beer, wine, and non-alcoholic beverages. Delicious BBQ style meals will be available to purchase on-site. The Bookie will be selling plenty of Coug gear to ensure you're outfitted for the game. Butch will be there to take pictures with fans. Let's cheer on the Cougs together!
The PreGame will begin three hours prior to kickoff. Time is TBD.
Cover Charge:

WSU Alumni Association or Cougar Athletic Fund Member: $15.00
Non-Member: $20.00
Walk-up: $25.00 IF SPACE IS AVAILABLE
Children 12 and under: FREE

To recieve member pricing, click the green "REGISTER" button on the top right of this page, then click "Enter Promotional Code" on the top right of the "Register" box. Enter your email with which your WSUAA or CAF membership is associated, click "APPLY CODE." This will allow you to purchase the tickets at the discounted price (limit 4 discounted tickets per WSUAA or CAF member). Should this not work, please contact the WSUAA Office and we will refund the difference.
Meals
Meals will be catered by Crystal Springs Catering and may be purchased at the event.

Menu
Wazzu BBQ Brisket Plate: Served with Watermelon and a choice of Baked Beans or Potato Salad - $13
Butch's BBQ Chicken Plate: Served with Watermelon and a choice of Baked Beans or Potato Salad - $13
The Cougar Dog Plate: Served with Watermelon and Chips - $10
The Vegetarian Cougar Dog Plate: Served with Watermelon and a choice of Baked Beans or Potato Salad - $12
---
Frequently Asked Questions
What does the cover charge include?
The fee covers venue rental, bartenders, bussers, security personnel, table and chair rentals, event supplies, decorations, fencing, DJ and music system, trash collection, etc.
How do I become a member and receive the member benefit?
To become a member of the WSU Alumni Association, click here or give us a call at 1-800-258-6978. To become a Cougar Athletic Fund member, click here or call 509-335-0220.
Does Stanford have a clear-bag policy?
Yes. Stanford Stadium only allows approved bags. For more information on the clear bag policy, click here.
Where should I park?
Parking is available if you arrive early (at least three-hours before kickoff) in General Lot #4, located directly outside of Steuber Rugby Stadium. Purchasing parking here in-advance saves you $5, compared to buying on gameday. If you drive up on the day of the game, parking lots are cash only and are $30/space. All parking lots will open five (5) hours prior to kickoff or at noon - whichever is earlier. Parking is available on a first-come, first-serve basis.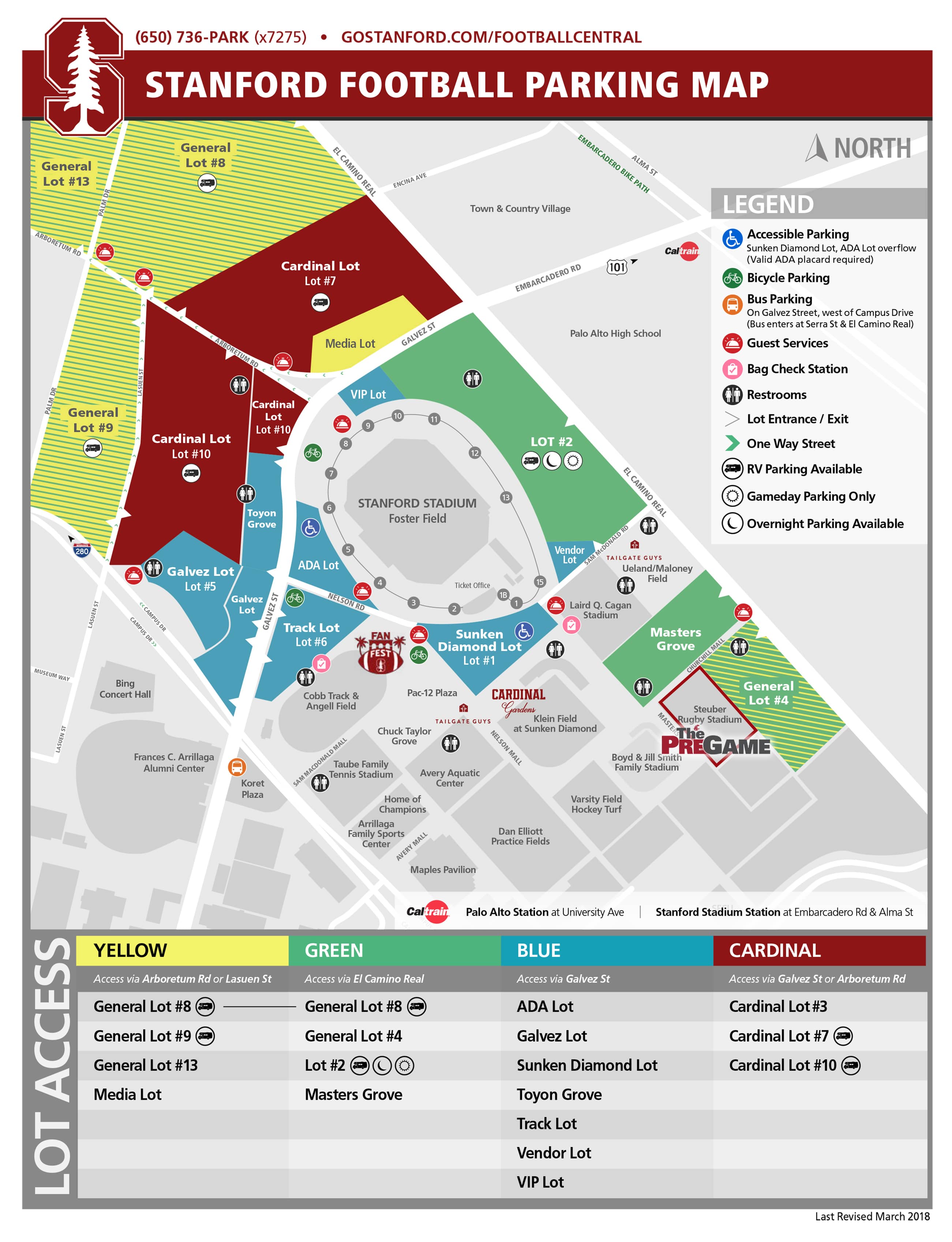 How do I get to Stanford Stadium after the PreGame?

Steuber Rugby Stadium is located on campus, 0.4 miles away from Stanford Stadium. Walking is the fastest form of transportation to the stadium.
Walking Directions
Stanford Stadium is a 0.4 mile walk. Approximately eight minutes.
Head northwest on Masters Mall toward Churchill Mall
Turn left at Sam McDonald Road
Turn right onto Nelson Road
Arrive at Stanford Stadium
625 Nelson Road, Stanford, CA 94305
Public transportation
Walking is the fastest form of transportation from The PreGame to the Stadium however, if you would like more information about the Marguerite shuttle, please click here.
Is this a family-friendly event?
Yes, families are welcome!
What types of drinks will be served?
A variety of beverages, both alcoholic (premium spirits, wine, and beer) and non-alcoholic. Alcoholic beverages are available to those 21 years and older with a valid ID.
Do I need cash at the event?
We recommend bringing cash to this event as some no-host bars are cash only.
May I purchase food at the event?
Yes, food may be purchased at the event from the menu listed above. Pre-purchased meal tickets are not available for this event.

Will there be Cougar gear available for purchase at the event?
Yes, The Bookie will be at the PreGame selling plenty of Coug Gear. The Bookie will take cash or card, cash will get you faster service.
Will Butch be at the PreGame?
Yes, you will have the opportunity to mingle with Butch, take a photo, and enjoy a high five or two.
What is the refund policy?
Refunds will be provided for cancellations received 7 days before the date of the particular PreGame. No refunds will be given for cancellations made within 6 days before the date of The PreGame. No-shows to a PreGame will not receive a refund.
Who may I contact with additional questions?
WSU Alumni Association
alumnievents@wsu.edu
1-800-258-6978