Description
The PreGame is sold out. We apologize for any inconveniece, and hope you will join us at a future event.
Huddle up, Cougs! Join us on Saturday, November 10, for The PreGame, WSU's official tailgate before the Cougs take the field. This epic fan experience will take place in the Grand Ballroom at Millennium Harvest House. There will be multiple no-host bars serving a variety of mixed drinks, beer, wine, and non-alcoholic beverages. THE NO-HOST BARS ARE CASH-ONLY. Delicious breakfast meals are available for pre-purchase when you register for the event. The Bookie will be selling plenty of Coug gear to ensure you're outfitted for the game. Butch will be there to take pictures with fans.
The Ol' Crimson Booster Club has made it possible for Ol' Crimson to be at the event with Tom Pounds, the Godfather of Ol' Crimson. Get a photo and say thanks to Tom for starting such an important tradition for WSU!
Let's cheer on the Cougs together!
*Space at this PreGame is limited, we highly recommend pre-registering as we may not be able to take walk-up attendees on game day.
Cover Charge

WSU Alumni Association or Cougar Athletic Fund Member: $15.00
Non-Member: $20.00
Walk-up: $25 IF SPACE IS AVAILABLE
Children 12 and under: FREE
To recieve member pricing, click the green "REGISTER" button on the top right of this page, then click "Enter Promotional Code" on the top right of the "Register" box. Enter your email with which your WSUAA or CAF membership is associated, click "APPLY CODE." This will allow you to purchase the tickets at the discounted price (limit 4 discounted tickets per WSUAA or CAF member). Should this not work, please contact the WSUAA Office and we will refund the difference.
Meals
$20 per meal
All meals must be pre-purchased!
Menu

Breakfast Burritos (Skillet Potatoes, Cheddar Cheese, Eggs, Bacon, and Sausage)
Biscuits and Sausage Gravy
Breakfast Potatoes
Sliced Fresh Fruits
---
Frequently Asked Questions
What does the cover charge include?
The fee covers venue rental, bartenders, bussers, security personnel, table and chair rentals, event supplies, decorations, etc.
How do I become a member and receive member benefits?
To become a member of the WSU Alumni Association, click here or give us a call at 1-800-258-6978.To become a Cougar Athletic Fund member, click here or call 509-335-0220.
Does Colorado have a clear-bag policy?
Yes, only approved bags will be allowed into Folsom Field. For more information on CU's clear-bag policy, click here.

Where should I park?

Limited parking is available at Millennium Harvest House for The PreGame at a rate of $25 cash only per car available on a first-come, first-serve basis.
Traffic is heavy on game days (expect congestion in Boulder for an hour after the game) and game day parking is limited. We strongly encourage you to utilize public transportation options, Uber, Lyft, or taxi. If you must drive to the game, arrive early (lots open at 7:30 a.m.). Parking passes are available for pre-purchase online here for $25 each. You may park in public parking lots 327, 436, 418, 416, 414, 402, 407, 204, or Euclid Parking Garage. You may also park in East Campus parking lots for $10 per car.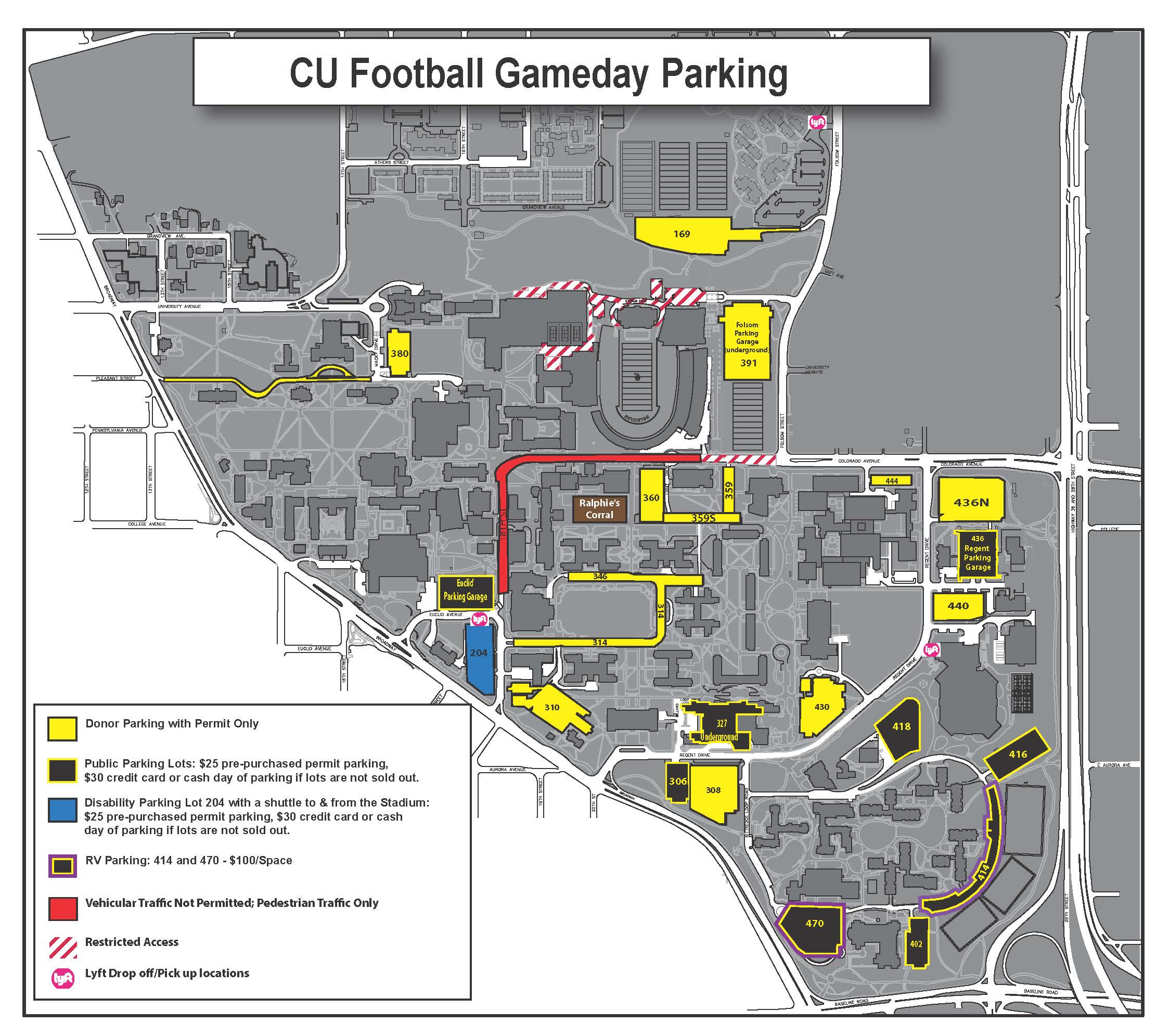 How do I get to Folsom Field after The PreGame?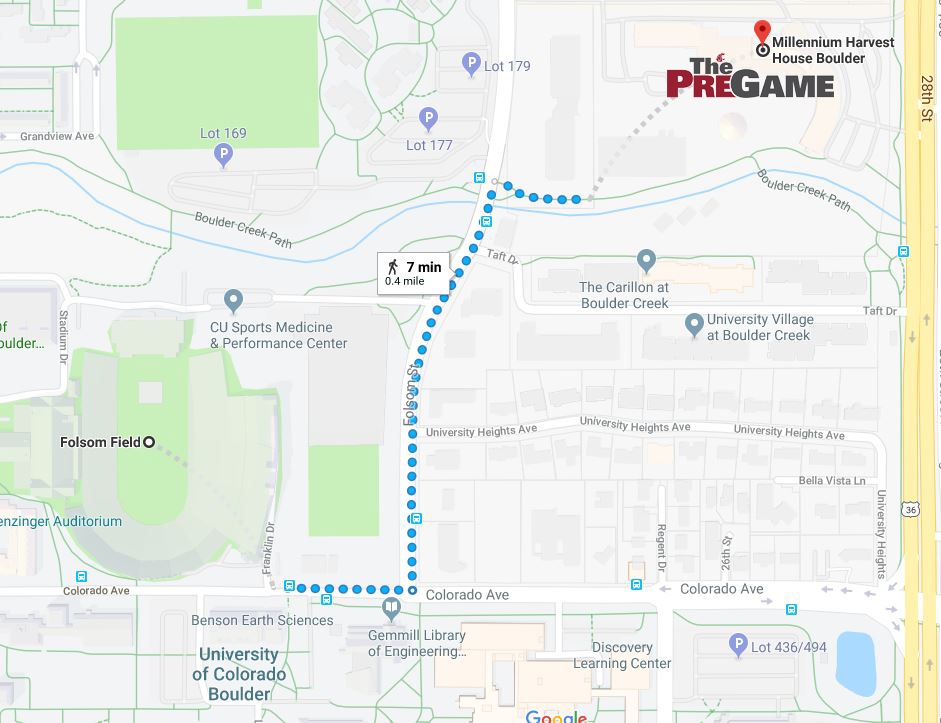 Millennium Harvest House is approximately 0.4 miles away from Folsom Field. You may get there by taking a short walk or bus ride.
Walking Directions
Folsom Field is a 0.4 mile walk. Approximately nine minutes.
Head west on Boulder Creek Path

Slight right to stay on Boulder Creek Path

Turn left onto Folsom Street
Turn right onto Colorado Avenue

Arrive at Folsom Field

2400 Colorado Avenue, Boulder, CO 80302
Public transportation
During game days, the HOP shuttle bus is a great choice for public transportation. The HOP runs every 30 minutes (schedules may vary due to high traffic volume). It is about a three minute ride from the Folsom Street & Taft Drive bus stop to Folsom Field.
Walk about 445 feet to the Folsom Street & Taft Drive stop

Take the HOP shuttle bus (3 stops)

Depart at the Colorado Avenue & Folsom Street stop

Walk about 445 feet

Arrive at Folsom Field

2400 Colorado Avenue, Boulder, CO 80302
Is this a family-friendly event?
Yes, families are welcome! All minors need to be accompanied by a person who is 21 years and older.
What types of drinks will be served?
A variety of beverages, both alcoholic (premium spirits, wine, and beer) and non-alcoholic. Alcoholic beverages are available to those 21 years and older with a valid ID.
Do I need cash at the event?
We strongly recommend bringing cash to this event as the NO-HOST BARS ARE CASH ONLY. Paying with cash could also result in faster services.
May I purchase food at the event?
We strongly recommend pre-purchasing your meal during the registration process as meals may not be available for purchase at the door.
Will there be Cougar gear available for purchase at the event?
Yes, The Bookie will be at the PreGame selling plenty of Coug gear for your shopping pleasure. The Bookie will take cash or card, cash will get you faster service.
Will Butch be at the PreGame?
Yes, you will have the opportunity to mingle with Butch, take a photo, and enjoy a high five or two.
What is the refund policy?
Refunds will be provided for cancellations received 7 days before the date of the particular PreGame. No refunds will be given for cancellations made within 6 days before the date of The PreGame. No-shows to a PreGame will not receive a refund.
Who may I contact with additional questions?
WSU Alumni Association
alumnievents@wsu.edu
1-800-258-6978