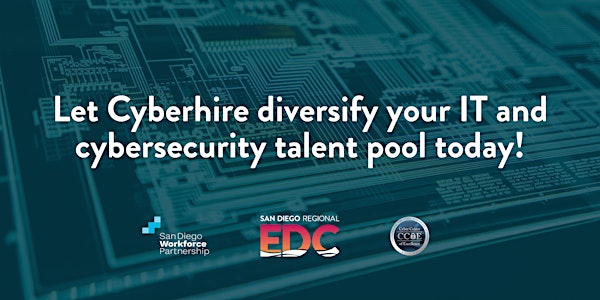 Preferred Provider Meet & Greet: Cybersecurity & IT
This networking event is intended to support the development of relationships between industry members and the education partners.
When and where
Location
UC San Diego Park and Market 1100 Market St San Diego, CA 92101
About this event
Join us on Wednesday, November 9 from 4-6pm at the Digital Cinema Theatre inside Park & Market for our Preferred Provider Meet & Greet: Cybersecurity & IT. You will have a chance to connect with the faculty members who are training and interacting with your entry-level workforce, and learn more about each program's curriculum and approach. Build relationships to support:
the flow of talent year over year into your entry-level positions and internships;
the development of quality work-based learning experiences;
and your knowledge of programs available for upskilling your current workforce.
The first hour of the event will be spent in the Digital Cinema Theatre hearing presentations from the programs designated by industry as doing the BEST job at training in cybersecurity and IT. You'll also learn how you can take advantage of the San Diego Workforce Partnership's CyberHire program to support the onboarding and/or upskilling of your workforce. Finally, all attendees and presenters will have the opportunity to network over a hosted happy hour in the Park & Market art gallery.
About CyberHire: Presented by The James Irvine Foundation, CyberHire aims to transition unemployed, underemployed, and low-wage workers to quality Cybersecurity careers. CyberHire will help San Diegans launch a meaningful career that allows them to support themselves and their families.