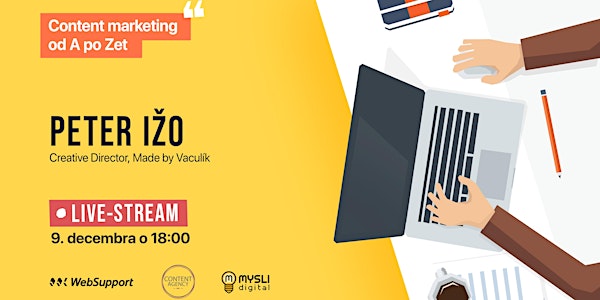 Prečo obsahový marketing potrebuje kreatívu? (Peter Ižo, MADE BY VACULIK)
Kľúčovou úlohou marketérov je generovať záujem. Viete však, ako správne na to? Môže pomôcť práve kreatívne myslenie.
Date and time
Wednesday, December 9, 2020 · 9 - 10am PST
About this event
Kreativita je alfou a omegou reklamy ešte z čias pred nástupom internetu a digitálneho marketingu. Umožňuje nám zapamätať si informáciu, ktorá môže viesť k vyššiemu rozpoznaniu značky a zvýšeniu predaja. V dobe, kedy sa firmy zaujímajú často len o zisk však kreativita dosť trpí.
Aby ste sa v tejto dobe odlíšili od svojej konkurencie a zaujali svojich zákazníkov, je potrebné myslieť "out of the box". Viete však ako kreatívne myslenie rozvíjať či cibriť? To ako vyzerá deň kreatívca, ako prebieha tvorivý proces alebo aké sú najefektívnejšie kreatívne techniky, nám priblíži Peter Ižo, ktorý pôsobí ako kreatívny riaditeľ v agentúre MADE BY VACULIK
Diskusiu bude moderovať Barbora Senčáková, špecialistka na obsahový marketing z Content agency. Tešíme sa na vás i na vaše otázky cez slido (#wsevent) - na streamovacej platforme websupport.mysli.digital.