Sales Have Ended
Registrations are closed
Thank you for your interest in the launch event of Manchester Precision Medicine Economic Team (PMET). We look forward to welcoming you on the day and hope you enjoy the meeting. If you have any question or concern, please feel free to contact me. Best regards, Ella (S Maysami) Manchester Precision Medicine Institute (MPMI) Project Manager
Sales Have Ended
Registrations are closed
Thank you for your interest in the launch event of Manchester Precision Medicine Economic Team (PMET). We look forward to welcoming you on the day and hope you enjoy the meeting. If you have any question or concern, please feel free to contact me. Best regards, Ella (S Maysami) Manchester Precision Medicine Institute (MPMI) Project Manager
Description
We would like to invite you to the Precision Medicine Economics Team, based within the Manchester Centre for Health Economics, The University of Manchester, launch event on 27th April 2018.
When & where:
The launch event will take place between 9am and 1pm in City Labs, Manchester.


What: Driven by national research agendas and the development of new 'omic' technologies to identify potential biomarkers for specific purposes, there has been, and will continue to be, an increase in the scale and scope of the available tools for precision medicine including genomics, transcriptomics, proteomics, metabolomics. Given a number of programmes developing biomarkers, and other tools, for precision medicine are reaching maturation, it is timely to produce research and develop the required economic evidence, while being cognisant of the known methodological, technical, practical and organisational challenges, to maximise the potential benefits to patient populations. This launch event will introduce the work of PMET-MCHE and also act as mechanism to establish new collaborations.

We hope you can join us!

Katherine Payne, Professor of Health Economics (on behalf)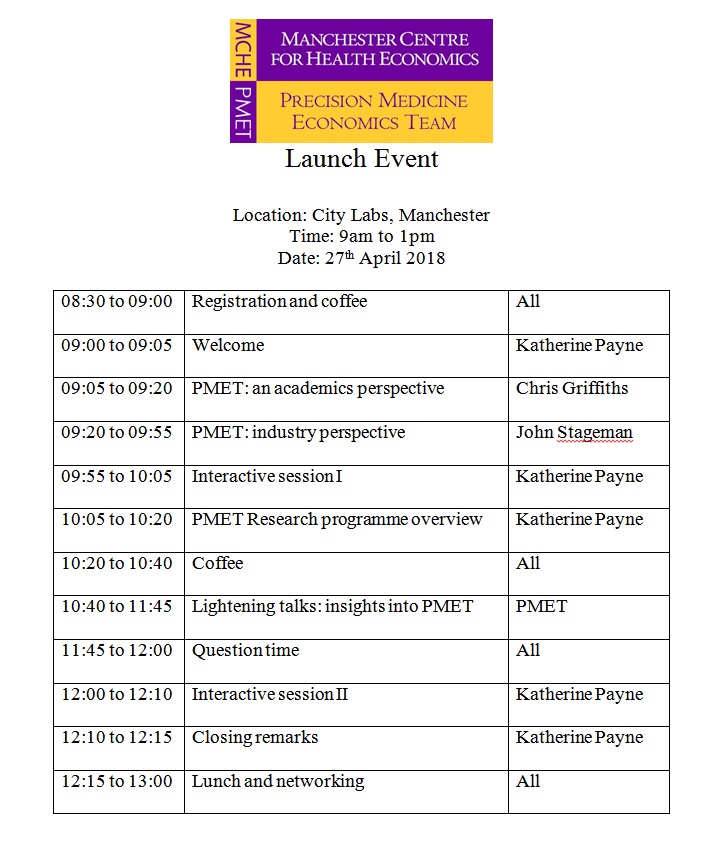 This event is organised and sponsored by MPMI. For queries, please contact project manager of MPMI via email.