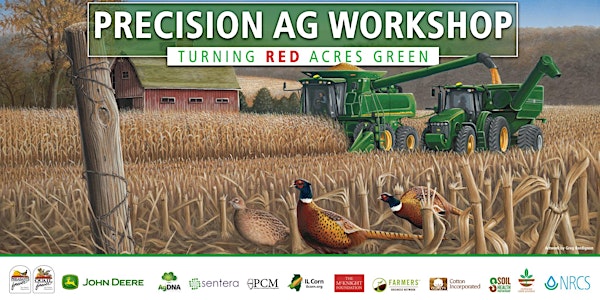 Precision Ag Workshop: 2019 National Pheasant Fest & Quail Classic
When and where
Location
Renaissance Schaumburg Convention Center 1551 N Thoreau Dr Schaumburg, IL 60173
Description
Join us for the Precision Ag Workshop at the 2019 National Pheasant Fest and Quail Classic! The workshop agenda is specifically designed for Farmers, Precision Specialists, Agronomists, and Ag Lenders. Discover new approaches to put your data to work to maximize ROI for every acre. Learn from farmers how to harvest more bucks and birds. Continuing Education Units (CEU) available - certified crop adviser.
The workshop will be held Friday, February 22 from 10 am to 3:30 pm located in the Renaissance Schaumburg Convention Center.
PRECISION AG WORKSHOP AGENDA
Partnerships Turning Red Acres Green
9:00 – 10:00 Registration / Coffee
10:00 Welcome
Betsy Jibben, Master of Ceremonies & Reporter, AgDay
10:15 Partnerships for Precision Farming
Howard Vincent, PF/QF President & CEO & Leadership From John Deere (TBA)
10:45 John Deere Operations Center: Turning Data into Decisions and ROI
Eric Taipale, CEO Sentera
Ed Barnes, Ph.D., Sr. Director, Ag & Enviornmental Research, Cotton Incorporated
Mark Sullivan, Key Account Manager, AgDNA
Lucas Strom, Vice President of Business Development, Farmers Business Network
11:45 Certified Crop Adviser Perspective on Developing Precision Habitat Solutions
Ian Olson, CENTROL Crop Consulting
12:00 LUNCH – Networking with Sponsors
1:00 Precision Agriculture Creates Precision Conservation
Laura Gentry, Ph.D., Director of Water Quality Science, IL Corn Growers Association
Melissa Shockman, Precision Ag & Conservation Specialist, Pheasants Forever
Elyssa McFarland, Development Director, Soil Health Partnership
Grace Ann Polasek, Integrated Solutions Manager, Ag Pro
2:00 Keynote
Mathew J. Lohr, Chief of USDA Natural Resources Conservation Service & 5th Generation Farmer (Invited)
2:30 Farmer Panel: How Data Makes Dollars and Sense for My Operation
Doug Martin (Illinois)
Wayne Fredericks (Iowa)
Tyler Young (Illinois)
Arthur Wisecup (Iowa)
3:15 AWARD: 2019 Pheasants Forever and Quail Forever Precision Farmer of the Year
Drawing for Henry Golden Boy – Farmer Edition
3:30 Adjourn & Explore the 2019 National Pheasant Fest & Quail Classic Show Floor


What is Pheasant Fest & Quail Classic?
Pheasant Fest & Quail Classic is a trade show that will focus on wildlife conservation, upland game bird hunting (pheasant and quail), dog training, and wildlife habitat management and restoration. In connection with the trade show, Pheasants Forever will hold seminars on habitat improvement, pheasant hunting, shooting sports, wild game cooking, dog training, and conservation and lots more!


Showroom Floor Hours
February 22, 2019 (Friday)
12:00pm – 8:00pm

February 23, 2019 (Saturday)
9:00am – 6:00pm

February 24, 2019 (Sunday)
9:00am – 4:00pm
---
FAQs
If I have questions about the workshop who should I contact?
If you have any questions about the Precision Ag Workshop please contact Ryan Heiniger by email at rheiniger@pheasantsforever.org or by phone at (319) 768-8348.
How can I contact Pheasants Forever and Quail Forever if I have a questions about my tickets?
If you have any questions regarding tickets please contact us at events@pheasantsforever.org or call toll free (877) 773-2070.