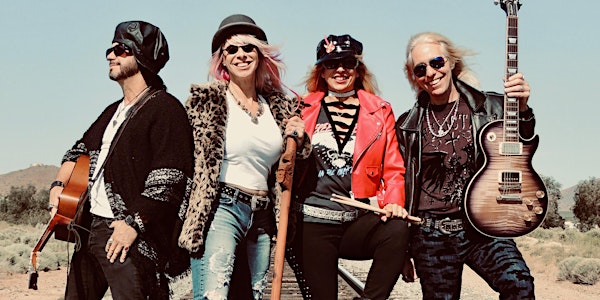 Precious Metal with Berlin
Event Information
Location
The Canyon Santa Clarita
24201 Valencia Boulevard
Santa Clarita, CA 91355
Refund policy
Contact the organizer to request a refund.
Eventbrite's fee is nonrefundable.
You want a blazing good time? Yes! You want to feel good all over? Yes! Tonight's the night! Cheers! We go on at 7:pm sharp! See you!
About this event
Leslie Knauer-Vocals, Susette Andres-Drums, Jeff Mattern-Guitars and Al Teman-Bass, we hope you will be thrilled with our diversification.
Leslie had previously received international success with her first band "Promises" who's self penned, driving pop song "Baby It's You," hit top ten spots in Australia, New Zealand and dominated the charts in Europe. She has a seductive, self-assured 'rock-goddess' voice that rivals any of her peers.
Founding member and original drummer Susette Andres looking to form an all-female rock outfit found Leslie Knauer, Mara Fox, Alex Rylance and Janet Robin to complete the bands original line-up.
California based female quintet Precious Metal, made quite a name for themselves in the predominately male dominated rock scene of LA's Sunset Strip.
Together the fearsome five fought the establishment combining glam/rock/pop into a perfect meld of top-tier melodic rock anthems, all while adding their own blend of attitude, hard rock style and of course a dose of glamour. Precious Metal's well-crafted edgy melodic metal/pop rock proved a successful mix and live the five fem-fatales more than delivered and still do as a quartet!
It wasn't long before the girls were honing their trademark sound playing LA's clubs and receiving rave reviews for their professionalism and musicianship. Word of mouth followed and garnering interest from LA DJ Eddie X who started featuring the bands demos on their radio shows. A chance hearing by then Polygram/Mercury Records Vice-President Russ Reagan of "Girls Night Out", in his car led him to signing the band.
Also signed to a production deal with producer Paul Sabu, Precious Metal's first album "Right Here, Right Now," (Mercury/Polygram) was recorded with Sabu at the helm and saw a release. "Cheesecake" a signature song from the bands live set, was chosen to be the first single. Another song "Bad Guys" found it's way onto the soundtrack of a movie of the same name. A music video was produced for "Bad Guys" and received much-attention on MTV's Headbangers Ball and later VH1.
Another appearance in "Scenes From A Goldmine" followed, featuring the bands rendition of the 60s' classic "Twist & Shout." The following year popular Dutch outfit "The Dolly Dots" would follow in Precious Metal's footsteps with a cover of their song "This Girl". The song would subsequently chart in the top 10 of numerous European countries.
Shake-ups at Polygram, forcing the band to find a new home with Jem Records. A 4 track independent EP "Precious Metal" was recorded which received a limited release yet proved a popular seller on tour.
The band signed a simultaneous recording deal with Savage Records, U.K. and Chameleon/Capitol Records worldwide and began recording their third album "That Kinda Girl." Thanks to the simultaneous record deal, the album received alternate artwork for it's European release. A single "Moving Mountains," along with the album, garnered rave reviews from the UK press, while in the US, stand-out track "Sweet Sweet" earned the band a performance on Dick Clark's "Camp Midnight."
A cameo in the feature film "Rich Girl" followed, all while extensively touring the US. Westwood One Radio would also feature a prestigious live radio broadcast of the band from Cincinnati, Ohio.
"Precious Metal," was released on Chameleon/Capitol Records, the single, a fun, hard rock version of Jean Knight's hit "Mr. Big Stuff!
Precious Metal also performed an unplugged set for Westwood One Radio. Precious Metal amassed an impressive catalog of over 70 original songs, toured the country extensively and received rave reviews for their blazing live shows. They made countless TV, radio, film and soundtrack appearances, and provided on screen cameos for "American Drive In", "Scenes From A Goldmine", "Cadillac Man", "Bad Guys" and "Rich Girl."
Date and time
Location
The Canyon Santa Clarita
24201 Valencia Boulevard
Santa Clarita, CA 91355
Refund policy
Contact the organizer to request a refund.
Eventbrite's fee is nonrefundable.