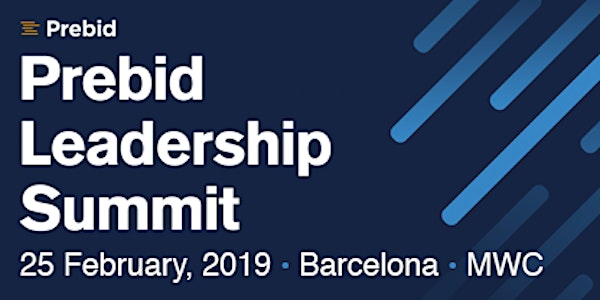 Prebid Leadership Summit: MWC
When and where
Location
Marfeel 20 Avinguda de Josep Tarradellas 08029 Barcelona Spain
Description
Prebid.org invites you to attend the Prebid Leadership Summit: Mobile World Congress on February 25th, 2019, at Marfeel's Office in Barcelona, from 3 – 6pm, followed by cocktails until 8.30pm.

Evolution & Transformation
Prebid has been around for just over three years, a milestone marked by its growing publisher adoption and vibrant marketplace. This is certainly true for web, but has the adoption been the same for apps? With so much to discuss, understand, and celebrate in what has been a formative three years for Prebid, it only makes sense to take a deep dive into the world of header bidding, in particular, for the mobile world. We look forward to an afternoon of interactive sessions and informative content, followed by an evening of fun.

What to expect from the Prebid Leadership Summit
The Prebid Leadership Summit is an educational event including overviews, deep dives and conversations about Prebid and its evolution. It's a chance to explore the latest Prebid solutions and how they work for different kinds of publishers. Here are few things you can expect from this event:

Insights from member organizations and premium publishers into current best practices and future plans for Prebid

Panel discussions on the expansion of header bidding into emerging formats, such as video and native

Networking opportunities for publishers and Prebid members during the closing cocktail reception

And more!
---
Agenda
Welcome | Marfeel
Keynote + Q&A | Alexandra Smith, Chair, Prebid.org, and Product Manager, Rubicon Project
Prebid.js Panel | Client side header bidding has been around for a while, however the landscape has changed drastically in the last two years. During this interactive session, our panel of experts from Prebid will discuss the expansion of header bidding, get your feedback and address the issues that matter most to you. Topics include native, mobile web, Accelerated Mobile Pages (AMP), and best practices for optimization.
Prebid Server Fireside Chat | Prebid Server gained considerable momentum in 2018, and continues to show great promise through 2019 as publishers emphasize moving code off their pages and apps. Learn more about how Marfeel uses Prebid Server to monetize mobile web and AMP pages.
Prebid Mobile Panel | We've been hearing that 2019 is the year of in-app header bidding, is Prebid Mobile the solution we've all been waiting for?
Closing Remarks | Marfeel
Social Hour
Note: All content above will be in English.