About this Event
Pastors don't punch clocks. Or turn in time cards. If you're in ministry, we don't need to tell you that.
Your day starts early and usually ends long after you run out of steam. When it's time for bed, it's hard to turn off your brain. You invest in others. And there's nothing you'd rather do. But who's investing in you? The grind of ministry can dull your senses and dim your spirit.
"Using a dull ax requires great strength, so sharpen the blade." – Eccl. 10:10
Isn't it time you were sharpened and renewed in your personal walk with Christ? Preach 2020 is dedicated to growing pastors to grow churches.
Why another pastors conference?
Good question.
Most ministerial conferences are organized around "how to's."
How to grow your church.
How to be evangelistic.
How to preach effectively.
These – and other how-to's – are important. But they're secondary to the most critical component of a church: the spiritual health and growth of the pastor himself. Talent, hard work and burgeoning attendance do not necessarily translate into personal spiritual growth. What we often call "success" could actually mask a pastor's inner drift from God.
In a letter to a protege, C.S. Lewis cautioned him to think twice before becoming a pastor: "I've always been glad that theology is not the thing I earn my living by. The natural interest in one's job and the pleasures of gratified ambition might be mistaken for spiritual progress. Clergymen sometimes fall into this trap."
Preach 2020 is devoted to strengthening pastors, church staff and lay leaders so they can gain renewed resolve to practice what they preach.
What you'll experience
Preach 2020 features a dynamic lineup of speakers who are passionate about encouraging fellow pastors.
Speakers
David Allen, dean of the School of Preaching, professor of preaching, director of the Center for Expository Preaching and George W. Truett Chair of Pastoral Ministry, Southwestern Baptist Theological Seminary, Fort Worth, Texas
Greg Ammons, senior pastor, First Baptist Garland, Garland, Texas
Ted Burden, directional lead pastor, Fellowship Bible Church, Rogersville, Mo.
Tom Hufty, senior pastor, First Baptist Maryville, Maryville, Ill.
Bob Ingle, lead pastor, Waypoint Church, St. Charles, Mo.
Chadd Pendergraft, senior pastor, Crescent Valley Baptist Church, Tahlequah, Okla.
Frank Whitney, senior pastor, Union Hill Baptist Church, Holts Summit, Mo.
In addition to teaching, the conference includes worship and interaction with speakers and attendees. Sessions also includes time for pastors to receive prayer from session leaders and each another. And last but not least: caffeine, beverages and goodies to keep you focused throughout the event.
The host
Preach 2020 is hosted and sponsored by Meadow Heights Baptist Church of Collinsville, Ill. (20 minutes east of St. Louis, Mo.).
"Other than pastoring my church, my greatest passion is for the spiritual growth of my fellow pastors," said Robert Strong, senior pastor of Meadow Heights. "I have had four pastors in my life who invested in me. Ministry is not easy. It can be a lonely place to be. But no one needs to be alone."
Who's invited?
Preach 2020 is for pastors, staff and lay leaders. Although we're part of the Southern Baptist Convention in the St. Louis area, the event is open to all regions and denominations. Please join us.
Conference details
Registration = Free! But registration is required. We'll take an offering dedicated to funding the next conference in 2021, but there's no obligation to contribute.
Other costs Participants can eat dinner together at Meadow Heights Baptist for $10 on Monday evening and $10 on Tuesday evening (although this is optional). Additional meals and lodging are on your own.
Free child care Preach 2020 includes complementary child care for children age five and younger. Older children are welcome to join their parents in the conference.
Schedule
Monday, March 9, 1 p.m.-9 p.m.
Tuesday, March 10, 9 a.m.-8 p.m.
Location Meadow Heights Baptist Church •1498 Vandalia St. • Collinsville, IL • 62234
Contact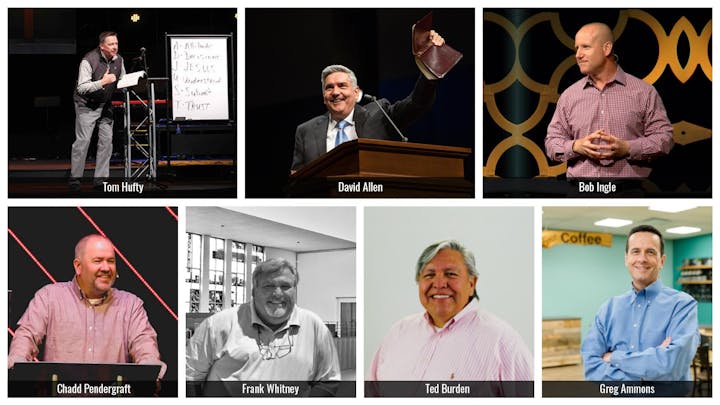 Join us for (clockwise):
Tom Hufty • Senior pastor, First Baptist Maryville, Maryville, Ill.
David Allen • Dean of the School of Preaching, Southwestern Baptist Theological Seminary, Fort Worth, Texas
Bob Ingle • Lead pastor, Waypoint Church, St. Charles, Mo.
Chadd Pendergraft • Senior pastor, Crescent Valley Baptist Church, Tahlequah, Okla.
Frank Whitney • Senior pastor, Union Hill Baptist Church, Holts Summit, Mo.
Ted Burden • Directional lead pastor, Fellowship Bible Church, Rogersville, Mo.
Greg Ammons • Senior pastor, First Baptist Garland, Garland, Texas