Pre-Valentines Escape Room 4 Singles: Resolve difficult riddles
Description

What Is An Escape Room?
Escape rooms are the new global phenomena that combines physical adventure with puzzles and teamwork! The Escape Room challenges participants to solve riddles and puzzles in order to escape the mysterious room and complete the mission. This incredibly entertaining experience is sweeping the world and now you can experience it in Rockville!
Our Rooms
Pharaoh's Quest
Difficulty: ★ ★ ★ ★ ★
While digging for artifacts, you and your team become trapped in a hidden tomb. Your key to life is escaping and the clock is ticking..
A Pirate's Quest
Difficulty: ★ ★ ★ ☆ ☆
Can you find the hidden treasure before the ghostly pirates find you? Race against the time to escape!
The Great Diamond Heist
Difficulty: ★ ★ ★ ☆ ☆
You've been recruited to help in the greatest diamond heist in history. Do you have the skills and guts it'll take?
Zombie Escape
Difficulty: ★ ★ ★ ★ ☆
A zombie apocalypse has destroyed the world. Can you find the hidden cure in time to save yourself and the world?
Common Questions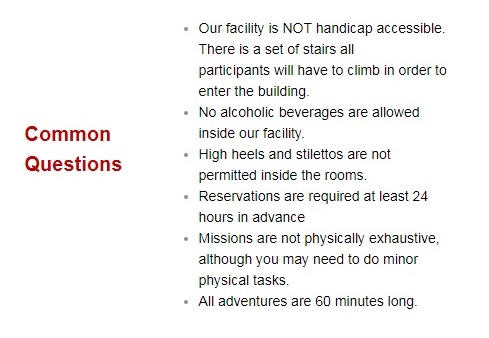 Arriving at the event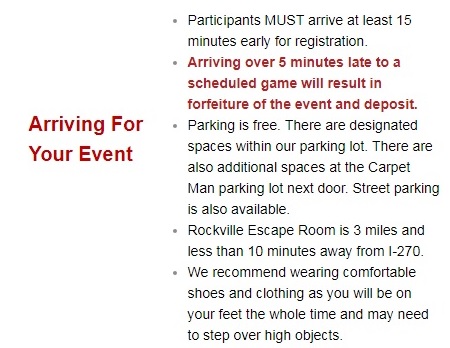 We rented the whole venue from 3pm to 4pm. All escape last ONE hour. Each hour have a capacity of 30 people total spreaded in different rooms. Some rooms have a capacity of 6 people and others 12.
Make sure to reserve your ticket in advance as it is more expensive at the door. We are having a small discount as we are a group.
Hundred of people have asked me to organize this event. Hope to see you out there on Saturday.
This event is Sponsored by Lightning Speed Singles Mixer