About this Event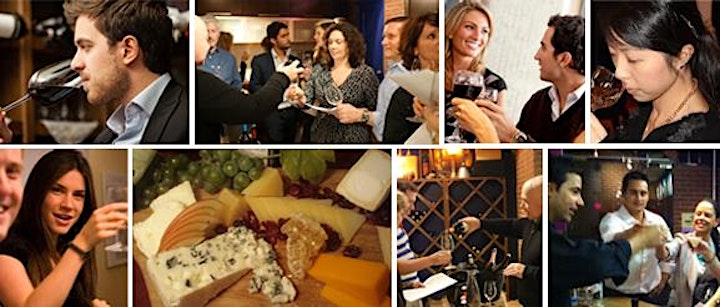 Your ticket to this event also gets you free admission to a wine tasting happening at the same venue that starts right after the speed dating!
Speed dating is so much fun and a great way to meet quality singles. Most people know within a few minutes if they would like to see someone again. We may be biased but we definitely think this is a much better way to meet people than online dating or at a random bar.
* SEE MORE UPCOMING NYC EVENTS AT: FRIENDZYEVENTS.COM
You will go on between 8 and 15 mini dates each lasting about seven minutes each. Women stay seated and the men rotate from table to table until they meet each woman.
You will get a match card and at the end of each mini date you'll discreetly indicate whether or not you'd like to see the person again. At the end of the evening you will hand your match card in to the event host. If you both select each other, we will send you each others' email address the next day so you can set up a future date!
FAQ:
WHAT IS THE DRESS CODE?
Please no sneakers, t-shirts or gym attire.
CAN I PAY AT THE EVENT DOOR?
We do no accept payment at the event door. You must pre-pay online.
WHEN WILL I GET MY MATCHES EMAILED TO ME?
We will email you matches within 48 hours after the event.
IS THERE A REFUND POLICY?
If you need to cancel, please email us and we can transfer you to a future event. However we do not offer transfers if you cancel on the day of the event or don't show up.
QUICK NOTE: YOU HAVE TO GET YOUR TICKETS IN ADVANCE ONLINE. YOU WILL NOT BE ABLE TO SIGN UP AT THE VENUE. THE PRICE WILL BE GOING UP AS EVENT APPROACHES AND WILL LIKELY SELL OUT SO WE RECOMMEND SIGNING UP ASAP.
Your ticket to the speed dating also gets you admission to an exclusive wine tasting after party in the same venue...
MORE ABOUT THE WINE EVENT TAKING PLACE AFTER THE WINE TASTING:
Come on out and enjoy an amazing evening at this private wine tasting and educational session! Arrive at the gorgeous private space and mingle with other fun, friendly (mostly single) people. You'll be invited to enjoy pours of fantastic wines!
You are personally invited to a private, exclusive French wine tasting and informal party. Relax on a Saturday evening in Brooklyn and make new friends at this beautiful wine tasting presentation and experience.
Authentic French native and professional sommelier "Julian Lavalade" will be hand picking the wines and leading the tasting with his witty charm. Following the top tier tasting will be an exclusive 90 minute wine open bar mingle exclusively for our ticket holders.
*Sommelier lead tasting
* Unlimited wine open bar and informal after party 10:00 until Midnight
If you're new to wine or a die-hard fan, it's a great experience for all. This is such a fun wine tasting that sells out every time!
FAQs:
Can I come alone? Yes about 80% will attend on their own.
Do I need to know about wine? No, most come for socializing, learning and the enjoyment of wine.