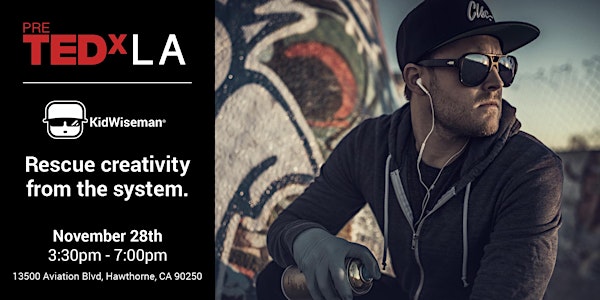 Pre TEDxLA Experiment: The KidWiseman Street Art Experience
Location
Da Vinci Design Charter School
12501 Isis Ave
Los Angeles, CA 90250
Description
Paint LA's future with social good street artist KidWiseman & his army of Creative Youth!
---
Participants
30 TEDx members to participate, first come first served basis

25 talented and passionate members of the Da Vinci Design Charter School

10 students from across the city motivated to pursue their creative dreams by working on KidWiseman projects - an incredible opportunity for TEDx members to connect with and be inspired by the creative leaders of LA's future
How It Works:
Absolutely no painting experience required

You will meet KidWiseman, learn about the brand mission, and receive a few street art tips

Each participant will paint a section of a street art mural at the Da Vinci Design Charter School; each section takes between 5-20 minutes to paint.

Throughout the painting experience dynamic, concert-style lighting will illuminate the wall, leading into a light show performance at the conclusion of the event, so stick around!
About KidWiseman
KidWiseman is a larger then life character born from the subconscious of LA Street Artist/Designer Evan Farrell. Think Banksy, but with a uniform, a logo, and a singular definable mission; to fight for the right of youth to creatively express themselves.
KidWiseman believes the United States public school system fails creative youth by unilaterally defunding of arts education, leading to a lack of positive creative outlets. Dreading a future without creativity, KidWiseman saw no choice but to take up his weapons of mass creation and go to war. Eventually KidWiseman and his logo will become synonymous with creative opportunity.
In attempting to achieve his mission KidWiseman developed a new artistic approach; multi-media street art. The KidWiseman team creates a theme around each mural project and brings it life using diverse mediums: mural, video, canvas, light design, events, apparel, & more. KidWiseman then deeply involves creative youth from the community in whatever medium(s) they are most passionate about.
Every KidWiseman project is shared digitally, inviting the world to beview the experience while simultaneously providing the KidWiseman brand a platform to inspire positive change on a global scale.