Pre-SAVOR Beer Bootcamp

Thursday, June 13, 2013 from 6:30 PM to 8:00 PM (EDT)
Event Details
Get in shape for the SAVOR Beer and Food Experience by brushing up your beer skills, and learn how to get the most of out beer and food. Like bi-coastal beer Superfriends, San Francisco Master Cicerone Rich Higgins and New York's very own Civilization of Beer Cicerone and Guru Samuel Merritt are teaming up to lead this unique event at Jimmy's No. 43, the great craft beer bar. Join them for fun while tasting, learning, and doing drills with all sorts of delicious local and Belgian beer from Brooklyn Brewery, Bronx Brewery, and Vanberg & Dewulf Importers.
Drill 1: How to Taste and Evaluate Beer -- Special guest Anne-Catherine Dilewyns, Belgium's youngest brewer, will kick things off with her Vicaris Tripel, teaching how to hone your palate, listen to the hops, feel the malts, explore the fermentation, and taste the beer's whole story.
Drill 2: Off-Flavors Seminar -- taste delicious Bronx Pale Ale alongside samples of the same beer spiked with common beer off-flavors. Learn how these unexpected flavors can taint a beer, and how to protect your beer against them. Impress your friends by knowing whether or not their beer contains delicious-sounding compounds like diacetyl, lactic acid, 3-methyl-2-butene-1-thiol, and isoamyl acetate -- and know what beer styles those flavors might be acceptable in. Wrap up with more, unadulterated Bronx Pale Ale to celebrate great beer.
Drill 3: Beer and Food Pairing -- sample three different beer and food pairings with food from Jimmy's No. 43. Taste pairings that are greater than the sum of their parts, and learn general and advanced strategies for beer and food pairing. We'll taste Brooklyn Brown Ale with Grilled Cheese and Bacon Jam, Birra Amiata Contessa Italian Pale Ale with Banh Mi Hot Dogs, and Brooklyn Monster Ale with Apple Crisp. (There'll be plenty of food for evaluating the pairings and nuances, but it won't be enough food for dinner, though. And email Rich by 6/10 if you'd like vegetarian food -- rich@richhiggins.com.)
Sam and Rich will stick around after the event for some Q&A, too, so bring your beer questions and curiosity. Perfect for the SAVOR crowd and casual beer fans alike. Regular bar/restaurant/oyster service also available (not included in ticket price.)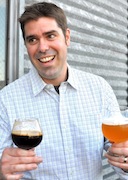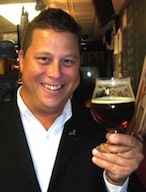 ABOUT RICH HIGGINS, CONSULTANT A LA BIERE
Rich is one of six Master Cicerones in the world. He curates the beer programs at San Francisco restaurants like Lolinda, Delarosa, and Starbelly, and orchestrates beer events at restaurants like Jardinière, Piccino, Public House, The Fifth Floor, and Beretta. In addition to working with restaurant, brewery, and distributor clients, he teaches beer education classes and Cicerone training courses regularly at The Toronado, curates the Beer of the Month Club at Plumpjack Wines, and develops corporate team-building seminars. Now a full-time Beer Consultant, he spent eight years as a professional brewer and brewmaster, in addition to three years as the President of the San Francisco Brewers Guild and the Event Director of SF Beer Week. Contact him at www.richhiggins.com.
ABOUT SAMUEL MERRITT AND CIVILIZATION OF BEER
Samuel Merritt sold specialty beer in New York City from 1996 to 2006 for the Craft Brewers Guild and the Brooklyn Brewery where, he eventually became a Sr. Brand Manager. After researching the availability of pro beer education for beer sellers in the U.S., he founded Civilization of Beer, the consulting company with goal of closing the gap between beer studies and wine studies in the professional culinary community and returning beer to its proper place at the American table. In 2009, Samuel was first in New York City to earn the title of Certified Cicerone ® beer sommelier. Using Civilization of Beer's movable campus, Samuel travels the country and globe training beer sellers, consulting for breweries and retailers, and speaking at public and private events while thoroughly enjoying beer, beer people, and beer culture along the way. He lives in Tivoli, NY with his wife Emily and young daughter Molly.
When & Where

Jimmy's No. 43
43 E 7th St
New York, NY 10003


Thursday, June 13, 2013 from 6:30 PM to 8:00 PM (EDT)
Add to my calendar